Nita Ambani, the first lady of the Reliance Empire, can be dubbed the uncrowned queen of India; one who lives in a $2 billion avant-garde palace, Antilla, that stands 63 stories tall, zooms sound town in a fleet of Rolls Royce and travels in private jets. From wearing couture from Oscar de la Renta to sporting a Patek Phillipe casually, she paints a perfect picture of poise and wealth. The wife of Asia's richest billionaire Mukesh Ambani, worth $83.4 billion, turns heads every time she steps out, whether it is for a Mumbai Indians match (she is the owner of the IPL team) or a shopping spree in lively London.



Unlike her husband who wears a subtle $8,500 Rolex watch, the Reliance matriarch casually sashayed in a $400,000 rare Neige Faubourg Birkin 20 White Matte Alligator handbag. Yes, that is a lot of money, but as far as Nita is concerned, things she likes are rare and rarely inexpensive. Hermès Birkin bags are generally luxurious, and their exclusivity makes them incredibly sought-after. Ambani's accessory is rarer than the standard Birkin. The Faubourg collection pays homage to Hermès' flagship store located at 24 Rue du Faubourg Saint-Honoré in Paris.

Hermès released the first Faubourg Birkins, capturing the architectural essence of the iconic Flagship in 2019. Nita Ambani's snowy white version of the Faubourg Birkin was released in 2021, along with two new Midnight or Minuit edition versions. The fine handbag emulates the architectural grandeur of the store, featuring Day and Night colorations with matte alligator flaps atop a calfskin body.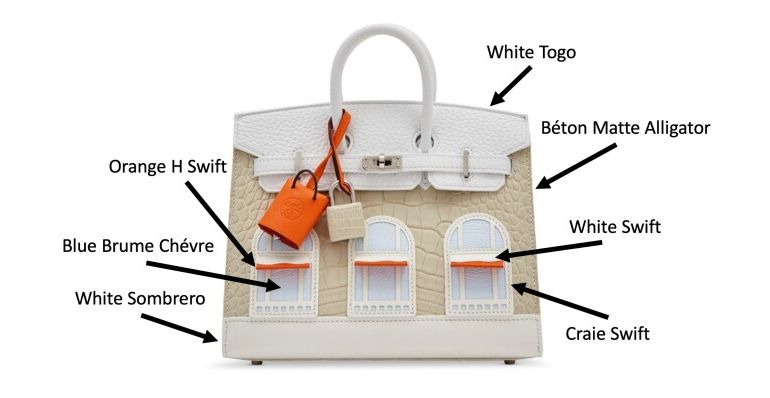 Details like window frames, Epsom glass, and a Sombrero leather base add to the allure and exclusivity of the Faubourg Birkin. The awnings on all Faubourg Birkins are done in the brand's iconic color: Orange H Swift. The Palladium hardware on the bag also justifies the $400,000 price tag in addition to the Hermes name. According to Christie's, the Faubourg Birkin Bags are among the most expensive Birkin bags on the secondary market due to rarity and demand.

Apart from that, only the Himalaya Birkin is better known since it has been in production since 2008. Ambani's closet, in true billionaire fashionista style, also includes a prized Himalaya Birkin. The opulent Hermès Birkin bag is embellished with over 240 dazzling diamonds and sports 18K gold hardware. The limited-edition bag costs nearly $300,000 and is inspired by the snowy mountain range.

In 2017, the bag, with white gold and diamond hardware, sold at a Christie's auction for $300,000, becoming the most expensive bag ever sold. Only a handful of people worldwide, like Victoria Beckham and Kim Kardashian, are some of the lucky owners of the Himalaya Birkin.
Note – As of writing, according to this Zillow listing, a 2 bedroom apartment on Broadway costs $425,000.