Last week, we told you all there was to (excitedly) tell about Chanel's radical 'supermarket' show. There is this one other thing we can't stop gushing about though. And no, it's not the CC pasta or the Jambon Cambon. It is le lait de coco. What's that? Your very own bottle of coconut milk cum stylish new Chanel tote!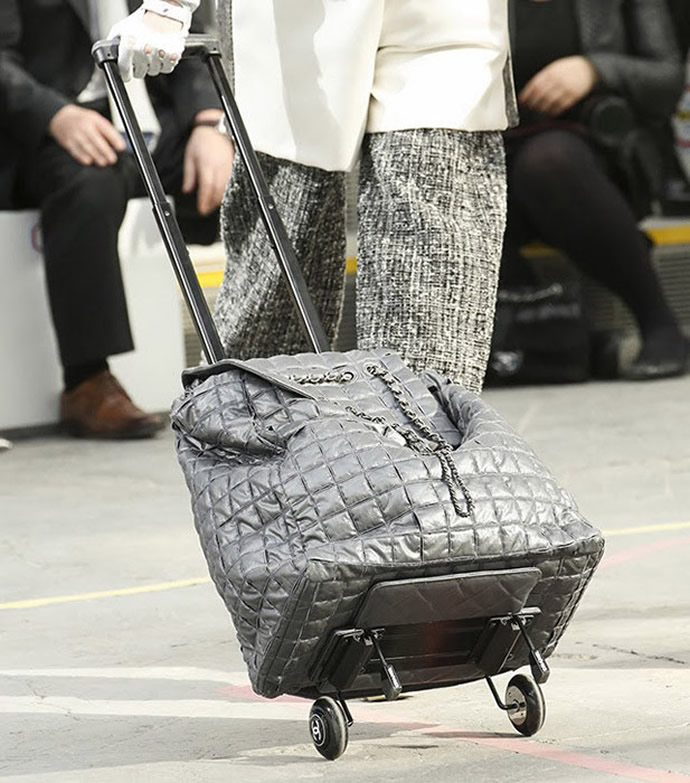 A lot of street chic has waltzed straight into Chanel's purse coterie for fall. Seen everywhere from models' shoulders to shopping hampers, the glitzy tangle of danglers is parading in everything from the quilted patent leather on wheels version to the one in mink Burling, bursting with a pop of bright colors and the mythical No. 5 Chanel logo.

What we especially love though is this bubble gum pink purse in calfskin akin to plastic bags, a true homage to the supermarket theme of the show! But for the fashionable yet less experimental, there is the uber sexy yet sturdy clutch doing dark glamor.

While there may have been tweeds galore, it's plastic fantastic for the win, given the purse's industrial appeal amongst a sea of elegant-s that makes it stand out the most. Not to mention the immense functionality courtesy it's solid exterior that makes it a worthy investment for any street-smart fashionista worth her weight in crossed C logos.
[Via – Embelezzia]