Some people love astronomy and astrology. However, very few chronographs celebrate this science of the time. Keeping that in mind, URWERK has launched the "epoch-defining time measuring instrument (called Zeit in German)" with the UR-1001 Zeit Device. The device not just gives you details like seconds, minutes, hours, day/night, date, month, and years, but gives you details starting from 100 years right up to 1,000 years! It also features "a constellation of indications," like orbiting satellites and a comet-like flying retrograde. The AlTiN UR-1001 is a limited edition of 8 pieces in AlTiN treated steel with titanium elements.

The device comes with a 39-hour power reserve with a red warning zone that tells you when the device needs to be refueled. The dial face sports the original and in-house Revolving Satellite Calendar that adjusts the calendar accurately depending on the month's days. Just turn the device over to check out the "Oil Change" indicator that gives you the 100-year and 1000-year indications. While the 100-year indicator grows in 5-year increments and functions just like the odometer in a car, the 1000-year mark springs into action after the hand reaches the 100-year mark.
The case is set in Aluminium Titanium Nitride (AlTiN) coated stainless steel in a semi-matte finish, making it last longer. The main plate, baseplate, carrousels, satellites, dials, bridges, retrograde spiral spring, and retrograde u-springs of the device are all crafted in ARCAP, a non-magnetic alloy that is better than brass. The device comes with a combined automatic winder and display case crafted in a polished, solid walnut with buffalo leather lining. The 106mm x 62mm x 23mm device with Sapphire crystal with the anti-reflective coating with a Micro-sandblasted surface finish comes with 3-meter water resistance. It is finished with a handcrafted, heat-blackened steel chain link with a bespoke URWERK clasp with carbineer closure.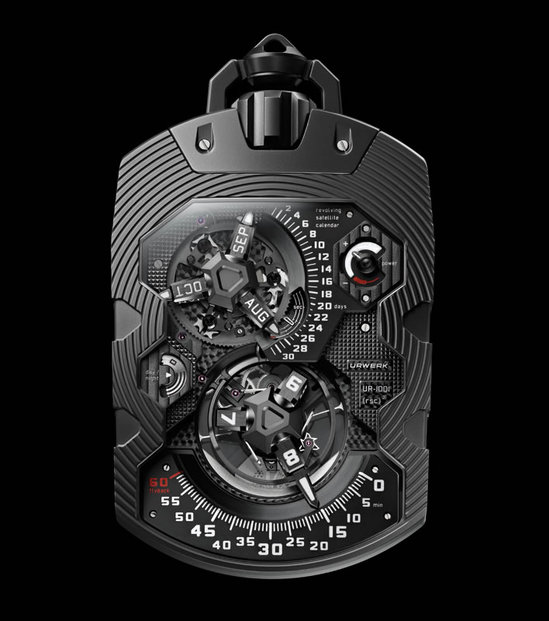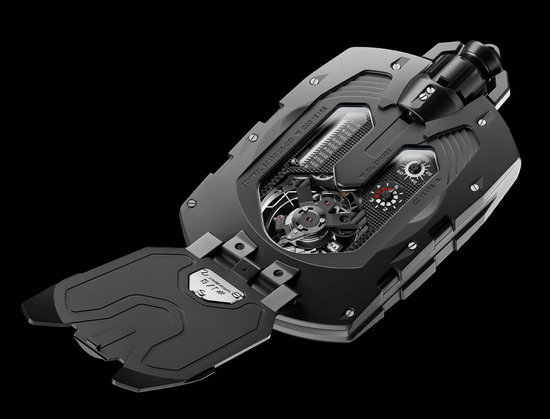 [Urwerk]