Known for avant-garde designs, Urwerk is a Geneva based watch company that thrills watch enthusiasts with their cutting edge complications. Their latest feminine watch is the UR-106 Black Pink Lotus is playful in its design but incredibly intelligent in its construction. This watch features the brand's signature satellite hours in a form that they say has never been seen before. Three satellite arms, each with four hour numerals, sweep along the minute scale in an analogue and digital indication of time.



The watch features a steel case with a titanium crown which is and set with glittering black diamonds. "We paid particular attention to the details of this UR-106 version," said the creators of the watch, Felix Baumgartner and Martin Frei. "The carousel and satellites have been worked on by hand to create a special satin finish, while our workshops have carefully painted each hour numeral and cut-out minutes scale. The moon shines in a sky of lapis-lazuli blue selected from hundreds of different shades, while the outline of the lotus on the back is exactly as Martin drew it. We wanted a sleek, handsome watch for our UR-106 series, and for us this is a mission success."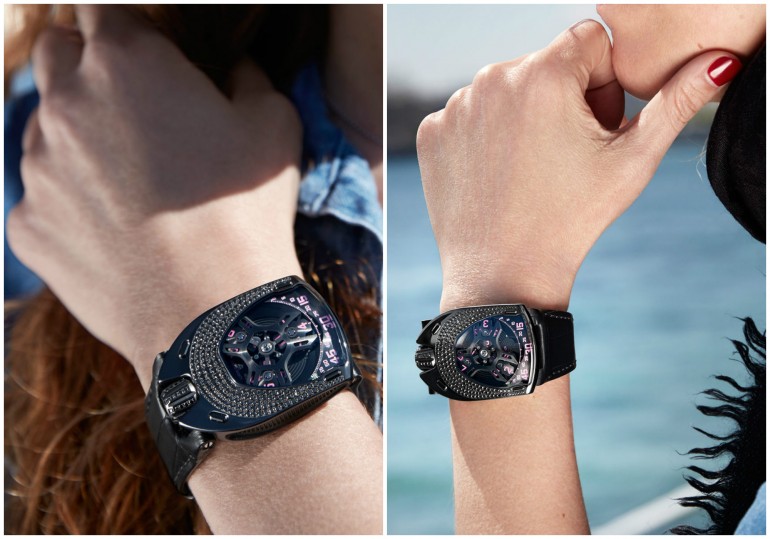 You'll definitely turn heads with this timepiece. At first glance it's hard to tell the time on its foreign looking dial, but that's what makes it unique and sets apart from the usual gold watches with mother of pearl dials that are on display everywhere. The watch is available in 3 colorways: Black Lotus (black PVD coated case with neon yellow details and a black alligator strap), Lotus (a steel case with white alligator strap) and Black Pink (black PVD coated case with pink details and a black alligator strap).

[ Via : Luxuriousmagazine ]