It's been a while since Coca-Cola went on its designer collaboration spree. To bring you up to speed, the iconic beverage brand named Marc Jacobs its Diet Coke Creative Director, before Jacobs chose to star in a string of its advertisements and even designed a slew of cans to mark Diet Coke's 30th Anniversary. Design maverick, Karl Lagerfeld himself had his silhouette etched on coke bottles before going ahead and designing limited edition Diet Coke keepsakes. Not to mention Jean Paul Gaultier who soon after did the same. This time it's the turn of Chantal Thomass. The cola company has roped in the French lingerie designer for a sexy limited edition can.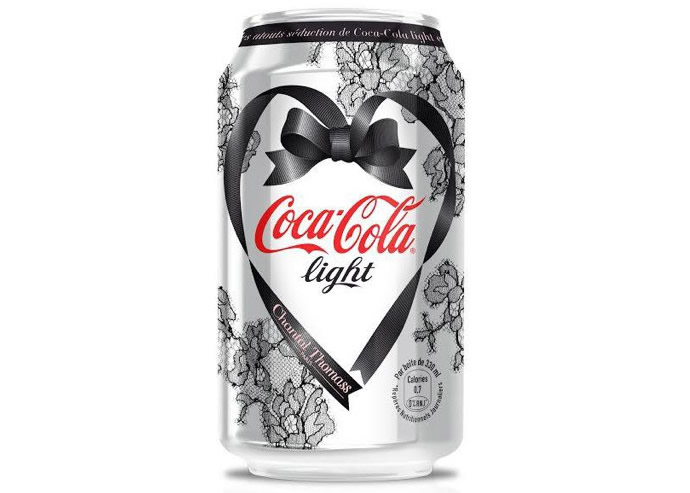 "I feel very honored that I have been commissioned art director for Coca -Cola Light for Spring 2014. I can think of no better way to celebrate the codes of feminine glamor and sensuality present in my designs of corsetry and lingerie, than this iconic drink," expressed Thomass. The resulting can does bear an uncanny resemblance to her designs, especially if you factor in the silver background with delicate touches of lace for decoration. Add to that, the heart-shaped ribbon and boom! This is one sure shot way to entice fans of her designs as well as lovers of the drink.

And speaking of enticing, the subsequent campaign is no less worthy of mention. Shot against a dusty pink backdrop, it cheekily demonstrates the can and a candid Thomass. With her jet-black hair and lips painted a vivid red, the designer and her creation play perfect chic foils to one another, all thanks to Wolkoff and Arnodin. The agency behind the artistic direction and its director Guillaume Verluca worked side by side with Thomass, their collective lingerie inspired efforts will hit stores by month-end. While they will be well in time for Valentine's Day, an aluminum bottle designed by Chantal Thomass will arrive in French stores next April.
[Via – Embelezzia and Yahoo]