Four Seasons hotel with its roots in Canada, has now completed a full cycle of its 50-year existence with a flagship New Four Seasons Hotel Toronto. The 259 room hotel is located in the heart of Toronto — Yorkville Avenue, near Bay Street, and debuts with the first Four Seasons Spa for the city-dwellers.

As you enter the new property, you will be greeted by "Claude Cormier's visionary roseless rose garden," a grand fountain, and a "12-color mosaic with a floral overlay from the etched glass canopy above", created by Cormier and Hotel interior designer Yabu Pushelberg. Inside you will be treated to some interesting art made by artist Alissa Coe. The hotel boasts features such as a 15-Minute Room Service menu, complimentary in-room wireless internet, WiFi in hotel cars, and a dedicated Guest Experience Manager. The rooms come equipped with an ergonomically designed chair, an oversized desk with "ample outlets close at hand," and an in-room Nespresso machine, an iPad to order room service, book a Spa treatment or shop online. The bathrooms have been stocked up with "signature Vicolo Fiori scent by Etro of Milan toiletries," fast-filling bathtubs, silent-close toilet seats, and tv screens hidden in mirrors.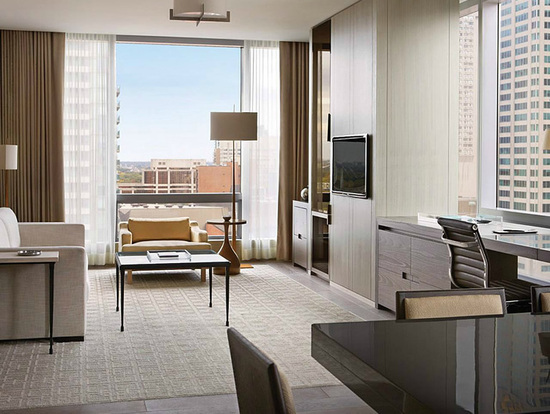 The floating staircase leads to a loft above the bar for your gastronomic delights, taking you to the Michelin-starred Chef Daniel Boulud's Café Boulud. Apart from its rustic settings, you can arrange for private dining for up to 10 guests. For your tasting pleasure, you can pick from la tradition, classic French cuisine; La Saison, seasonal delicacies; le potager, the vegetable garden; and le voyage, exploring the flavors of international cuisines. The chef recommends — the poulet au vinaigre – a succulent roasted chantecler chicken breast and stuffed leg with tomato confit, fennel, and tarragon vinegar jus, so don't forget to check that out while you're there.
Dbar –


Cafe Boulud –


To accompany your food, you can pick from wines and spirits from the Niagara Region to "perfectly match Shedden's menu." Plus, some new signature cocktails to savor — La Tour CN, a colorful concoction of gin, maraschino, Champagne, and blackberry puree.
Those looking for letting their hair down can head over to the 8th and 9th floors for the Four Seasons Spas, the most expansive of its kind in the city and the largest for any Four Seasons property ever. In the 17 treatment rooms, you can find a pool, a nail and hair bar, men's and women's change rooms with separate steam rooms, and a Spa boutique that houses Four exclusive product lines: Amala, Ajne, Sjal, and Neuma.


Finally, there is a 24-hour 3,500 square foot Fitness Centre offering cardio and weight training machines on state-of-the-art Matrix virtual reality equipment, plus free weights for the fitness freaks. Alongside all this, a collaboration with 889 Yoga opens doors to an "exclusive program of classes and private sessions in the Hotel's own natural light-filled Yoga Studio."


The hotel wears a celebratory look with an interesting Welcome Back Package that gives you access to "luxurious accommodations and a Hotel spending credit," with special itineraries created keeping in mind your interests. For those who follow art keenly, the Hotel's own Art Shopping Concierge, Jamie Angell will assist you on a private tour of the city's finest galleries. Wine lovers can enjoy a quick trip to the Niagara region in Ontario's wine country for a fun tasting day out.


Premier Room –


Indulgent Bathroom –


[Fourseasons]