Jade Mountain Club is not a typical resort. Even though there are less than 30 accommodations, Jade Mountain's extraordinary infinity pool sanctuaries are
larger than most luxury hotel rooms at 450-900 square feet. Jade Mountain offers panoramic views of Caribbean Sea and with 15-foot high ceilings is a cornucopia of organic architecture celebrating St Lucia's stunning scenic beauty.



The club has 24 infinity pool sanctuaries and 5 Sky Jacuzzi Suites. Each of the infinity pool sanctuaries at Jade Mountain has been individually designed. The room categories have been created to reflect the square footage of the sanctuaries, size of pool and phenomenal view of the Pitons and the Caribbean Sea.

Interestingly, there are no televisions, radios or telephones in the infinity pool sanctuaries and Sky suites in keeping with the overall resort experience. Wi-Fi is available inside the sanctuaries on request. Even though cell phones enjoy good reception, guests are asked to refrain using the cell phone in public, and keep them on vibrate setting whilst on property.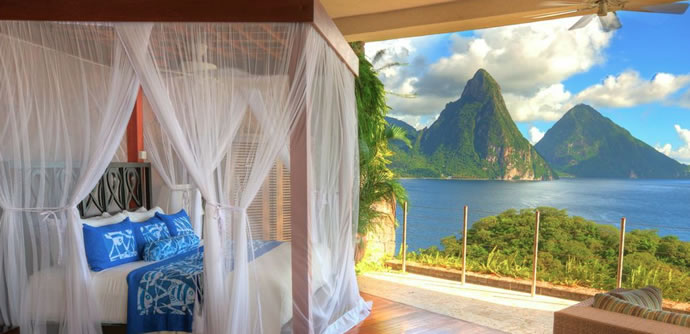 The bathrooms have tropical hardwood vanities with stainless steel or nickel plated European fixtures. Each bathroom has a large whirlpool tub for two on a raised dais overlooking your room, pool and the view. The whirlpools are all equipped with strategically placed point-massage jets that can each be controlled by guests as they wish. Each tub is also equipped with the very latest in 'chroma-therapy' – based on the theory that colors affect biorhythms and life equilibrium.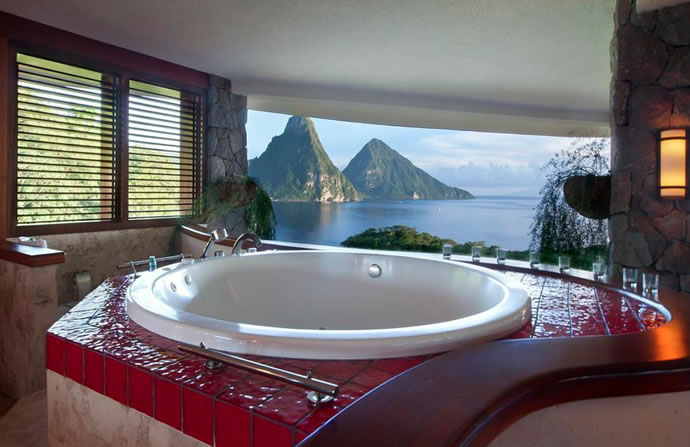 Jade Mountain Club ranked as the Top Resort in the Caribbean, Bermuda and the Bahamas according to the Travel+ Leisure Survey of 2013.

ROOM CATEGORIES
"Star"" Infinity Pool Sanctuaries


The infinity pool sanctuaries which are between 1400 – 1800 square feet and with infinity pools averaging 450 square feet.
Rates: Between Apr-May 31, the Star Infinity Pool Sanctuaries will cost $1,525 or $1,725 if you wish to choose accommodation with MAP (breakfast+dinner) services. The rates are excluding 10% VAT and 10% service charges.
"Moon" Infinity Pool Sanctuaries

READ: Spa of the week - Evian spa at the Palace Hotel Tokyo