Jade Mountain Club is not a typical resort. Even though there are less than 30 accommodations, Jade Mountain's extraordinary infinity pool sanctuaries are
larger than most luxury hotel rooms at 450-900 square feet. Jade Mountain offers panoramic views of Caribbean Sea and with 15-foot high ceilings is a cornucopia of organic architecture celebrating St Lucia's stunning scenic beauty.



The club has 24 infinity pool sanctuaries and 5 Sky Jacuzzi Suites. Each of the infinity pool sanctuaries at Jade Mountain has been individually designed. The room categories have been created to reflect the square footage of the sanctuaries, size of pool and phenomenal view of the Pitons and the Caribbean Sea.

Interestingly, there are no televisions, radios or telephones in the infinity pool sanctuaries and Sky suites in keeping with the overall resort experience. Wi-Fi is available inside the sanctuaries on request. Even though cell phones enjoy good reception, guests are asked to refrain using the cell phone in public, and keep them on vibrate setting whilst on property.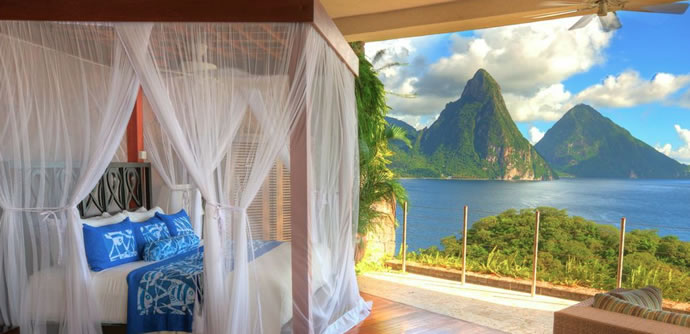 The bathrooms have tropical hardwood vanities with stainless steel or nickel plated European fixtures. Each bathroom has a large whirlpool tub for two on a raised dais overlooking your room, pool and the view. The whirlpools are all equipped with strategically placed point-massage jets that can each be controlled by guests as they wish. Each tub is also equipped with the very latest in 'chroma-therapy' – based on the theory that colors affect biorhythms and life equilibrium.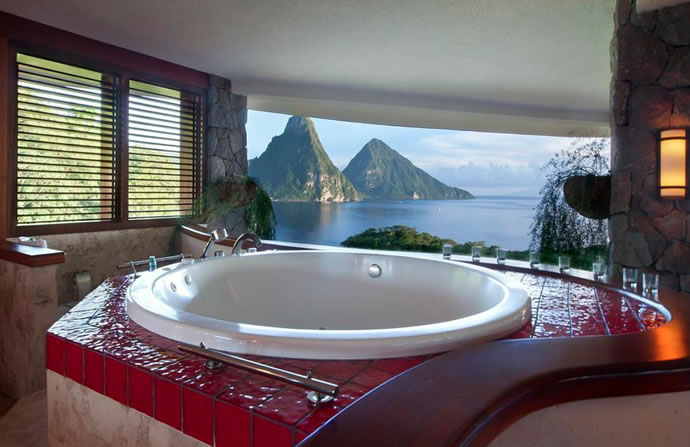 Jade Mountain Club ranked as the Top Resort in the Caribbean, Bermuda and the Bahamas according to the Travel+ Leisure Survey of 2013.

ROOM CATEGORIES
"Star"" Infinity Pool Sanctuaries


The infinity pool sanctuaries which are between 1400 – 1800 square feet and with infinity pools averaging 450 square feet.
Rates: Between Apr-May 31, the Star Infinity Pool Sanctuaries will cost $1,525 or $1,725 if you wish to choose accommodation with MAP (breakfast+dinner) services. The rates are excluding 10% VAT and 10% service charges.
"Moon" Infinity Pool Sanctuaries


The infinity pool sanctuaries with the most commanding 270 degree panoramic view, with over 2000 square feet in size, and in particular elevated positions. The infinity pools are up to 900 square feet in size. The combination of additional square footage and amazing panorama makes these sanctuaries the most desirable for all those seeking the ultimate experience.
Rates: $2,175/ $2,375 between Apr-May 31
"Galaxy" Infinity Pool Sanctuaries


These sun sanctuaries JC1, JD1 and JE1 are on the highest level of club and enjoy the most commanding panoramic views plus biggest square footage. Because we have been asked on many occasions to guarantee these three suites for arrival, we have decided to create a specific category for them: Galaxy.
Rates: $2,625, $2,825 between Apr-May 31
"Sky" Suites


In addition to the 24 infinity pool sanctuaries at Jade Mountain, there are 5 Sky jacuzzi suites. The Sky suites are located in the lower hillside level of Jade Mountain. While the Sky suites do not have an infinity pool they are part of the club. The Sky suites are very spacious suites of about 1650 square feet, 4 of them with the 4th wall open, yet completely private, to maximize the amazing view experience of the Pitons and the ocean. Sky suites feature a two level room lay out, with large and comfortable living space and open bath design, with a raised Jacuzzi tub towering above living space and also open to view.
Rates: $1,125 or $1,325 between Apr-May 31.

Jade Mountain has its own restaurants, bars, boutiques, art gallery, spa, scuba, bike and water sports facilities as well as two soft sand beaches available to Jade Mountain guests at all times.
INFINITY POOLS
With sizes ranging from 400 to 900 square feet, the design of each ensuite infinity pool is unique both in colour and shape. The infinity pools are meant to serve as organic components in each suite, as well as in the building as a whole; their sizes increase in relation to the different square footage of the different room categories: Galaxy, Sun, Moon and Star.

All pools feature shallow water lounging areas in addition to a large swimming area. They have been surfaced entirely in one-of-a-kind glass tiles featuring a sophisticated, textured iridescent surface on one side and a smooth but undulating surface on the other.
Each of the infinity pools has its own individually designed glass tile color scheme further carried on into the individual bathrooms, giving each suite its own unique – and rather bold – personality. The glass tile texture is complex in reflective and prismatic ways with each piece of tile unique due to their custom hand crafted fabrication.
The infinity pools are equipped with fibre optics to illuminate them at night. Guests have the option of allowing the system to cycle through a range of colors or setting it to one particular shade.
SPA & RELAXATION
Drenched in exotic beauty Jade Mountain nourishes both the body and soul. A wide range of spa services can be enjoyed in the privacy of the Jade Mountain sanctuaries or at Kai en Ciel, Jade Mountain's boutique spa and fitness studio.
WEDDINGS, HONEYMOON AND VOWS RENEWAL
Jade Mountain's spectacular setting and architecture is an unforgettable stage set for the honeymoon, wedding or anniversary of a lifetime.

Rekindle the romance with the club's renewal of vows package during your vacation. The packages includes your choice of renewal locations on our 600 acre property, decorated location and flower arch, heart shaped cake, bottle of champagne, tropical flower bouquet and button hole, special renewal certificate signed by master of ceremony, special decorated dinner table.

FINE DINING
Wrapped around an infinity pool with a dazzling kaleidoscope of colors, the Jade Mountain Club offers exotic 'Jade Cuisine'. Hovering in space above the Jade Mountain Club is the Celestial Terrace, perfect for sunset cocktails or stargazing. One of the most breathtaking locations imaginable, the Celestial Terrace offers an unforgettable sunset panorama.