The Shangri-La Hotel in Paris is the first in offering "100% Green Dinners" in the city. On the first Thursdays of every month, the property's La Bauhinia restaurant will present a five-course vegetable focused menu and one of the hotel's French market purveyors are invited to meet up with the diners. To make the evening memorable, the ambience is transformed by a nature inspired décor while the DJ creates a fun atmosphere.

With going natural and staying healthy being the new mantra, Ched Christophe Moret has hit the right chord with creating a menu which gave utmost importance to vegetables without sacrificing on the taste or the pleasure. The values he is guided by is the freshness, local availability, transparent and ethical. Every Thursday he comes up with an array of dishes with vibrant and complex flavours that leave you wanting more.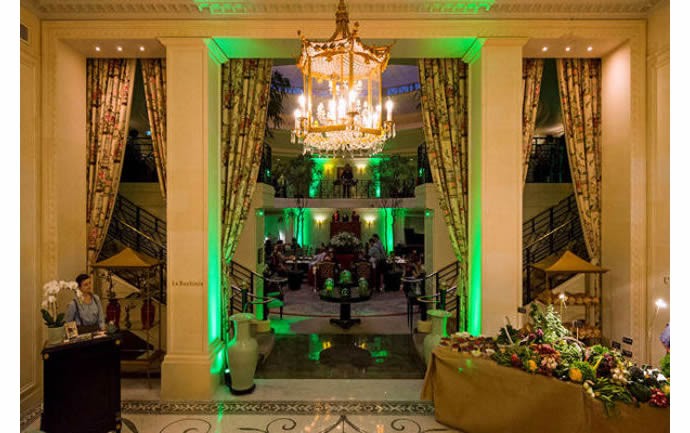 As an accompaniment to this unique menu, Head Sommelier Cedric Maupoint has chosen wines that complement the dishes and also the teas and coffees that would go well with the food, right down to the right kind of sugar to go with the meals. The cocktail menu gets a dash of cucumber, kale, celery and ginger juice to go with the theme.
To add to the extraordinary menu and the ambience that they provide, they also invite a wine grower, or a farmer , or a market gardener to the restaurant to interact with the guests and speak to them about the fresh produce, the quality and the taste of the produce and to understand the tastes of the clients better .
This five course menu served every Thursdays is priced at $ 77 excluding drinks.