The winters are the best time of the year to indulge in exquisite spirits, and if you enjoy a good drink with a nice dinner, Belvedere Vodka has just the thing for you. They are out with the limited edition of 6 pieces, the Belvedere Collector's Case, which features 6 exclusive Belvedere Vodkas set inside a mirror surfaced casing. The case is crafted in French made wooden box finished with gold fittings and white leather.

The vodka bottles are available in 100% natural flavors that include Belvedere Citrus aromas featuring spicy notes of lemon, followed by pink grapefruit Belvedere that pairs grapefruit with ginger, lemon, and lime, the Belvedere Orange that tastes of tangerine, Spanish orange, and hints of jasmine and orange blossom, the Belvedere Black Raspberry with flavors of raspberries, black currants and rose petals and finally the Belvedere Intense that comes with higher Alkohohlanteil an intense spirit with spicy flavors.
Available in Germany, these special cases are priced at €2,500 ($3,350).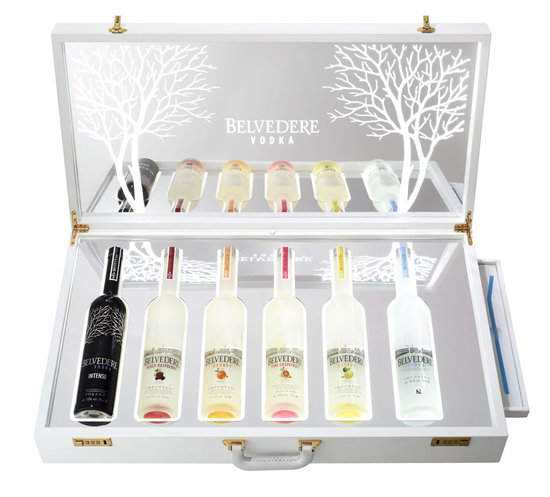 [RichtigTeuer]