What started off as a locksmith's shop in Sindelfingen way back in 1919 is today the world's finest luxury safe manufacturer in the world. That is Döttling's story for you in a nutshell. After delivering a series of luxury safes, the company has recently introduced it's a very first desktop humidor, crafted especially for safe locking and storing cigars.

Made using the finest materials, expert craftsmanship, and keen focus on details, the humidor is a one of kind storage that uses four removable trays that can store up to 50 cigars. Unlike common humidors that open with a hinged flap lid, the Döttling humidor opens by simply pulling up a drawer. The interior of the safe is made of solid Spanish cedar and is fitted with exclusive LED lights that perfectly illuminate luxury cigars as placed therein. Further, it also accommodates the hygrometer, barometer, and thermometer, each crafted from brushed stainless steel along with the humidifier that boasts of the best Cigarspa mechanism.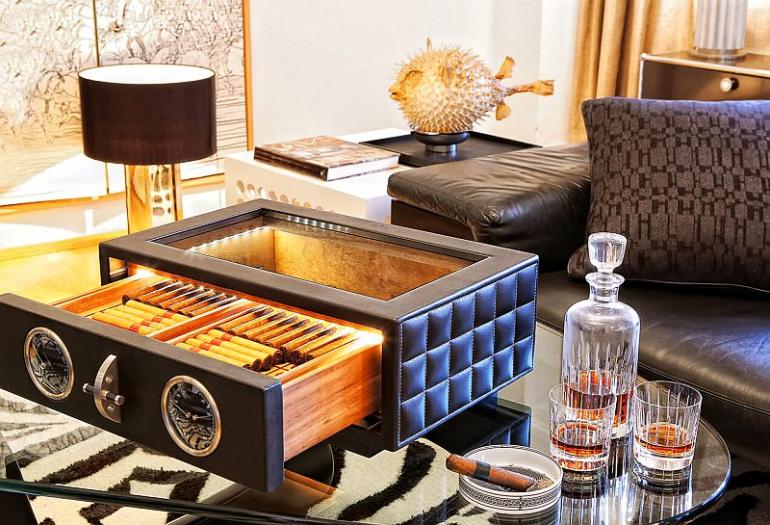 Apart from the striking interiors, each of these luxury humidors is covered in high-quality calf-skin that can be alternated or complemented with wood or high gloss varnish. While the safe is a perfect place to store your cigars, it can also be used to retain your watches in top shape. For being an exquisite and peculiar multi-purpose object of its kind, the Döttling tabletop humidor will cost connoisseurs up to 12,000 Euros (USD $13,000). Those who fancy purchasing this cigar specific table art can do so by visiting the company's German headquarters or the company's select representative stores across the globe.