Batman merchandise is always popular, be it the Batmobile, comic books, Armani suits or Kia Optima SX. And now you can add fount pens and roller pens to your collection as Montegrappa and Warner Bros have brought out 1939 Batman fountain pens and 1939 Batman rollerballs, the year in which Batman first appeared. Sporting an aluminum body with a black anodized finish, the clip has been created using ruthenium-plated brass, reminiscent of Batman's original costume. The pens have engravings that resemble bats in flight and have been finished in 18k gold nib featuring the Batman logo.

If you think that the pens are not enough, then 500 sets with cufflinks and a wristwatch are also up for grabs. The jet-black cufflinks sport a 3D Batman logo created in carbon fiber, with the Montegrappa name's folding grip.


The watch is based on the 42 mm stainless steel cased Montegrappa NeroUno watches running the Swiss-made Ronda quartz movement. Water resistance of 5 meters, the case has been finished in black PVD. The watch features a flying bats pattern on the bezel and the dial, with the oval Batman logo in nickel positioned at 12 o'clock, with "numerals at the 3, 6, and 9 o'clock positions, the dot markers for the remaining hours, and the curved blade hands for the hours and minutes". The sapphire crystal-protected watch has been finished with a carbon strap with a black PVD buckle.


The Batman Fountain Pen has been priced at $3,350, whereas the Batman Roller Ball costs $2,600. The Batman Set Fountain Pen + Watch + Cufflink is worth $5,695 and the Batman Set Roller Ball + Watch + Cufflink bears a $4,945 price tag.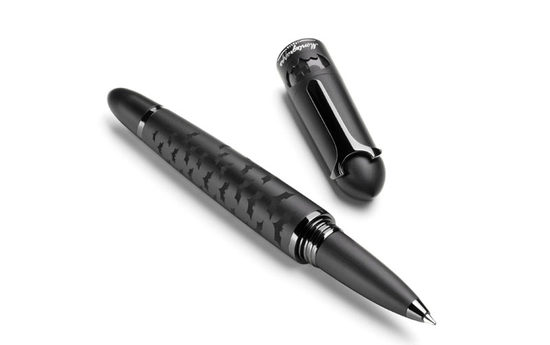 [Montegrappa]