If you are one of those people who keep track of exclusive credit cards, Credit Card Forum recently released the ranking for the world's most exclusive credit cards – a list compiled for the year 2012.
No 7 – Merrill Accolades Card issued by Bank of America.
To qualify you must be a loyal Merrill Lynch customer. The catch is the $295 annual fee, which is waived if you have $250K and more in either Merrill Lynch or Bank of America accounts.
[Merill-Lynch]

No 6 – RBC Visa Infinite issued by the Royal Bank of Canada


Offered only to Canadians, it carries an annual fee of $399 for banking clients, and non-banking clients have to shell out about $599. To qualify, Canadians need to have 1 million CAD in liquid assets and 3 million CAD in net worth.
[Royal Bank]
No 5 – Coutts & Co World Card


If you are a resident of the UK, then this next credit card Coutts & Co World Card is exclusive to you, provided you meet the requirements. To qualify you need to have disposable funds of at least $800,000. If you are one of the big spenders charging at least $80,000 on your credit card then, they will be generous and waive the $560 annual fee.
[Couts]
No 4 – American Express Platinium Card


This card is close on the heels to J.P. Morgan Palladium. With an annual fee of $450, this credit card in addition to being exclusive also offers tons of benefits to their cardholders. One of the benefits includes reimbursement of up to $200 per year for airline incidental fees including baggage fees and in-flight food and beverages.
[American Express]
No 3 – J.P. Morgan Palladium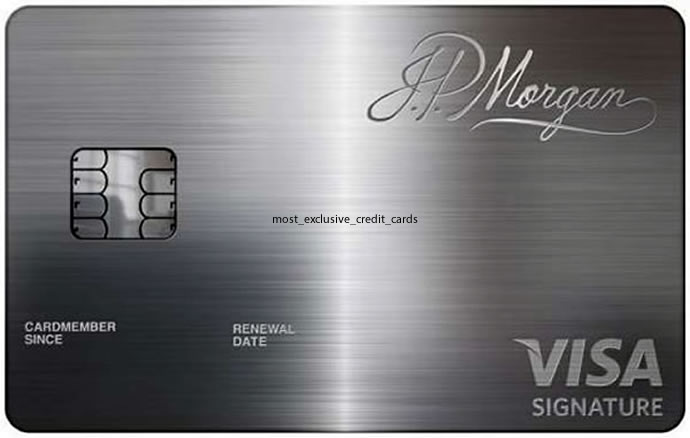 The third one to make this list is the J.P. Morgan Palladium. This credit card is actually made out of palladium and 23k gold. To qualify, one must be a J.P. Morgan Private Bank, Investment Bank, Treasury Services, or Commercial Bank client. Any Chase bank customer with holdings of $5M and above can exclusively brag about the credit card. They will also have to shell out an annual fee of $595.
[JP Morgan]
No 2 – Dubai First Royale MasterCard


Anytime you hear Dubai, exclusivity comes to mind. For those residing in UAE, this credit card is made with gold and diamond and does not have any spending limit. There are no set requirements as such to qualify for this card. When the card was first introduced in 2008, it was offered to only 200 of Dubai First Bank's wealthiest customers. In 2012, however, no annual fee was required, although the source states, for example, a Dubai First Royale MasterCard holder as an oil tycoon with an income in 9 or 10 figures.
[Dubai First]
No 1 – American Express Centurion


First on the list is the American Express Centurion. This credit card is exclusive to people who can afford the initiation fee of $5,000 and include $2,500 fee upfront. If you are one of the big spenders and charge more than $250K annually on either Amex Gold or Platinum, you will be invited to apply.