The Mulsanne is one of the most luxurious cars ever produced by Bentley, and it is all set to become even more comfortable and luxurious this year. Since it was first introduced to the world in 2010 it has only gotten better, with advancements in both comfort and technology. This flagship Bentley car will be unveiled with its new advancements at Salon d'Auto in Geneva this March. The most important change to be made to the 2014 Bentley Mulsanne is in the area of comfort and convenience, which includes comfort headrests with manually adjustable wings for lateral support. Also available are new footrests, which have been specifically designed to blend into each vehicle. To provide an additional comfort level, there will also be duck-down-filled loose cushions that will be finished with the traditional Bentley Wing emblem.



Privacy is, of course, central to most Bentley owner's lives, regardless of whether you're a celebrity or businessperson. So Bentley has provided new privacy curtains that can be added as Crewe – fitted options. They are available on the rear doors and rear windscreen in Black or Ivory; these opulent curtains can be drawn with one touch as they have been integrated into the window lift switches.

Technology is always changing, and the Bentley Mulsanne has changed to accommodate the latest technology; the rear cabin offers the highest level of technology today. A rear picnic table is designed to accommodate an iPad and a wireless keyboard; they also double as a smooth hide trimmed writing surface. You can even stay connected via the Wi-Fi router fitted into the rear cabin. Twin 8-inch LCD headrest screens and a DVD player, all supported by Naim for Bentley's premium audio system, further enhance the entertainment.

At its best in the 2014 Bentley Mulsanne, connectivity is at its best with the option of a high-speed Wi-Fi router with a UMTS phone module and SIM card reader. This allows for a rolling Hot spot that lets you simultaneously connect 8 devices. A dedicated antenna housed on the boot lid outside the vehicle's steel frame allows for a much stronger signal strength than a handheld device.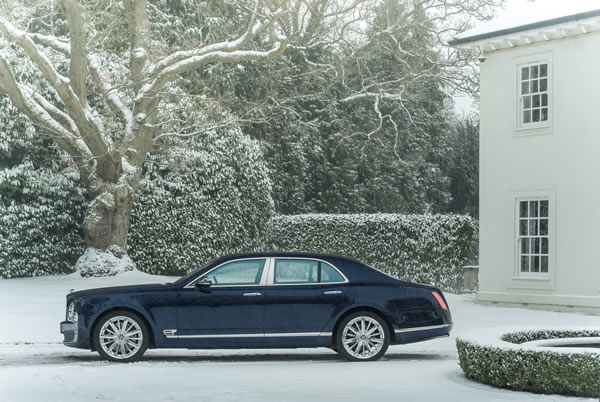 Bentley has added three new colors to the Mulsanne Palette, Dark Cashmere, Portofino, and Damson for those looking for purely Aesthetic changes. In addition to these, there are also three new additions for the interior hide colors, Damson, Saffron, and Brunel. They are also offering a set of bespoke fitted luggage for the Mulsanne. Italian luggage specialists Schedoni has exclusively designed the bags to fit perfectly in the Bentley trunk. The collection is made up of 6 pieces, two small cases, two large cases, and two foldable garment bags. The collection has been made of the same hide that goes into the interiors of the Mulsanne and can be customized to your personal tastes.