After giving us a sneak preview a few days back, Ferrari has finally lifted the veil off its new front-engine V12 supercar. Although it was initially rumored to be named the Versione Speciale, Ferrari's latest offering sports a slightly more familiar name. Meet the 812 Competizione, a more hardcore 812 model that packs the most powerful internal combustion engine of any road car from the iconic Italian marque. Along with the coupe variant, Ferrari has also released the Targa-top version called Competizione A (A stands for Aperta, which translates to open).



Starting with the highlight of the most potent 812 model, the supercar gets an upgraded version of the naturally aspirated 6.5-liter V12 engine that produces 830 horsepower and 510 pound-feet of torque. That's an increase of 30hp over the Superfast, while the torque has been marginally reduced by 19 lb-ft. The updated twelve-cylinder engine can spin up to 9,500 rpm, making it the highest-revving Ferrari road car ever. The seven-speed dual-clutch automatic transmission has also been updated to improve the shift time by 5 percent.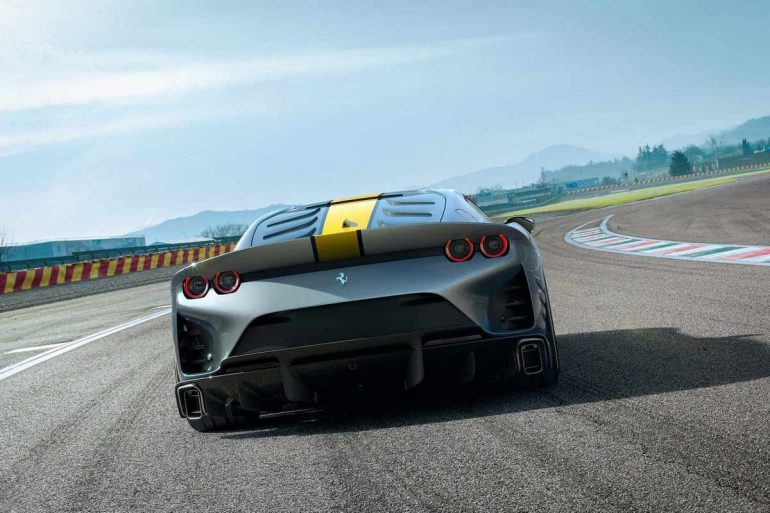 As far as the performance figures are concerned, Ferrari says the coupe version goes from 0-62mph in just 2.85 seconds, while it can hit a top speed in excess of 211mph. Now, those numbers might be virtually similar to the 812 Superfast, the newest Ferrari is almost half a second quicker in the 0-124mph run that comes to about 7.5 seconds. Ferrari is yet to release the figures for the Targa-top version, but it might be a tad bit slower due to its extra weight. But Ferrari has made sure that the 812 Competizione A doesn't weigh a whole lot more. It gets a carbon fiber roof that fits into a storage compartment at the back.

The 812 Competizione gets an updated design along with a more aggressive aero package that is said to be derived from Formula 1 cars used during the 2010s. the most noticeable change comes in the form of a new rear screen which replaces the glass windshield with a closed panel with elements to improve the aerodynamics of the supercar. Additionally, the quad circular exhausts found on the Superfast have been replaced by a pair of angular exhaust tips that work in tandem with the rear diffuser to increase downforce. Ferrari also says that it has managed to reduce weight with the use of new materials and components, which has brought down the curb weight by about 84 pounds. Ferrari hasn't announced the pricing as of yet but it could easily be north of $400,000.