Jeff Bezos is a man of wealth and grand gestures! Call it an ode to the gorgeous girlfriend, the besotted billionaire's 416ft yacht Koru sports a voluptuous figurehead on the prow bearing an uncanny resemblance to 53-year-old Lauren Sanchez. What else could one expect from the man who didn't bat an eyelid before splurging half a billion dollars on his enormous mega yacht? The polished wooden sculpture sits on the prow of the Amazon boss' 416ft love boat. Striking beauty Sanchez is accurately depicted as a Roman Goddess.

Jeff Bezos' extravagant 416ft yacht Koru has a figurehead on the prow that bears a striking resemblance to his glamorous girlfriend Lauren Sanchez, 53 pic.twitter.com/PebRTwsHnD

— News News News (@NewsNew97351204) May 18, 2023

The details are perfect, right from the volume of her flowing hair to how she usually wears it, complete with a center-parted style. Even the facial features, a full lip, a defined jawline, and even the size and shape of her neck seem duplicated to the T. Bezos truly hit the ball out of the park by celebrating his ladylove with a magnificent figurehead on the world's second-largest sailing yacht that the Amazon boss affectionately named himself. He may have commissioned the 416-footer in 2018, but with this addition, Koru will always bring the lovely Lauren to mind first, followed by the world's third richest man.
The much-in-love couple started dating in 2019, and their incredible journey onboard Koru began earlier this month when the couple was spotted on the Oceanco mammoth for the first time.

The 59-year-old philanthropist arrived on the Spanish Balearic Island by private jet before being transferred to a helicopter that whisked the couple to their big boat. They admired the schooner and her three towering masts that measured more than 230 feet high while mingling with the crew and enjoying each other's company.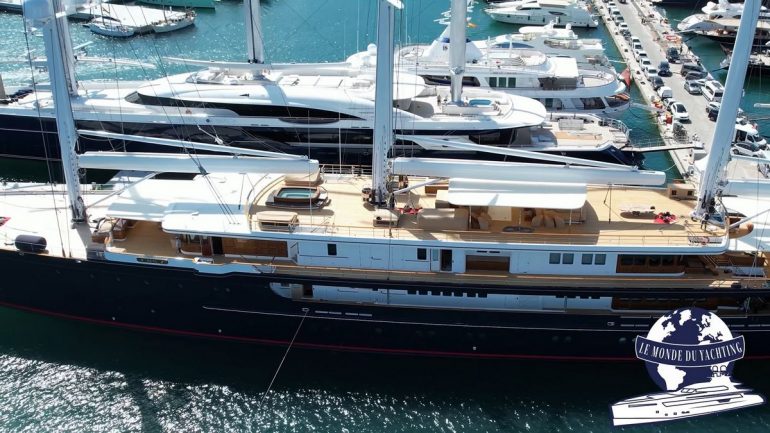 The figurehead is not the doting boyfriend's only a splendid expression of love-
As the gigantic $500 million Koru did not have a helipad, Jeff Bezos purchased a $75 million support vessel with a hangar so Lauren Sanchez could indulge in some flying. The Albuquerque-born beauty is a qualified helicopter pilot. She founded the aerial filming company Black Ops Aviation. The first female-owned aerial film and production company specializing in filming from the air. It focuses on film and television projects that allowed Sanchez to use her skills as a licensed pilot.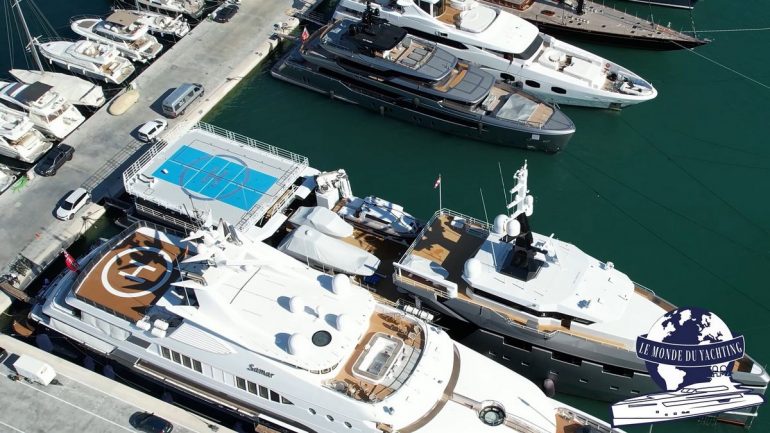 "Men dominate this space, but there's nothing physical about flying a helicopter. You can be 5-foot-1 or 6-foot-4. There's no reason more women aren't in this." Her passion for flying is evident, as is Bezos's love for her. The support vessel, 247-foot-long Abeona, will exclusively support Jeff Bezos' and Lauren Sanchez's $500 million megayacht. Abeona features a helicopter hangar that can host an aircraft up to a D-value of 14. Additionally, the support vessel can easily accommodate all the tenders and toys without occupying crucial Koru space.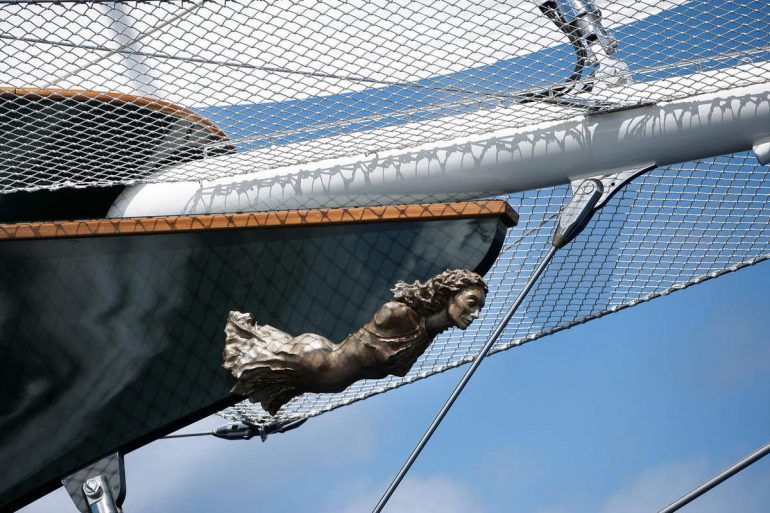 The only other billionaire to do something similar was Barry Diller. The media baron got a giant figurehead of his wife sculpted on the 305 feet long, $200 million Enigma superyacht. His wife is none other than ace fashion designer Diane von Furstenberg.