We have mentioned about the Home of Rolls-Royce Collection already. This exclusive collection consisting of Ghost and Phantom models will be unveiled to celebrate 10 years of production in Goodwood, England. Conceived and designed by the Rolls-Royce Bespoke team, it will be released in 2013. However, we have new details and stats about the upcoming Home of Rolls-Royce Collection. The highlights of the collection are –



1) A compass motif expresses the Home of Rolls-Royce's position as a global center of manufacturing excellence. The beautiful motif on the glove box has been created from 11 different types of wood, including Sycamore, Holly, and Satinwood. These represent the different woods that have been used in Ghost and Phantom interiors since 2003. Each piece of virgin wood has been milled and sanded by hand before being carefully coated with 5 layers of lacquer.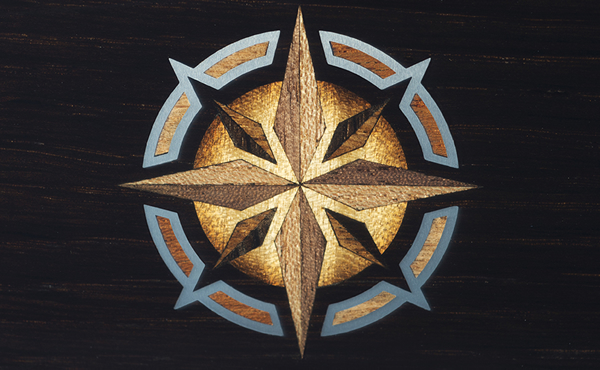 2) 20,000 wood veneer combinations are available in every Rolls-Royce. Each veneer created by the craftsman's hand of the Bespoke team is unique to the customer. All veneers are stored in a humidor kept at 25 degrees and 80% humidity to allow the wood to breathe and remain supple. Each veneer spends a minimum of 3 days in the humidor before being fitted into a Rolls-Royce.

3) While continuing to use traditional woodworking skills, the craftsmen applied lasers to ensure total precision in the alignment of each of the 170 separate pieces of wood along with the metal inlay.

4) The Home of Rolls-Royce Collection Phantom embroidery comes to life with 112,533 stitches which are applied by precision embroidery machines that make 1,000 individual stitches per minute. But due to the complexity of the pattern it takes over an hour to finish each individual piece.

5) The Spirit of Ecstasy comes from the Home of Rolls-Royce Collection cars, which highlight the exquisite craftsmanship found at Goodwood. The inscription on this special Spirit of Ecstasy references the position of their plant.

6) Each car undergoes a 22-stage process which uses more than 100 pounds (45.5kg) of paint. The Home of Rolls-Royce Collection offers 44,000 individual exterior paint colors to choose from.

7) In all, 60 pairs of hands take 400 hours to construct every Rolls-Royce motor car.

8) Also 450 individual leather pieces are cut and fitted to each Rolls-Royce Phantom.

9) And 672 metres of thread is used in every Home of Rolls-Royce Collection Phantom.

10) Lastly, there are precisely 58 layers to every Phantom wood part
[Via – Rolls-Roycemotorcars]