A fine time of the year makes for finer timepieces. From January 14th – January 17th 2019, the International High Watchmaking Salon (SIHH) was held in Geneva and we've handpicked an assortment of eleven fine watches from the women's collection. While men's watches focus primarily on pioneering construction and meticulous precision, for women the elements of power are artful conception, exclusivity and elegance. From Cartier's devastatingly striking Baignoire Allongee Celadon to the beauteous Piaget Possession cuff watch, we've scoured the collections to bring you only the best.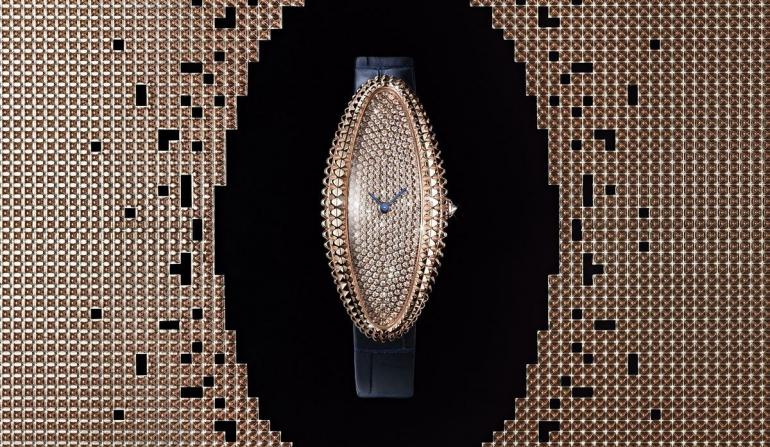 Cartier Baignoire Allongee Celadon
Cartier's recent collection stood strong at the SIHH 2019. A collection of five masterpieces met the eyes of avid watch connoisseurs, but the Cartier Baignoire Allongee Celadon took my breath away. 'Baignoire' is a bathtub in French, and let's just say I love everything French. The name was conceived from its oval case profile which resembles a bathtub. Encased with 18k white gold, the case spans 47 mm in length and 21 mm in width. The sparkly timepiece is glistening with jewellery; from diamonds and emeralds to Paraiba tourmalines.


Piaget Cuff Watch Possession
There's a showstopper in Piaget's new collection and it's none other than the Cuff Watch Possession. Crafted from rose gold, the wide cuff bracelet entails an elegant mother of pearl dial with diamond hour markers, framed by 162 brilliantly cut stones. The watch is equipped with a quartz movement Piaget 56P. I personally think the beautiful piece doubles up as a watch and a piece of jewellery.


Bvlgari Lucea Skeleton and Lucea Skeleton Tubogas
From the house of Bvlgari, we bring you our third pick of the evening. Bathed in tones of maroon, Bvlgari's resonates with modern architecture and feminine sensuality. The watch tick marks all the mandates, from an openwork Bvlgari logo dial set and automatic winding to a delicate 18k rose gold case. An icing on the cake are the Bvlgari letters sparkling with diamonds. There is a version on an alligator strap and on the Tubogas branded flexible bracelet.


Parmigiani Fleurier Tonda 1950 Lune Watch
The Parmigiani Fleurier Tonda 1950 Lune Watch is elegance personified. A gold 39-millimeter case adorning bezel diamonds, frames the delicates mother-of-pearl dial. There are elements resonating with feminine touches, such as the moon at 10 o'clock which is set in the middle of a starry sky and the gold outline around the date window at 4 o'clock.


Cartier Diagonale
Yet another pleasing timepiece from the house of Cartier, the new Diagonale watch is brimming with aesthetic value from the Art Deco era. The timepiece has been unveiled as part of the Libre collection in a limited edition of 50 pieces. The white gold case adorns diamonds and a colored enamel. This piece is undoubtedly of my favourites.


Élégante by FP Journe
Curated by the FP Journe brand several years ago, the Élégante timepiece has a very striking feature; it's equipped with a motion sensor, so when the watch is still for 35 minutes, the hands stop. More interestingly, it will revert to the correct time after motion is detected. A newly blossomed aspect of the watch is the grade 5 titanium, made of Ti6Al4V titanium alloy with an exclusive Titalyt coating and a diamond decor. The dial of luminescent sapphire provides readability at dusk and at night.


Evening hours Sapphire Orbe by Audemars Piguet
Imagine the most eccentric timepiece you've seen, and then take a look at Evening hours Sapphire Orbe by Audemars Piguet. The creation pushes gem-setting craftsmanship to new heights. Embodying a sparkling river of diamonds and sapphires in graded hues of blue and orange, the watch is contemporary design at its finest. Entailing more than 12,000 stones, the piece nestles the 2 cm dark blue sapphire-set globe which when inverted, reveals the watch's 18-carat white gold dial paved with graded orange sapphires.


RM 07-03 Automatic Marshmallow by Richard Mille
Most watches are inspired by elements; this timepiece is one of the few that actually depicts a theme. The vibrant, candy-characterized time piece showcases everything from lollipops and sugary confections to slices of candied citrus fruit and licorice. In the Marshmallow, we have an RM 07 in lavender pink TZP ceramic and white ATZ ceramic with the calibre CRMA2 skeletonised automatic in-house movement. Crafted in grade-5 titanium and red gold with enamel work, this high-price watch is a timepiece we definitely desire.


Watch Galop d'Hermès
The French luxury house always impresses us. Now, it's time for a masterpiece. Inspired by the designer Ini Archibongu, the pink gold watch is equipped with quartz movement. The sleek piece tells a tale at every point in time. The beauty is in its simplicity, from its domed shaped sapphire crystal dial, to the diamond encrusted frame.


Amadéo Fleurier 39, Bovet 1822 Watch
Perhaps my most loved watch of the collection, this teal blue timepiece entails a proprietary Bovet system. Entailing a delicate Amadeo convertible case, you can wear this watch on your wrist, as well as a pendant or pocket watch. Framed by 227 finely-cut diamonds, the mother of pearl has a beautiful miniature painting on it. The 39 mm watch is completed with alligator skin.


Cat's Eye Plum Blossom Watch, Girard-Perregaux
There's a diamond encrusted frame, and there's a diamond encrusted dial, and we always prefer the latter. Dipping in white gold and everything diamond, the Girard-Perregaux timepiece is perhaps of the most sophisticated pieces ever. With over 444 diamonds finely distributed across its bezel, dial and buckle, the Cat's Eye Plum Blossom entails an in-house calibre GP03300-0152 with self-winding inside.