The night sky has been a playground for poets, artists, musicians. Each artist finds inspiration in the stars with many finding a way to capture the surreal grandeur of space in their works of art. Historically speaking, monuments from the Pyramids in Egypt to Stonehenge have roots in astronomy. It takes ages to understand the movements of stars and their significance here on earth.

In the past, it was the job of fortune tellers and philosophers to find your lucky day, but not anymore. Imagine having a device that can tell you exactly which days are more fortunate for you than others. The Midnight Planetarium watch from Van Cleef and Arpels is one such watch among a few unveiled in a private exhibition held in The Sharjah Museum of Islamic Civilizations on the 30th of April 2014.
Going with the theme of Poetry in Astronomy Van Cleef showcased the Zodiac inspired line, Gold Charms as well as the focal point of the expo, The Midnight Planetarium along with the Classic line for men and women. The event was held in the Astronomy atrium of the museum darkened for added spectacle and was attended by the press among others. The darkened astronomy atrium highlighted the presence of such monumental timepieces.

The centerpiece was the Midnight Planetarium, which –although for men- took the fancy of both men and women alike. The watch truly is a sight to behold dearly, as wearing it makes one feel as though this watch could be a teleportation device from the future. The watch will also come with a crafted casing featuring a winding mechanism, to keep the watch wound up for you. The watch is adorned by its unique complication of rotating dials which indicate the planets above and their precise location in space. The planets themselves are precious stones which add to its beauty and bring on a one of a kind sophistication in jeweled watches. The movement of each planet is true to its genuine length of orbit: it will take Saturn over 29 years to make a complete circuit of the dial, while Jupiter will take almost 12 years, Mars 687 days, Earth 365 days, Venus 224 days and Mercury 88 days.
The Midnight Planetarium is not a limited edition watch; it is rather planned to be a onetime production purely based on the demand generated by such events.

The Zodiac Collection for women was also a draw to the ladies, although it does look like it's a little large for tender hands. Representing the four elements Earth, Water, Air, Fire under the extraordinary line will be available for a limited edition of 22 pieces only.

Midnight Nuit takes inspiration from the northern sky constellations and pays tribute to masons by engraving the dials with gold or various alterations of mother-of-pearl enamel. Van Cleef Arpel will only be releasing a limited edition of 22 pieces.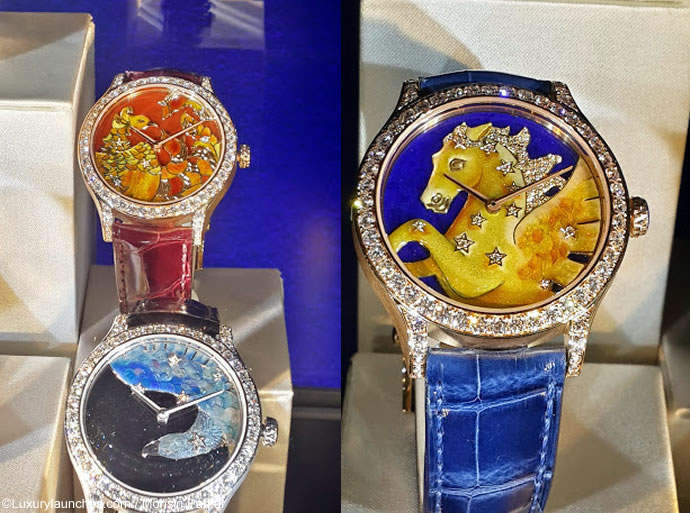 Midnight Constellations
A tribute to the legendry works of Jules Verne consisting of four new models, comprising of Pegasus, Phoenix, Gallus and Aquila. These set of timepieces are for men, the absolute brilliance & rich colors adds to its appeal if not adding to its mystery. Adorned with precious stones layered to add to its visual depth and magnificence.

The Iconic Charms Gold collection for women
Featuring a rotating charms dial, that can be set at a required time or to bring more luck on special occasions. It is designed to be a universally fashionable piece of jewelry for women who want to take charge of frivolous things like luck.

Midnight in Paris Poetic Complication features a dial that shows the exact position of the stars in the sky of Paris.

Pierre Arpels collection
This collection consists of two watches which are dedicated to the poetry of travel. Pierre Arpels Heure d'ici & Heure d'ailleurs and the Pierre Arpels Platine. Although the Platine is a more traditional looking Roman numeral dial the Arpels Heure d'ici is a unique complexity which actually looks so simple yet so beautiful. The highlight of the dial is a unique time jump which to me mimics the jump in time one makes as they hop on a plane and travel to exotic locations.

Day and Night Poetic Complication dial moves as if the sun and moon are connected to its mechanism, making you treasure every fleeting moment.
This Swiss automatic movement watch has a white gold dial set with 38mm diamonds and a Alligator Strap held by a white gold and diamond pin buckle. The movement is based on a Piaget 800P, with a 24 hours module developed exclusively for Van Cleef & Arpels.

Alhambra Talisman Pavée watch
Decorated with a "serti-neige" (snow setting) style diamond paved dial, this Swiss Quartz movement watch is absolutely stunning in sunlight when every movement of the wrists makes it shine sparkle opulence. These watches were showcased in 2 sizes Small & Medium only for women. The dial has around 496 brilliant cut diamonds and an additional white gold Alhambra buckle paved with 60 round diamonds.

The subject of astrology is both vast and complex, on the surface it's assumed to be the art of predicting one's fortunes and pitfalls. But underneath it all is an intricate system understood by deep study and an appreciation for the heavens. In a way what a buyer would take home are not watches with some fancy dials, these are exquisite timepieces which do not cater to the everyday user. After all, what you take home are machines that can immortalize the grandeur of your soul for generations to admire.
Based in Dubai, UAE, Mohsin Parkar is a serial exotic adventure hound, gadgets and automobile aficionado.