What a colorful collection! Those who enjoy matching their clothes with their accessories to the T will love the Boucheron Audacious Collection, which 'combines traditional jewelry and watchmaking techniques into exotic and sensual designs.' It is inspired by Orientalism, something that Louis Boucheron has been amused with since his first traveled to India in 1909. L'Orientale features steel and diamonds with a dial-in light blue mother-of-pearl mosaic set with diamonds and sapphires. It also comes in rose gold diamonds. It comes in an Orientale case textured with clou de Paris metalwork on its sides, and the bezel is decorated with diamonds in a staircase setting, with each of the three rings of stones grows in size as they approach the dial. The GP4000 movement is fitted with a Boucheron rotor and can be viewed through an elliptical display back.

The Boucheron Shéhérazade is a timepiece inspired by the Persian queen and the storyteller of the 'One Thousand and One Nights' and comes in white gold and diamonds. The dial is in Lapis Lazuli mosaic set with multicolored sapphires, amethysts, aquamarine, and diamonds. It also features rose gold with a dial-in Sonora Sunrise mosaic set with multicolored sapphires and diamonds.
Honoring India's great elephant culture, the Crazy Jungle Hathi is a beauty in white gold set with blue sapphires, diamonds, and tsavorites with a dial-in a Murano aventurine glass mosaic set with diamonds, sapphires, tsavorites, amethysts, and onyx.
The Crazy Jungle Seahorse watch in pink gold, diamonds, garnets, multi-colored sapphires, and onyx is another stunning piece.
The Crazy Jungle Flamingo watch in white gold, diamonds, garnets, multi-colored sapphires, onyx, and mother-of-pearl comes ahead of the flamingo, and a school of fishes appears underwater.
The Héra Tourbillon has three gold Bridges Tourbillon designed by Girard-Perregaux. The mechanism is set with two different shades of green tourmalines and diamonds to create the peacock body. A ring of round cut diamonds encircles the central movement to form a perch from which unfolds an intoxicating bracelet sculpted to mimic its graceful plumes.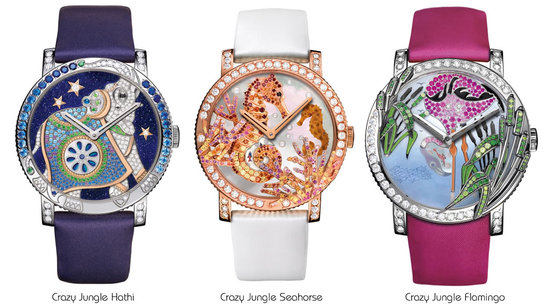 [Timezone]