Another yachting beauty the $488M Eclipse lands in Roman Abramovich's lap
By kamakshi |
on April 15, 2010 9:00 am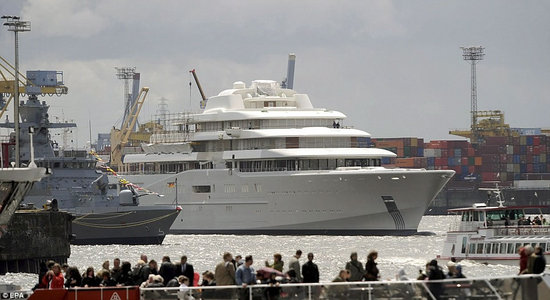 Roman Abramovich is one lucky multi-billionaire. He was waiting for one yacht to be delivered and then the other just trots along! After become the proud owner of the World's largest expedition Motor Yacht Luna, comes another delayed sea monster. This time it's the almost 550feet long Eclipse. The yacht is said to house two helipads; two swimming pools (Just drain off the larger one and voila! You have a dance floor!), 6foot home cinema screens for all the guest cabin and a master cabin with an opening roof.
Built by Blohm & Voss, the yacht is touted to cost double its original price of $488million. Plus the oh-so-famous
anti-paparazzi electronic shield
will be very much installed on board this beauty too.
[
Timesonline
]