About a year ago a Romanian company called 6th-Sense, that specializes in interior design, set about creating a themed pub that wouldn't just come with an outrageous "Wow!" factor but would also be as true and authentic to the motif as possible. 'Submarine,' as it's aptly called, is a pub that has been designed to suit its namesake and the designers have done a stupendous job of replicating the inside of a sub to a large extent, but it's the overall décor that's the real treat to behold.



Using a vault-shaped ceiling combined with a vast series of dials, meters, gauges, pipes and even a large wagon shaped space that divides the rooms, actually makes you feel like you're inside some underwater ship and heading for twenty thousand leagues. I'd half expect Nemo to come around and take my order. From the variety of control panels, bolted metal doors, radar screens, periscopes and even ammunition in the form of torpedoes (two of them are mounted on the ceiling and actually move around the room) the Submarine pub is just as chic as it is reminiscent of a Steampunk styled drinking hole.


With floor to ceiling art to actual fittings of pipes, leavers and more, this is one ship-shape pub that will surely make you want to come back, unless of course, you're claustrophobic. That being said, from the images of the layout of this one-of-a-kind Submarine pub, there still seems to be plenty of room to accommodate quite a few "crew members" who wish to partake of merriment on the not so high seas.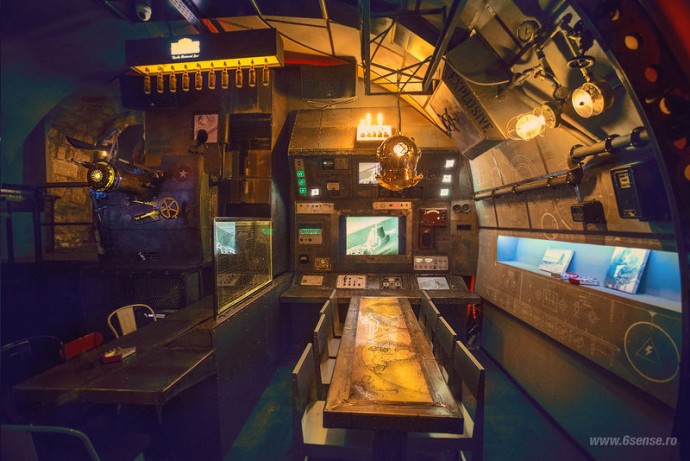 [Via – Trend Hunter]