9) Guy Savoy, Las Vegas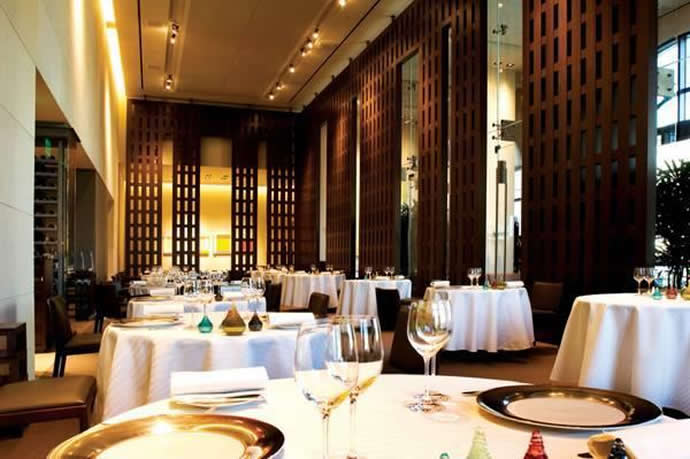 Caesars Palace in Las Vegas may have been the center of film-attention aplenty but what poses an even bigger star is Guy Savoy from the hotel's gastronomical family. The eponymous restaurant, much like its Parisian sibling is a global phenomenon for reasons that reach further than its two Michelin stars. The world-renowned French chef, also owner and Head chef, does tremendous justice to his name and the restaurant by way of multiple set menu options (the ultra luxe 'Black Truffle Prestige' goes for $420 per person).


But with classic Guy Savoy dishes like the Soupe d'artichaut à la truffe noire, brioche feuillellée aux champignons et truffes, Artichoke and Black Truffle Soup garnished with toasted mushroom brioche and truffle butter, and desserts that include Terrine de Pamplemousse and Fondant au Chocolat, even the a la carte menu is equally precious, being a result of scrutiny of the eye and the senses of smell, taste and touch. A meal here, rather propeller of sensory overload is usually priced at $556 for two persons.
[Guy-Savoy-Las-Vegas]
8) Moto, Chicago


Innovative. Artistic. Thought-provoking. Surreal. Entertaining. They say. We ask how so when they whip out the moto menu with modest sounding preparations like scallop and then aged carrot, what! So, to put it simply the Michelin-starred restaurant is an abode of the post-modern gastronomy movement. And its world-renowned leader, Chef Homaro Cantu as well as Chef de Cuisine and moto partner, Chef Richard Farina offer what the folks at moto like to call "an interactive, futuristic and overall exploratory dining experience."


How they provide that is by using high tech equipment in a state of the art laboratory where chefs actively prepare your meal in front of you, and a state of the art indoor farm, also an exemplar of sustainable gastronomy's future, which, by the way is open to peek into for guests. No connoisseur can forgo this prospect, much as s/he can't ignore the intricacy of techniques with exotic, sustainable and seasonally conscious ingredients. That said the restaurant does seem like a page out of a science-fiction novel, its novel results are very real and available at a price for two of $570.
[Moto-Chicago]
7) Joël Robuchon, Las Vegas


And hello again Las Vegas! Also, salut Joël Robuchon, yet another French chef whose name (or restaurants) need no introduction! After all, the man is practically a TV personality, having hosted culinary television shows in France. But that's not why we have him on our list. It's for La Langoustine truffée et cuite en ravioli à l'étuvée de chou vert or L'Œuf de Poule mollet et friand, légèreté au fin Comte et Iberico de Bellota, served at his Art Deco town house of a restaurant. The three Michelin stars help of course.


Nestled within the famous MGM Mansion and masterfully decorated by Pierre-Yves Rochon, the décor is as akin to the menu in extravagance. But while its entrance of checkered black and white marble and garden terrace with green, vertical wall entice, the kitchen designed by Joël Robuchon himself is what renders the setting a soul that embodies the man. And limited seating, of course, which creates the intimacy one can expect from the United States' first and only fine dining Joël Robuchon restaurant, with a meal for two priced at $640.
[Joël-Robuchon-Las-Vegas]