Sleep is always in style. How you style the bedroom, however, is a little more subjective. Regardless of the color pallet you choose, or whether you go modern chic or vintage charm, the one thing that every bedroom has in common is a bed! Whether you just want somewhere to lie down after a long day, or you want to have the best sleep experience possible, the right bed is often the most important item for someone's bedroom.

Even though a fancy and expensive bed is nice to see, the idea of comfort and wellbeing shouldn't be forgotten. The current concept of ultimate luxury is also about comfortable mattresses, such as memory foam options with cooling technology from this company, for example.
After our article on the Vividus bed by Hästens, we decided to look at some luxurious beds.

Starry Night Sleep Technology Bed: $50,000
The stuff that peaceful, silent dreams are made of, this bed is specifically designed to eliminate snoring. The science behind the system is that the bed inclines so that the sleeper is held in a position where their upper body is slightly more elevated, which helps to encourage proper breathing and reduce snoring. Also equipped with temperature settings, internet, and an iPod connection port – this bed has everything needed to give you the best night's sleep.

Majesty VI-spring Bed: $84,400
A bed truly fit for royalty, the Majesty VI-spring bed is hand crafted by interior design legend, Jab Anstoez. The Majesty reimagines the possibility of comfort with a spring design. Their trick is to incorporate over 6,000 springs, optimally placed for perfect suspension and weight distribution. Furthermore, as the material of the mattress itself is made with possible the softest materials on the planet – cashmere, cotton, and silk, the sleep experience is unlike any other. Top it all off with gold and silver stitching into the design, and you have a bed fit for a king.

Jado Steel Style Gold Bed: $676,500
Perhaps not the easiest on the eyes, but if a bed built almost entirely out of gold and adorned with Swarovski crystals doesn't scream luxury and extravagance, then what does? Also equipped with internet, a DVD player, a PlayStation, and built-in surround sound system, this bed is less about sleep and more about making a statement.

Janjapp Ruijssenarrs' Magnetic Floating Bed: $1.6 Million
If you have ever wanted to sleep as if you were floating on a cloud, here is your chance. Designed by world-renowned architect Janjapp Ruijissenarrs, this bed hovers over the ground with the aid of 1500 lbs. of magnets, and is also secured to the walls by heavy-duty wires in order to ensure that the bed doesn't drift away due to the magnetic field. We aren't quite sure how all of this magnetic action affects your body and your sleep, but we are sure that it looks incredibly cool.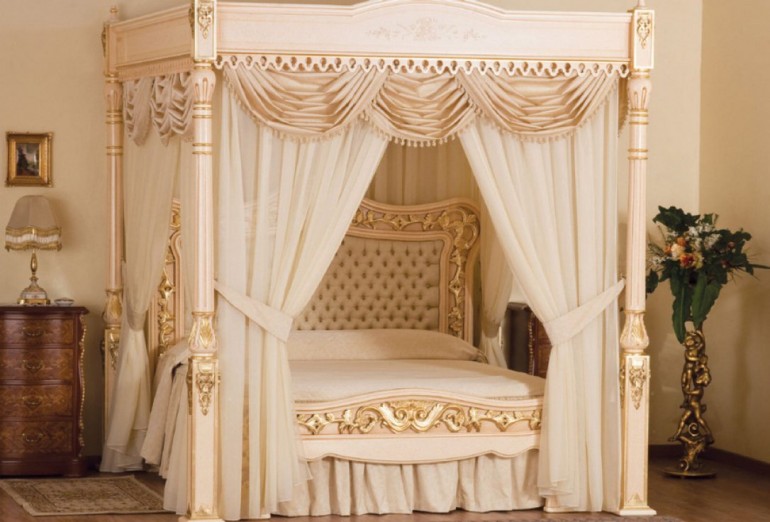 Baldacchino Supreme Bed: $6.3 Million
Probably out of most people's price range, but when listing the most luxurious beds, it must be mentioned. The Baldacchino Supreme Bed is designed by Stuart Hughes, who is famous for making the majority of the world's most expensive items. The bed is composed of three kinds of precious wood – including ash, chestnut, and cherry wood – it is also adorned with a 107 kg (236 lbs) of 24-carat gold curved canopy, and additional gold leaf detailing. The bed is handmade and custom built, with buyers' choice of diamond or other precious stone inlays in the headboard. All of the fabrics for the canopy bed are also handmade out of fine Italian silk and cotton.