In a city like London, it's all about the location and the Mandarin Oriental has done well. The opulent hotel backs on to Hyde Park itself, with a recently constructed outdoor terrace providing stunning views of the famous park. I did notice a Far Eastern slant on the people-friendly, but Independent of the fashion forward conventional London hotels, the Mandarin Oriental exudes grace and class with its classic decor. The expansive corridors and hotel interiors are dipped deeply in tradition. The rooms are elegant and traditional, though the infrastructure is modern, with high-speed internet and huge, luxurious bathrooms.


Mandarin Oriental has always been one of those hotels perched high up in the culinary race, and it's no surprise here that the hotel hosts Heston Blumenthal's highly-praised London address, Dinner, while Daniel Boulud's Bar Boulud provides yet another culinary delight.
Among the attractions for guests and Londoners alike are an expansive spa, one of the city's best, and the uber chic Adam Tihany-designed Foliage restaurant and Mandarin bar—two settings in which to show off your new purchases.
Our personal favourite was the Knightsbridge suite – an opulent and elegant 79 sq m suite reflecting the hotels heritage and grandeur. Although the tastefully furnished suite reflects oodles of grace and poise, the architect of the suite has borne in mind the modern and sophisticated hues of the 21st century, which can be observed in the suite.
The one bedroom suite entails a master bedroom, a living room and a full bath attached to the master bedroom with a separate powder room.
The warm-hued deluxe master bedrooms are sophisticated spaces with its soothing blue tones and exceptional views of Hyde Park, while the spacious living room entails wooden antique furniture surrounded by relaxing hues of royal blue and beige.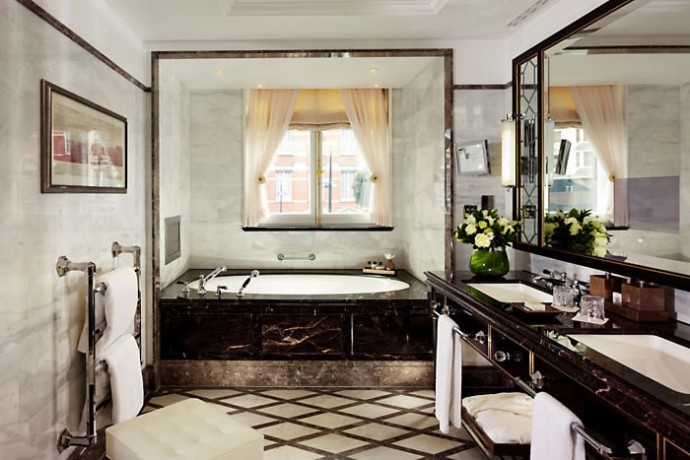 The luxurious bathroom is clad in Noir St Laurent marble and bronze detailing, with a bespoke rainforest shower and illuminated mirror with integral television. The appropriately appointed powder room lies adjacent to the living room.
Cost – $2500
Area – 79 sq m / 849 sq feet
Occupancy – 3 persons
Location – Knightsbridge, London, United Kingdom
Why should you splurge on it?
Location, location and location! The well appointed address of the Mandarin Oriental places you in the focal point of the bustling city of London, but still allows you moments of privacy.
Address –
66 Knightsbridge
London,
United Kingdom