As the weather gets a little nippy, what can be better than enjoying a drink, at beautiful rooftop bar, with a splendid view. While, Mumbai has some fair options, when it comes to open restaurants, we bring you the best in the city. Here are the top 5 Rooftop Bars in Mumbai, that are too good to miss!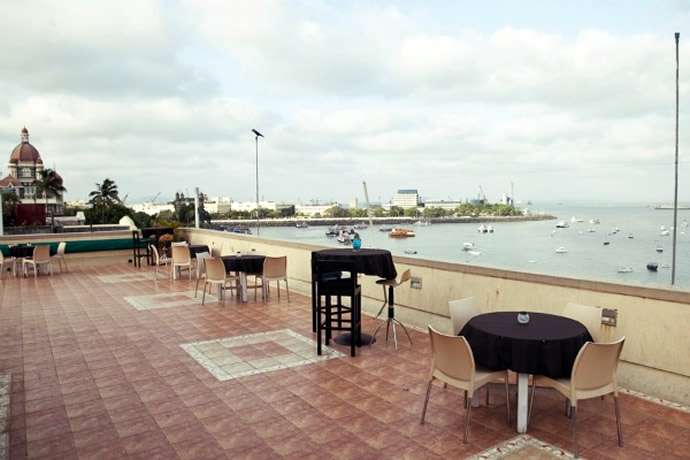 BayView Cafe: Tucked away on the rooftop of the mediocre Hotel Harbour View and the Strand Hotel, this rooftop bar has a casual appeal. As, it is more of a budget option, it's simply decorated with terracotta tiles and mosaic walls. However the sea breeze and expansive views more than make up for it. Don't expect a fancy evening here, this casual spot does a brilliant English breakfast and is known for endless beers.
What should you order: Potato Cheese Croquettes, Chicken Tikka, Paneer Chilli,
Address: Opposite the Radio Club, 25P Ramchandani Marg, Colaba.

Skky Lounge: The only rooftop restro-bar in Mumbai, with a lake view, the Skky Bar at Ramada, Powai is a great place to dine in and enjoy a few drinks in suburbs. It serves Pan Asian cuisine and their décor has a lot of drama with white and water as the theme.
What should you order: Chicken Satay, Jumbo Tiger Prawns, Cristal Vegetable Dumpling, and Green Tea Ice Cream
What will you pay: A meal for two without alcohol costs approximately Rs4,000.
Address: A-Wing, 8th Floor, Supreme Business Park, Hiranandani Garden, Powai, Mumbai Asilo: Mumbai's newest rooftop Bar Asilo is located on the 38th floor rooftop of the luxurious PalladiumHotel. Honored with Mumbai's highest bar, Asilo provide a refreshing reprieve from the noisy chaos of Mumbai. With the finest selection of liquor, comfy couches, scrumptious food and a view of the sea to die for makes this a top-rated bar.
What should you order: Basil and Pepper Caipirinha, Watermelon and Jalapeno Margarita, El Verde, and Frozen Lychee.
What will you pay: A full cover charge of 2,500 rupees (redeemable on food and beverages) after 8 p.m. on Fridays and Saturdays. Otherwise, Rs. 3000 for two people (approx.) with alcohol.
Address: 40th Floor, Palladium Hotel, Phoenix Mills, Lower Parel, Mumbai.
Dome, Intercontinental: As soon as you enter the rooftop area of the Intercontinental Hotel, you will be welcomed by a crips white decor, set up in high spirits with beautiful accents. One of the best date places in the city, the Dome at Intercontinental is the best place to watch the sunset over Marine Drive promenade and the Arabian Sea. With impressive selection of cocktails, wines, and cigars too, this bar offers a limited variety of small bites. Wine and dine the evening away as the twinkling lights of Queen's Necklace below come alive.
What should you order: Johnnie Walker Green Tea, Green Eyes Cocktail, Ginger Beer, Flamed Grilled Shisito Pepper, and Achari Paneer Tikka.
What will you pay: Rs. 3500 to 5000 for two people (approx.) with alcohol.
Address: Level 11, InterContinental Hotel, 135 Marine Drive, Mumbai.

AER: One of India's best rooftop bars, AER at Four Seasons tops our list, and is possibly the perfect place to enjoy a sunset cocktail, with Mumbai city's buzzing view. Perched on the 34th floor of the Four Seasons Hotel in Mumbai, this bar is known for it's Sunset Happy Hour menu. The music is amazing and the in-house DJ Fatbat plays a great collection of jazz, rock, house and classics too.
What should you order: Slow Roasted Chicken Wings, Spicy Chicken 65 On A Stick, In Black Martini, Madras Cafe mocktail, and Cracked Black Pepper Cheesecake
What will you pay: Hotel guests have direct entry to this rooftop bar but non-guests have to pay a cover charge of INR 2,500 per couple. A Meal for 2, will cost Rs. 4,000 (Approximately)
Address: Four Seasons Hotel Rooftop, 34th Floor, 114, Dr. E. Moses Road, Worli, Mumbai