In a city famous for its jungle of dazzling skyscrapers, the International Commerce Center (ICC) soars above them all at a staggering height of 490m. The Ritz-Carlton Hong Kong, occupying the top 102-118 floors of the ICC, is the highest hotel in the world, with the highest spa in the world.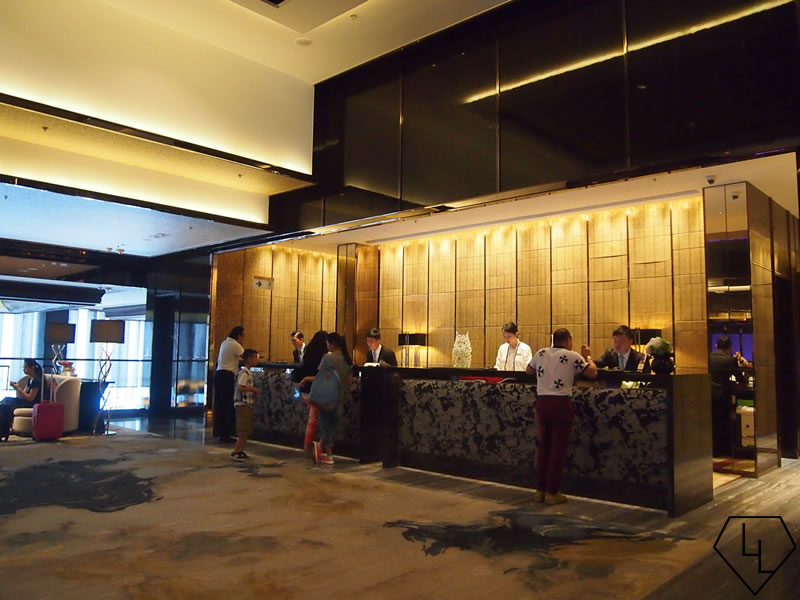 The elevator whisked me up to the 103th floor hotel lobby in under a minute and the change in elevation was so great that my ears popped. Once there, hotel staff accompanied me up a different elevator to the 116th floor Ritz-Carlton, Hong Kong Spa by ESPA. The spa lobby glowed with warm amber lighting and the focal point was a gorgeous chandelier designed by Eva Menz and aptly named "Up In The Clouds".
The spa covers 860m2 and has 9 single treatment rooms and 2 couple suites. With a minimalistic style and Ritz-Carlton's signature chocolate brown and cream colour scheme, the spa offers a serene urban retreat to get away from the frenetic pace of Hong Kong life.

I was given a detox essential oil scented cold towel and a papaya rosemary tea while I filled out a spa questionnaire. Then a spa employee showed me around the change room. It's a good idea to arrive early for your treatment so you can use the dry and wet saunas to open your pores and then cool down with the experience showers to increase your blood circulation. I liked the cold blast from the Arctic Mist shower that smelled like mint and eucalyptus.


Before the treatment, guests are invited to stay in the Relaxation Room with its floor-to-ceiling panoramic views of Hong Kong Island and Victoria Harbour. The views were amazing! The office buildings of Central were so far below that they looked like toy models.

There were four leather lounge chairs with curtains hanging in between for privacy. Iced tea, water, fresh yogurt, soft granola cakes and fruit were available which I was happy to have because there's nothing worse than hunger pangs to distract you during a massage. When it was time for my treatment, my therapist Kalpana came in to escort me to the treatment room.


I was having the 80 minute Honey and Milk Urban Spa Body Treatment which began with a warm milk foot bath before I laid on the massage bed for the body scrub. The sugar and honey scrub felt a little rough but you just know it's worth it for sloughing off all your dead skin cells. Then some warm milk was applied making the scrub liquidy, feeling luxurious on my skin. The honey and milk smelled so wholesome and good. After a 30 minute all over scrub, Kalpana started the shower for me and told me to rinse off. The scrub rinsed off easily with no residue and my skin was already feeling soft and smooth.


Now for the best part – the 50 minute massage with warm Nourishing Body Oil. In the beginning, Kalpana frequently asked me if the pressure was ok and I reassured her it was. Later on, there came a point when I felt so dreamy that I didn't want to utter a single word. For those times, Kalpana instinctively read my body reaction and adjusted her strength accordingly.
She used many techniques from Chinese Tiu Na, including my favourite manoeuvre of grabbing the base of the skull on each side and giving a sharp pull to loosen the joints. She used the point of her elbow to work the muscles up and down my spine then followed with long soothing strokes and kneading.


I had told Kalpana my stiff upper back muscles needed the most work and she worked on that area tirelessly. She tested the muscles first, then when she got a feel for it she knew exactly what to do. She went at the muscles from different angles, increasing the strength level when she knew the muscles were warmed up, going away to work on a different area and then swooping in to knead it again. My knots were melting away and I was putty in her hands.
The massage bed had electronic controls to move sections up and down. It was ergonomically padded and at no point did I tire of lying on it. In the darkened cocoon in a futuristic building high up in the sky, with relaxing music playing softly and Kalpana tending to me with such care, I felt the world slip away and I floated to a different plane of consciousness.
You never want a massage to end, especially not one as good as this and by some miracle of the universe, time seemed to elongate. I was enjoying each moment so preciously that it seemed I had an abundance of time. It helped too that I had drifted off to sleep twice, and when I came to I was pleased to know I was still lying face down and we still had over half the treatment time remaining.
At the end of the massage, Kalpana gently separated apart sections of my hair, applied Pink Hair and Scalp Mud and lightly massaged it into my scalp. The concoction is made with Vitamin C rich watercress, apricot kernel oil and red clay. You are encouraged to leave it in overnight to moisturize your scalp and hair.
After the treatment, guests are welcome to linger in the Relaxation Room at their leisure. Feeling so blissful after the treatment, with a smile on my face that would not go away, I was very glad for this because I did not want the experience to end.

The chairs in the Relaxation Room were supremely comfortable and cradled my body like a cloud. I could've sat there for hours watching the pulsating heart of Hong Kong shining like a jewel at my feet hundreds of meters below. It was the height of luxury. When I finally had to pull myself away, I was refreshed, renewed and ready to hit the Hong Kong night scene.
The Honey and Milk Urban Spa Body Treatment costs HKD $1,750, plus 10% service charge. A supplement of HKD $100 applies on Friday to Sundays and Public Holidays.
The Ritz-Carlton Spa by ESPA,
Level 116, The Ritz-Carlton,
Hong Kong, International Commerce Centre,
1 Austin Road West, Hong Kong, +852 2263 2040, [email protected]