In my humble opinion, of all the luxury hotels in Singapore that are worth booking a staycation at, there are only three on the island that make the cut. The Fullerton Bay Hotel is one. Since its opening in 2010, I'd wanted to experience the property as a guest and not just as a visitor to its dining establishments.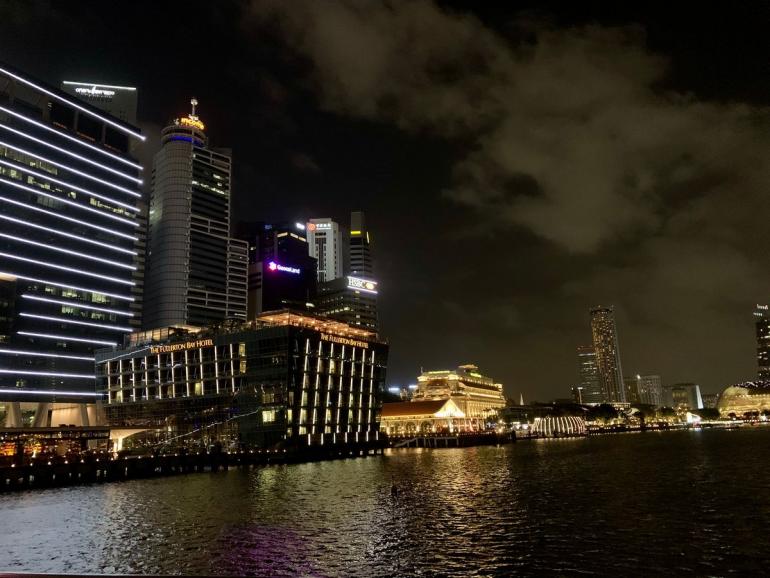 At First Glance
The Fullerton Bay Hotel is a six-storey glass and steel building built entirely over the shimmering waters of Marina Bay. Though dwarfed in size compared to the massive Marina Bay Sands that it overlooks across the Singapore River, the hotel more than makes up for its stature in sleek interiors, five-star abodes and top-notch service.
The Story
Opened in 2010, you'd be mistaken to think that The Fullerton Bay Hotel is anything but dated or showing any signs of its age. A decade on and the property still sparkles like new. Decorated with gorgeous fresh flower arrangements everywhere you look and scented corridors in the communal spaces, guests arrive via the historic Clifford Pier, an arched ceiling, vast venue that occupies the former landing point of Singapore's forefathers. The huge space is ideal for weddings and formal events.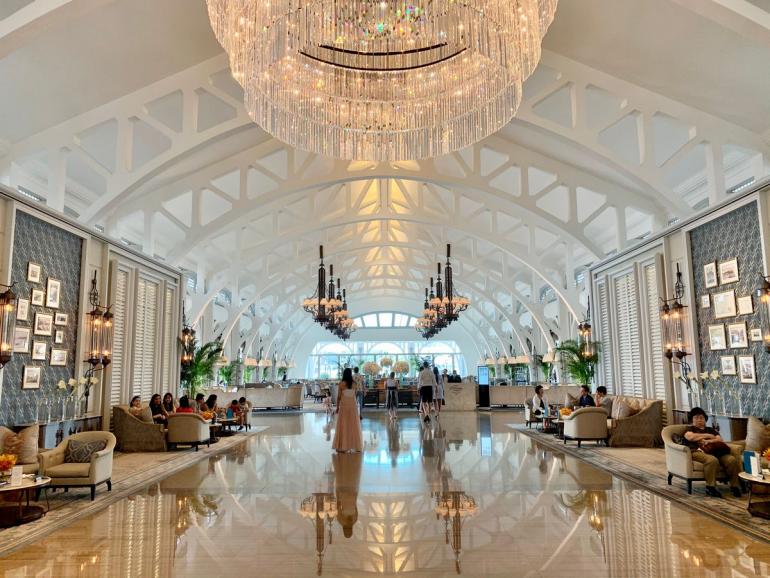 Past the Clifford Pier and on your way to the soaring grand reception hall, you'll walk past the mosaic-paved Landing Point where guests can enjoy afternoon tea, small bites and bespoke cocktails.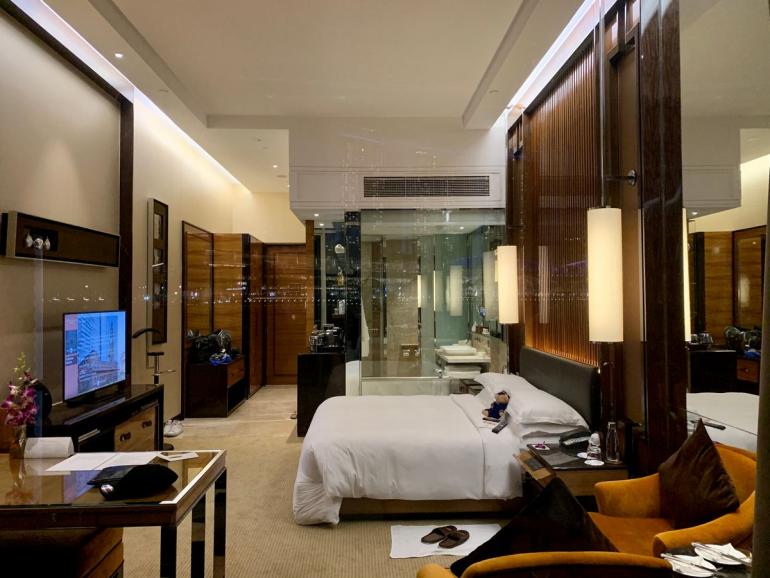 The Abode
I stayed in the Premier Bay View Room (all the rooms in this category are on the first floor) that's adjacent to the water. With all the beautiful appointed rooms, mine had glorious floor-to-ceiling windows, a stunning marble bathroom, plush materials (velvet and leather), chrome fittings and polished rosewood furnishings.

The fifth guestroom category above the lead-in Deluxe Room and one below the Premier Bay View Room with Jacuzzi option, guests enjoy a massive 58-sq-m space which includes a sitting area and working enclave. Amenities like Harmon Kardon Bluetooth speakers, Balmain toiletries, Egyptian cotton bathrobes, Nespresso machine, and bedside light and curtain panel controls were also heavily relied on during my stay.

My favourite part of the room was the outdoor sundeck, which was spacious enough for two daybeds and plenty of room to walk up and down. Second to that was the bathroom with individual sections for the shower, toilet and soaking tub.

The Food and Drinks
There are two restaurants, a lounge and a rooftop bar. There's the aforementioned daytime lounge venue called The Landing Point where afternoon tea is the highlight. There's also Lantern, a rooftop bar where the pool is also located at.

My stay was over a weekend so I was able to enjoy the hotel's weekend brunch at the in-house La Brasserie French bistro. Housed in the main glass structure of the property, diners enjoy 360-degree views of the surroundings.
The brunch is buffet-style and notable stations include a Gin Parlour, dessert table and whiskey area. If you opt for the champagne options – Ruinart or Veuve Clicquot – you have access to all the food and drinks on display. If you opt for the wine or beer and spirit option, you only have access to the food, gin and Bloody Mary stations.

Featuring the standard salad, bakery, charcuteries and cheese offerings you'll find at top-end hotel brunches, La Brasserie goes for gold with special made-to-order dishes. I sampled a crispy duck leg confit, satay with peanut gravy, and braised wagyu cheeks with soft eggs and truffle hollandaise; the last of which was devoured.

In accompaniment is the seafood and carving stations where diners can enjoy lobster legs, clams, prawns and meats of tasteful proportions, including rosemary and garlic roasted lamb, smoked paprika-roasted pork belly and angus rib eye.
For dessert, there's a crepe station and all kinds of assorted chocolates, cakes, tarts, ice cream and more.

Breakfast at La Brasserie was somewhat standard fare, apart from a morning made-to-order menu featuring bak kut teh, porridge, french toast, pancakes, egg benedict and so on.
The Hospitality
Extremely professional and welcoming. Be it the waitstaff standing by the side and waiting till I walked passed whenever we shared the same stretch of space; or leaving a handwritten note by my bedside informing me of extra earplugs to use; or taking the initiative to prepare a non-alcoholic gin and tonic for me at brunch, the hospitality was heartfelt and much appreciated. Calls for room service were also swiftly answered and delivered.
Fellow Guests
Business travellers, solo explorers and groups of friends. It's also devoid of the tourist, casino-coveting crowd that Marina Bay Sands is known for – a big plus in my book.

Location
Sitting pretty in the heart of the Central Business District and arts and cultural precinct, the hotel is across its sister property, The Fullerton Hotel Singapore (where guests who book spa treatments will be taken to via private chauffeured limousine). Landmarks like the Singapore Flyer, Art Science Museum, Esplanade, Customs House, Gardens by the Bay and bustling nightlife establishments are all in the vicinity.
For Your Consideration
The F&B price points aren't for the faint of heart. Premiums are slightly more than the average upscale hotel – think $14 for a pot of tea, $20 for a can of beer from the minibar, and almost $30 for an order of truffle fries.

The Noteworthy
I'm a light sleeper and extremely sensitive to noise but I believe the walls were soundproof – something that many luxury hotels I've stayed at often overlook.
If you order tea or coffee, your drink will come with a slice of delicious house-made kueh lapis cake, a Peranakan dessert that distinguishes itself from the rest thanks to its multi-layers. Many Singaporean bakeries and cake shops make their own versions but The Fullerton Bay Hotel's creation is the best I've had.
Also, in my private car transfers to and fro, the hotel provided Mercedes E-Class cars fitted with Wi-Fi service and eco-conscious JUST water and alkaline water cartons.

The Summary
Happy I came to stay and sad to leave. The location is truly phenomenal and the moments where I took in unobstructed views of Singapore's skyline were unmatched, especially at night. Even as a Singapore-based guest, having a different perspective of the city I live in was a new and memorable experience for me.

Amenities
Rooftop Pool
Spa (in sister property)
Gym
Meetings and Event Spaces
Rooms
100
Staff
Courteous and attentive
Food & Drinks
Sumptuous
Bed & Bath
Contemporary and sleek
The Crowd
Business travelers and friends
Where: The Fullerton Bay Hotel (A member of the Preferred Hotels network),
80 Collyer Quay, Singapore 049326
Phone: +65 6333 8388
Note: The critic was invited by the hotel. But opinions are her own.