Try and try till you succeed is the line that pops into mind when looking at the current state of Alisher Usmanov, one of Russia's leading billionaires, worth $17.9 billion. Alisher Usmanov owes most of his wealth to metal and mining operations and investments and currently owns 49% of Metalloinvest. According to Bloomberg, the oligarch filed an appeal at the EU's General Court on April 29, asking the bloc's second-highest tribunal to suspend the sanctions until judges decide. He truly is a man who does believe in playing safe.



After his darling yacht, the $800 million Dilbar was seized, the tycoon wasted no time rushing his smaller superyacht Alaiya to the Maldives to avoid capture. As far as his plea in court is concerned, the billionaire may try his best, but EU court fights over sanctions have a reputation for lasting years and seldom result in victory for those targeted. Usmanov is among several superyacht-owning billionaires, like Severstal PJSC's Alexei Mordashov (Nord Yacht) and Roman Abramovich (Eclipse and Solaris). The EU announced a sixth round of sanctions to increase pressure on President Vladimir Putin in their latest announcement.

Looming over Russian oil giants is the threat of a ban on Russian crude oil over the next six months and refined fuels by the end of the year. It will be a task to live their lavish lives with sanctions taking away nearly every way to enjoy their wealth and possessions. This includes their superyachts that will be left mothballed, seized, or left without the flag of registration. Usmanov, once the proud owner of two such megayachts- Dilbar and Alaiya may get back his glorious sea-faring days if sanctions are revoked. Listed below are their journeys: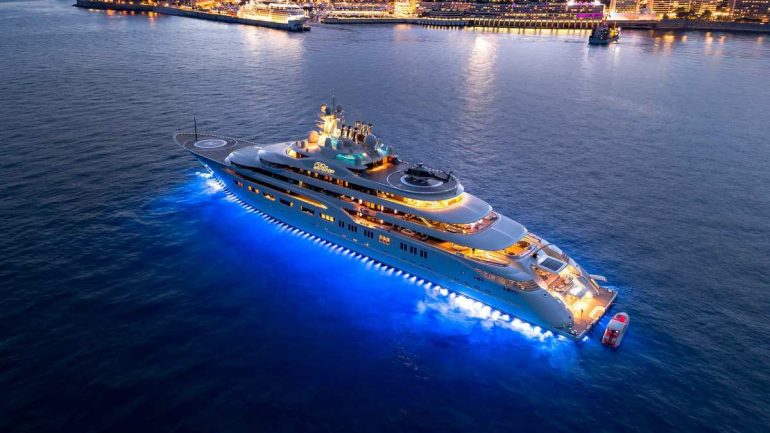 What happened with the Dilbar yacht?
Like other billionaires, Alisher Usmanov has billions in his pocket, but no other billionaire can match his ultra-lavish Dilbar superyacht. Dilbar, the name is taken when talking of the world's most extensive, expensive, and larger-than-life vessel. This $800 million goliath is more than three times the length of an Olympic swimming pool and has two helipads, a garden, and loads of amenities.

No wonder it would be excruciatingly painful to lose such an asset permanently. Getting off the sanctions list will glide Dilbar yacht back into the anchorage of Usmanov.

After investigating Usmanov's offshore concealment, the owner of 500 feet long Dilbar was found to be his sister, Gulbakhor Ismailova. With Ismailova also featuring in the EU sanctions list, there was no saving Dilbar. For now, it remains under the capture of German authorities of the Federal Criminal Police Office in the port of Hamburg. The megayacht includes 3,800 square meters of living space for 24 guests. The guests can together take a dip in the vast 100-foot swimming pool, the largest indoor pool ever installed on a yacht.

Where is Alaiya, his second yacht?
Russian billionaire Alisher Usmanov's more petite but exquisite $300 million megayacht Alaiya has avoided seizure, unlike his superyacht Dilbar and two helicopters on the French Riviera. The elegant 365-footer was cruised to Male, Maldives, to prevent being taken. The vessel has positioned itself in the Gulf of Aden from port Galle as reported by MarineTraffic. As per the website, Alaiya's destination is mentioned as 'Armed Guards,' a technique used to mask the destination and deter pirates. Formerly known as Lady Gulya, Alaiya can house 18 guests in 9 staterooms.

These cabins are Provence, China seas, Russian Dacha, and Tuscany on the lower deck. And London, Paris, New York, and Marrakech on the main deck. All of these cabins are lavishly decorated, indicating a distinctive geographic destination. The color themes and details take inspiration from Claridges, Fleur-de-Lis motifs, and Art Deco, respectively. Alaiya's spa and beach club too flaunt a theme- Capri-inspired décor. Similarly, the relaxation room and the Lemon Grove display lemon trees climbing the walls. If these were not enough, the yacht also has a Hammam, a hair salon, and a massage room.

The niceties of the Alaiya megayacht extend up to the Parisian Ladurée-inspired tearoom. The elegant asset is currently Usmanov's to brag about. Whether it will join Dilbar or will Dilbar sail freely along with Alaiya is something only time will tell.