The Frankfurt Motor Show this September promises to be a grand affair with some of the world's most well-known brands unveiling their latest designs and concepts. So besides the Ferrari Italia 458, automobile enthusiasts visiting this show this year will also get a glimpse of BMW's new Vision EfficientDynamics concept. The concept car unveiled at this exhibit sets the theme for a series of upcoming BMW road cars and brings to light BMW's preference for a lighter, less heavy, more aggressive look. BMW uses a diesel-electric hybrid system with the engine up front, driving the rear wheels through the M3's Getrag double-clutch six-speed gearbox. The engine consists of two electric motors and boasts of 163 horsepower and 214 lb-ft. Of torque.

One of the two electric motors drives the front wheels under acceleration, and the other helps the diesel engine out by adding its torque to the rear axles. The motor for the rear wheels produces only 33 horsepower but has 214 lb-ft. The front motor produces more power (80 horsepower) but less torque (162 lb-ft.).
The battery pack powering the electric motors is a Lithium-ion unit that sits inside the chassis tunnel and weighs 187 lbs. The battery has 98 lithium polymer cells, which generate 364 Volts and store 10.8kW/h of electricity. Besides being charged by a plug-in from normal 220 Volt/16 Amp systems in two-and-a-half hours, the battery in BMW's new concept can also be charged as the car runs from the engine and regenerative braking. What is more, BMW claims this amazing car weighing just 3,075 lbs. It produces 356 horsepower and 590 lb-ft. Of torque and reaches the 62mph mark in just 4.8 seconds. The car can also run as either a pure diesel or a pure electric car, where it gets a range of 31 miles before the diesel offers another 400 miles of driving on its 6.6-gallon tank.
BMW Group's new design boss, Adrian von Hooydonk has also used the Vision EfficientDynamics to experiment with acres of glass, an all-new interior concept. At 181 inches long, the slinky concept car has four seats and is 74 inches wide and 48.8 inches tall. Sure to be a show stopper, this new concept will surely fascinate spectators at the Frankfurt Motor Show.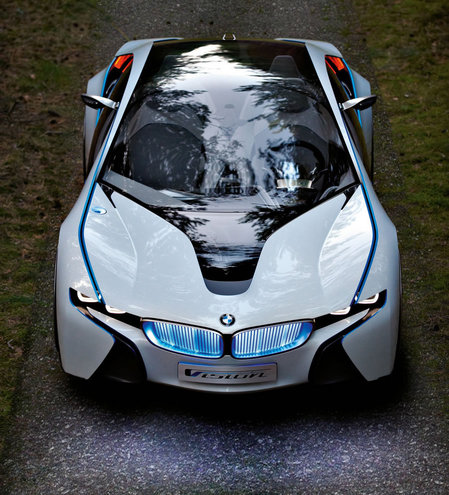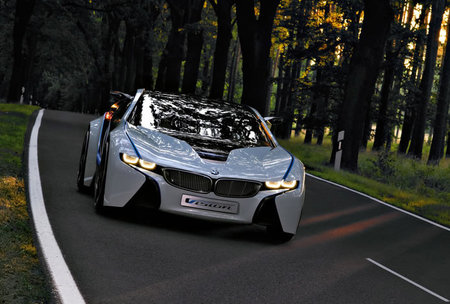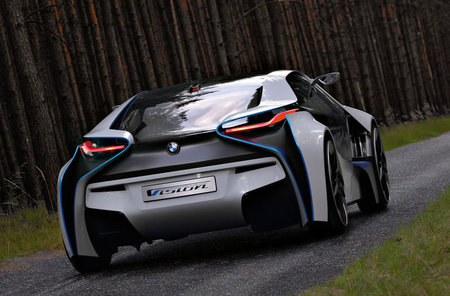 [Leftlanenews]