A luxury superyacht is a symbol of wealth, status, and taste. These opulent pleasure crafts cater to their ultra-rich owners' every whim with stately suites and extraordinary interiors that put even the best of luxury hotels to shame. Then there are the countless amenities. From helipads to hospitals, salons to spas, cryo chambers, and even submarines, the multifaceted million-dollar assets honestly dont cease to impress year after year. However, some vessels have held the mantle for long and for good reason. Widely discussed Russian oligarchs and their toys have led to a strong association of luxury vessels with them. And Russians do own some of the biggest superyachts in the world. But some incredible, praiseworthy floating palaces are owned by nautical monarchs-of-sorts (some are sovereigns) ruling the high seas. If Russian-owned Solaris, Dilbar, and Flying Fox have etched a name in the luxury yachting world, the below vessels equal their magnificence, eminence, and presentation, if not beat it. Here are 9 of the largest superyachts in the world that are not owned by Russians.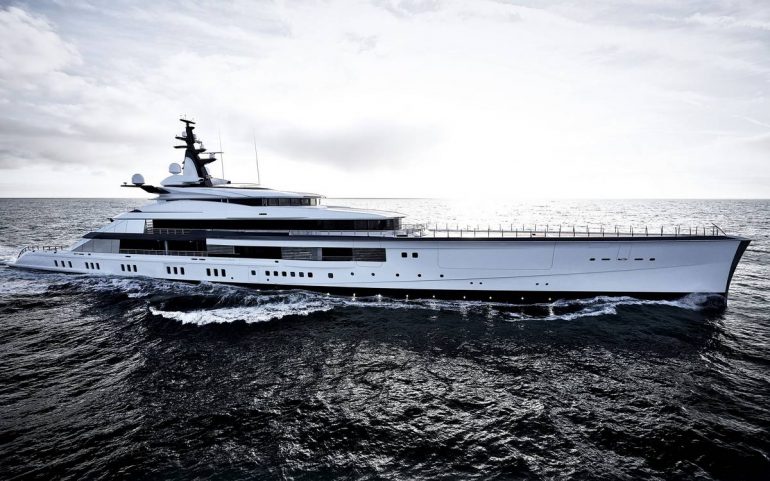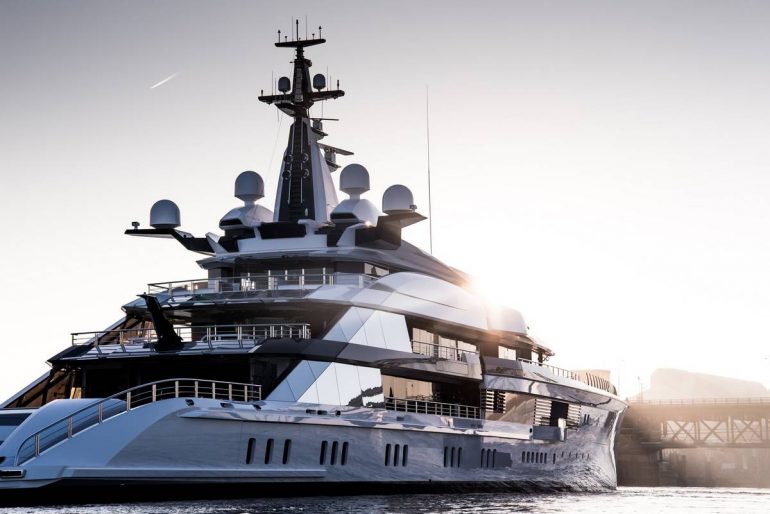 9. Bravo Eugina, 375 feet, $250 million
Oceanco-built Bravo Eugenia is owned by Dallas Cowboys billionaire Jerry Jones (worth $15.5 billion). Created by Italian designer Nuvolari Lenard, the luxury vessel draws attention with two helipads, seven guest cabins, and a 30-strong crew to man the yacht. She boasts an enhanced hybrid propulsion system, minimal allocation of technical space, and 30 percent fewer fuel needs. This equal parts green and gorgeous ship places high emphasis on reducing its environmental impact.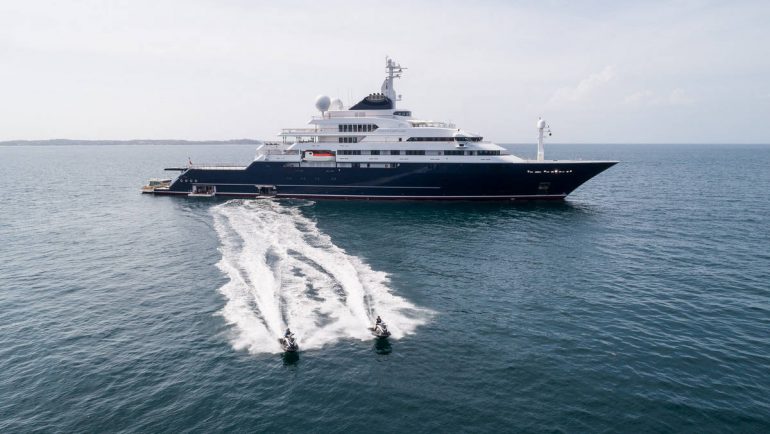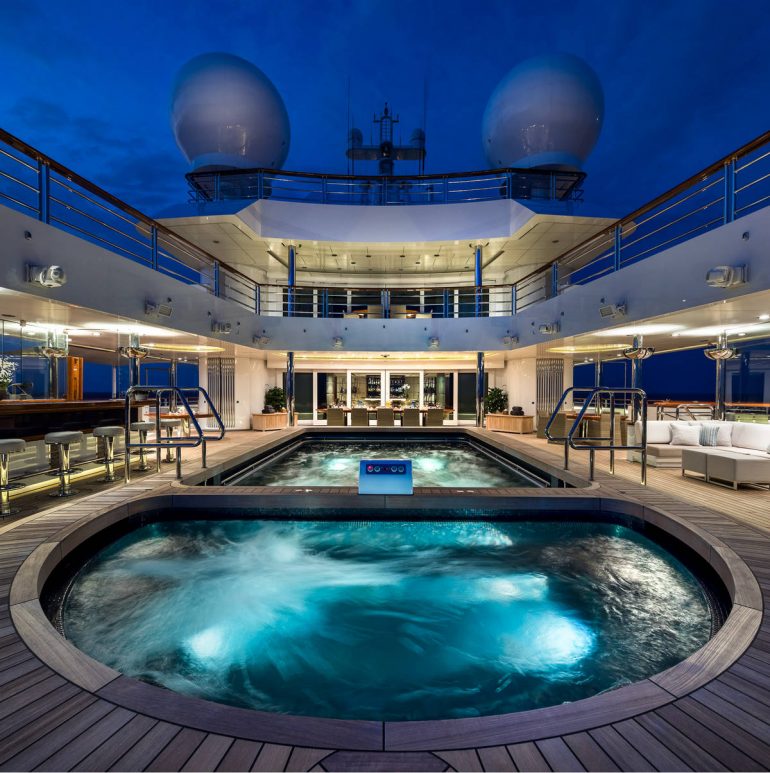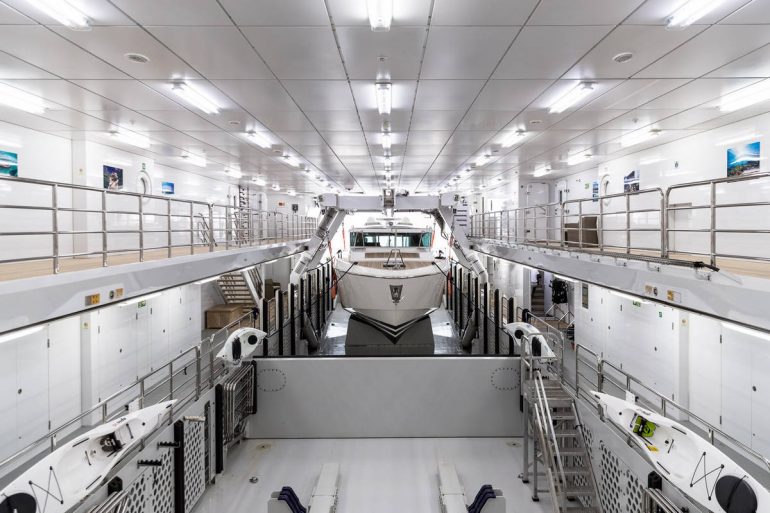 8. Octopus, 414 feet, $200 million
German shipyard, Lürssen, created a one-of-a-kind vessel for Microsoft co-founder Paul Allen. The 414-footer was dedicated to science and research and was considered an excellent choice for ocean-crossing travel. The fantastic boat has eight tenders, two helipads, a glass-bottomed underwater observation lounge, a cinema, and a fully kitted-out dive center. Guests are provided 13 stately cabins, but the zenith of luxury is a warm freshwater swimming pool while sailing through freezing locales. A trip to Antarctica onboard the Octopus explorer is touted as one of the most spectacular experiences and available for charter. The journey is chockful of ski touring, ice exploring, polar plunges, stunning landscapes, and wildlife on the least-explored continent on the planet. Octopus commences her two-year circumnavigation in the new year following a yard period this winter. She is listed for charter with Camper & Nicholsons, asking $2,200,000 per week.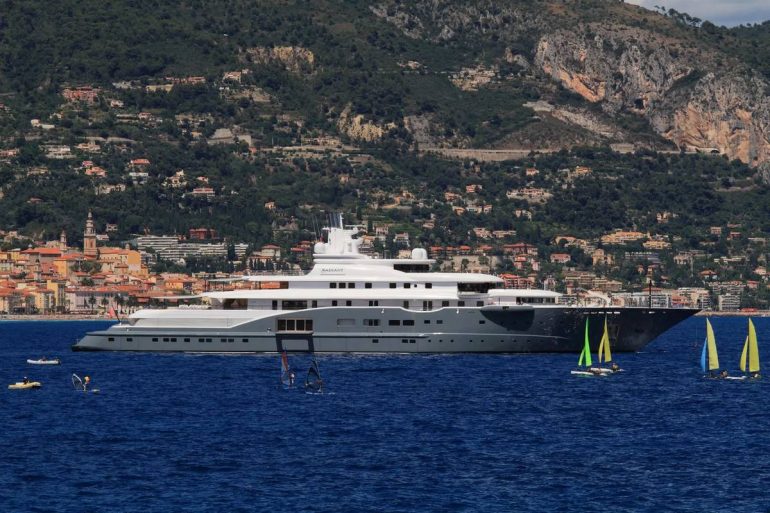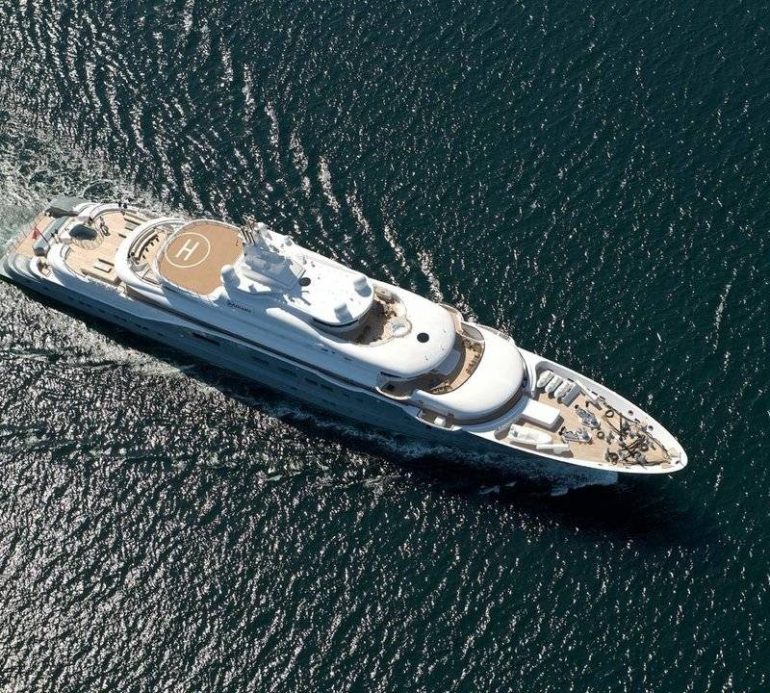 7. Radiant, 361 feet, $320 million
This Lürssen beauty is owned by Emirati billionaire Abdulla Al Futtaim, owner of Al-Futtaim Group. The exterior by Tim Heywood is noteworthy, as is her interior by Glen Pushelburg. However, the crowning glory of the Radiant yacht is not her helipad, gymnasium, cinema, or spa, but her security specifications. In James Bond style, the boat comes with a personal "escape launch" – a speedboat with turbo-charged twin diesel engines and an arsenal of sonic guns equipped with low-frequency sound waves that can burst the eardrums of approaching assailants. Radiant motoryacht accommodates up to 20 guests in 10 staterooms and has a top speed of 21.0 kn.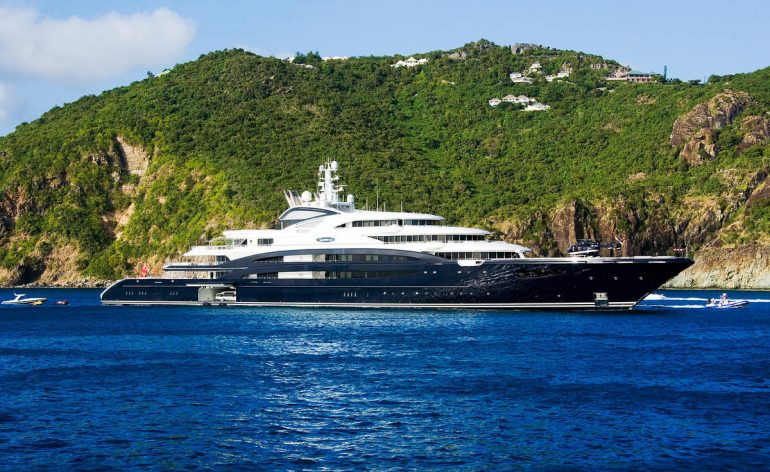 6. Serene, 439 feet, $400 million
Serene motoryacht belongs to Saudi prince Mohammed bin Salman, a man who has everything. The glorious goliath is divided into seven decks and 4,500 square meters of interior space designed by Pascale Reymond of Reymond Langton Design. One may like Serene yacht for her giant internal seawater pool, two helipads converted to yet another pool or dance floor, or the elegant guest cabins. At the same time, some will adore the ship for her submarine that connects to the underwater world. If conversations in the piano room and bar drain you, then the wellness and beauty center rejuvenates with spas and hammam like no other. Serene was an award-winning motoryacht chartered by Bill Gates, who couldn't resist its charms and dished out an estimated $5 million per week in 2014 for his family vacation. The Gates' enjoyed a week together on the yacht off the coast of Porto Cervo, Sardinia. At the time, Serene superyacht was owned by Yuri Scheffler, the Stolichnaya vodka magnet, who sold it to the Saudi prince in 2015.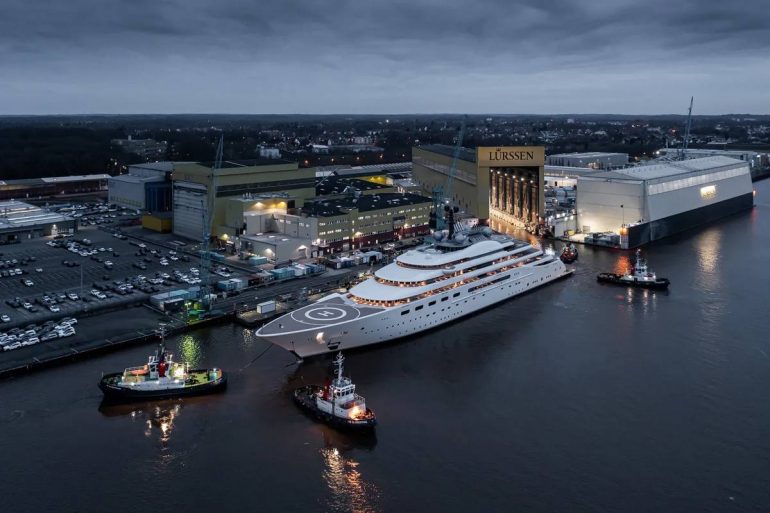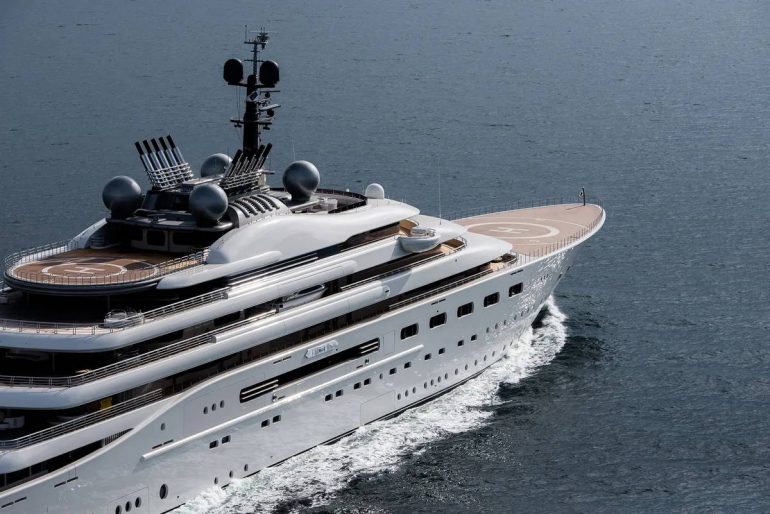 5. Dubai, 532 feet, $400 million
The prized possession of the ruler of Dubai, Sheikh Mohammed bin Rashid Al Maktoum, is a city in itself. From 50 lavish guest rooms, its own submarine, and a swimming pool that is lit up by embedded fiber optic lights, the luxury cruiser boasts attractions that the best hotels in the world may not afford. Dubbed a floating Burj Al Arab, the enormous 532-footer is longer than three football pitches and speckled with eight decks. In addition to a lavish guest area, the two top tiers are reserved for the owner. The Dubai motoryacht is a floating palace that paints a picture of luxury with a helipad, a pool with two Jacuzzis, a traditional "Majilis" room, a disco, a squash court, and outstanding security features. Together, Andrew Winch and Platinum Yachts made the royal's $400 million vision a reality.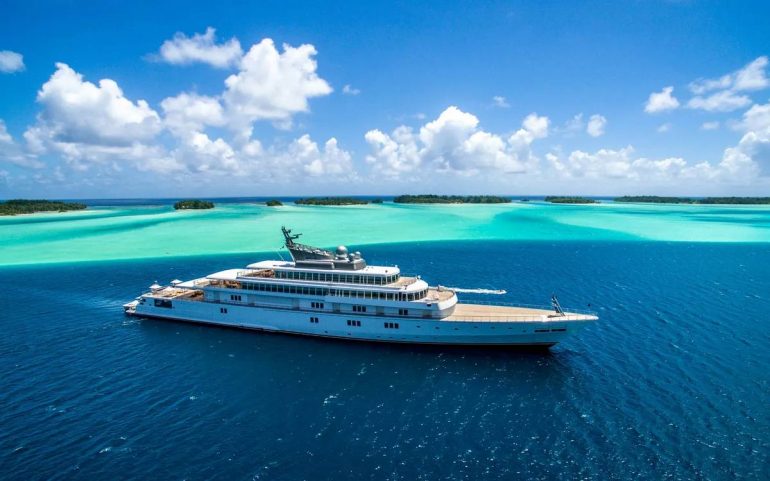 4. Rising sun, 456 feet, $590 million
The gorgeous Jon Bannenberg-designed ship was originally built in 2004 by Germany's Lürssen for Larry Ellison. However, Rising Sun has been owned since 2010 by David Geffen, American business magnate and founder of DreamWorks SKG. The most outstanding feature of the motoryacht are its 82 rooms spread across five decks.

The yacht boasts Onyx countertops, a spa, sauna, gymnasium, wine cellar, private cinema, and a basketball court that transforms into a helipad. Powered by four MTU 20V 8000 M90 diesel engines that churn a combined output of 50,000 hp, this yacht moves along at a speed of up to 28 knots.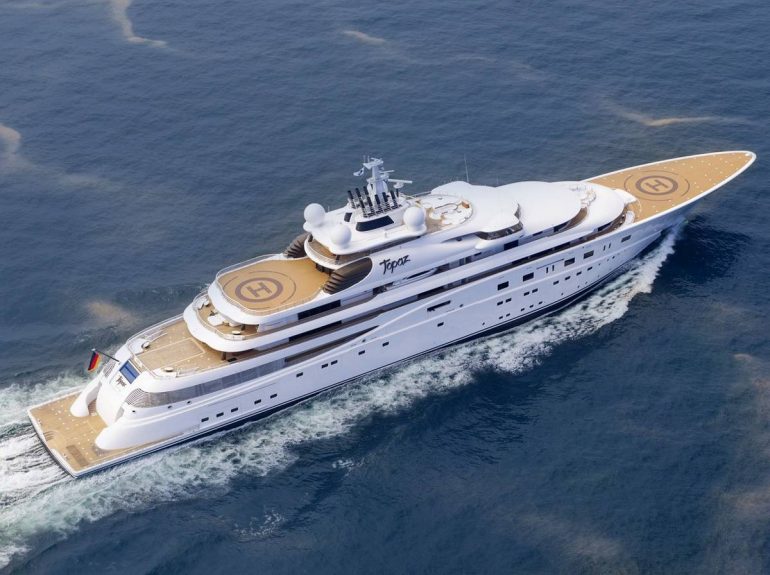 3. Topaz yacht, 482 ft, $527million
Yet another Lurssen masterpiece, the Topaz yacht (now A+), was launched in May 2012, boasting interiors by Terence Disdale Design and the exterior designed by Tim Heywood. Emirati politician and owner of Manchester City F.C. Mansour bin Zayed Al Nahyan's pleasure craft are eight decks of opulence with a Jacuzzi on deck, double helicopter landing pads, a swimming pool, a tender garage, and underwater lights. There is also a fitness hall, cinema, and a large conference room.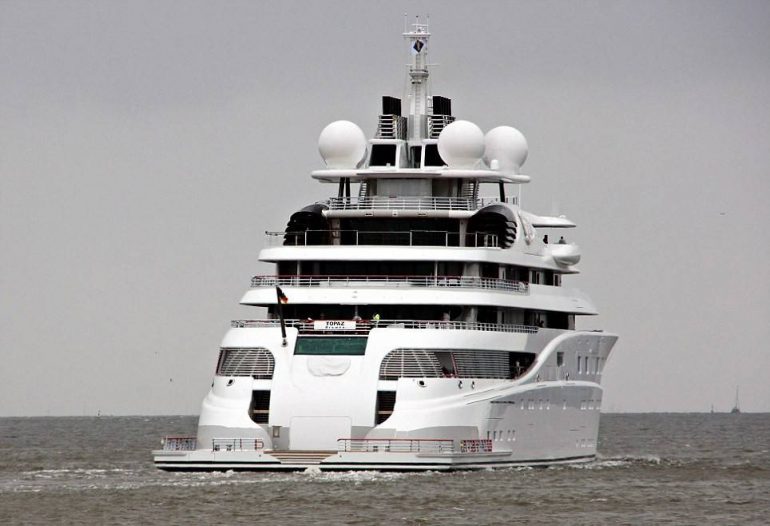 This larger-than-life chef-d'oeuvre enthralls as many as 62 guests in 26 cabins serviced by 79 crew. The ship cruises at 22.9 knots and encloses tender boats that can be reached from both sides. Topaz was quite the show-stealer that captivated Hollywood A-lister Leonardo DiCaprio. The star-studded evening saw the likes of Jamie Foxx and Orlando Bloom onboard Topaz luxury yacht, attending an 80s-themed party in New York. One hundred guests attended the glittering bash.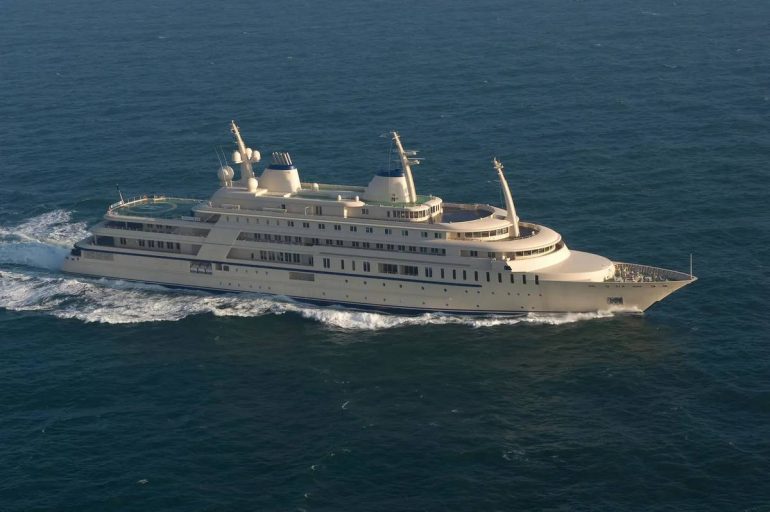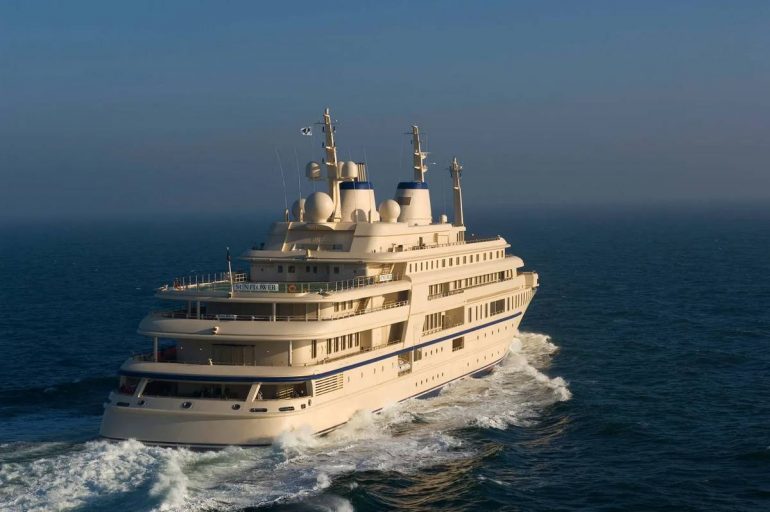 2. Al Said, 509 feet, $600 million
If anyone can beat the megayacht Dilbar in size and grandeur, it is the Sultan of Oman's breathtaking boat Al Said. With an enormous volume of 15,850 gross tons and a 75-foot beam, it can easily afford luxurious accommodations fit for royalty. Al Said impresses the keenest eye with Omani details throughout the décor, many executed by Omani craftsmen. The owner's suite is divided into a sprawling 538-square-foot sleeping area and a 431-square-foot dressing room featuring an office, a saloon, and an en suite bath with a hot tub. 70 guests are treated like royalty onboard Al Said's 26 cabins spread across six decks. One hundred seventy-four crew members maintain the behemoth's fully equipped medical rooms, a dental care room, multiple meeting spaces, and a private cinema.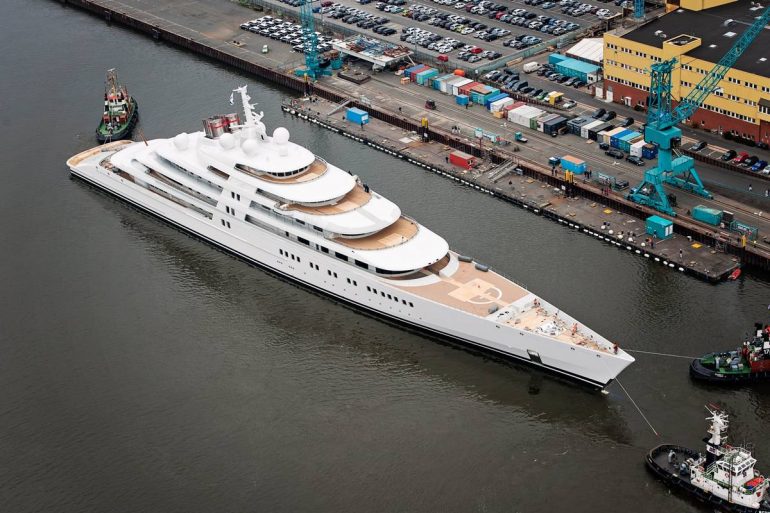 Azzam, 590 feet, $600 million
In Arabic, Azzam means 'very determined,' which is befitting for a 590-feet superyacht determined to stay on the number one spot (and for many good reasons). This Lurssen masterpiece is the largest vessel in the world. It belongs to the President of the United Arab Emirates, Khalifa bin Zayed Al Nahyan, who is also the wealthiest emirate in the U.A.E.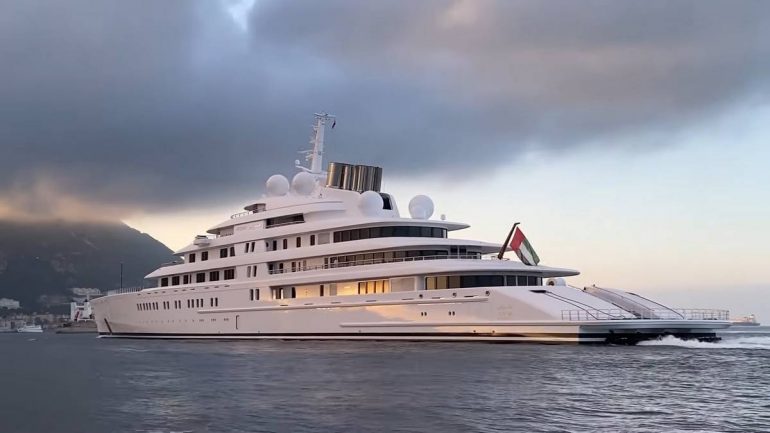 it took an army of 4,000 people to turn the vision of French designer Christophe Leoni into a jaw-dropping reality. A crew of 70 maintains Azzam's five decks, which feature a private cinema, a helipad, an onboard golf training facility, a gym, a swimming pool, and the biggest glass-encased salon. Initially smaller, the yacht swelled to accommodate the Sheikh's directives and is the largest private-owned megayacht in the world, worth a staggering $600 million.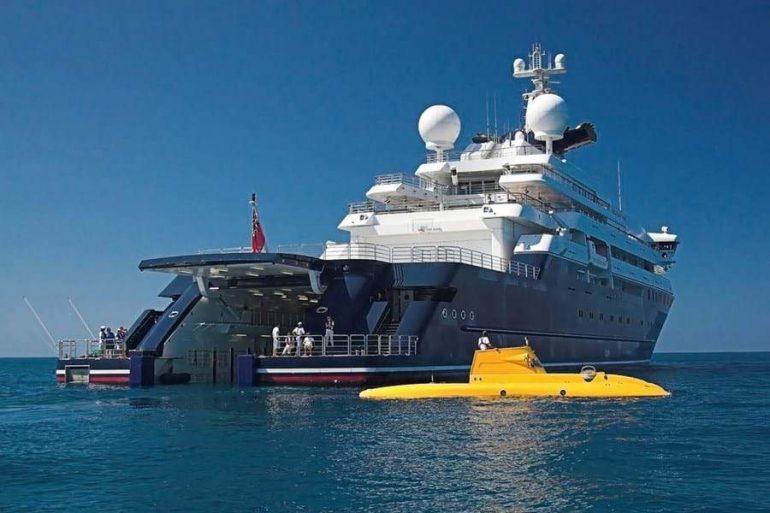 How expensive is it to own a superyacht –
Owning a megayacht is an accomplishment best-suited to billionaires. Nothing about these floating giants is pocket-friendly, as owners pay 10 percent of the yacht's value in costs per year to maintain these luxurious pleasure crafts. Expenses are to the tune of $400,000 in fuel, $350,000 for docking, and $1.4m in wages annually on an average for a superyacht, per Daily Mail. Superyachts are a costly business, and the proof is the Azzam megayacht taking the number one spot above. The $600 million yacht sets its owner back over $60 million in maintenance and operating costs yearly. "A yacht is a very inefficient way to have fun," Rupert Connor from Luxury Yacht Group tells CNN Travel. "It's an incomprehensible amount of money to most of us, but thankfully there are people in the world who do it, and it supports this fabulous industry." He estimates that a 150-foot superyacht will cost around $2 million yearly or roughly $200,000 per week.