Superyachts are the most extravagant and beloved status symbols for billionaires. That has remained unchanged for decades; the proof is motoryacht Kingdom 5KR, a sailing masterpiece that took on several names in its journey from one owner to another. What remained intact was the sheer splendor and powerful performance of the 282-foot luxury yacht. Kingdon 5KR is a lavish 1980 Classic Yacht owned by Prince Alwaleed bin Talal, nephew of Saudi Arabia's late King Fahd. Kingdom 5KR is named after Prince Alwaleed bin Talal's investment company Kingdom Holdings, his lucky number 5, and the initials of two of his children. The superyacht has witnessed illustrious owners, from Saudi billionaire Adnan Khashoggi to the Sultan of Brunei and then Donald Trump, who renamed her Trump Princess. Let's dive right into the marvelous Benetti boat that hosted the whos who of the 1980s-



Kingdom 5KR raised the bar for luxury yachts in the 1980s-
Motoryacht Kingdom 5KR, previously named Fb 116; Kingdom; Trump Princess and Nabila, is not just an exceptional yacht for the 1980s but an eternal masterpiece regardless of time. The gorgeous vessel has a gross tonnage of 1768.0 GT and a 13.23 m beam comfortably accommodating 22 guests in 11 staterooms, with 31 crew members.

The world's largest yacht at the time is difficult to describe with its five decks and some 100 separate areas like a work of art. Nevertheless, what stands out are 11 opulent suites designed by Luigi Sturchio, revealing walls paneled with chamois leather and bird's-eye maple. The bathrooms looked majestic, adorned in gold and onyx.

The beautiful yacht flaunted its own saloon, office, sauna, and a separate elevator(Kingdom 5KR has three) to access the private sun lounge. While Nabila's owner Khashoggi enjoyed the main saloon featuring a waterfall, bronze bar, and grand piano, Trump Princess's owner changed no less than 20 meters of chamois leather, converting one of the flashy suites into a children's room.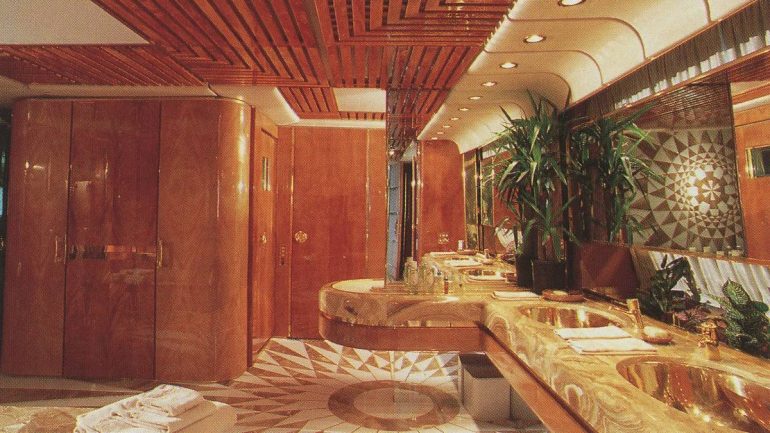 Trump's enclosed private quarter housed a bar, pantry, video games, and a circular swimming pool measuring 2.4 meters in diameter. What can be found on the out-of-the-world luxury vessel to date is a helicopter landing pad, a cinema, an 800-film library, a discotheque, a hospital with an operating room, and six mammoth refrigerators that can carry a three-month supply of food for 100 people. Kingdom 5KR boasts a maximum range of 8500.0 nm and a top speed of 20.0 kn.

Kingdom 5KR starred in a Bond movie-
James Bond movies are known for their action and the dazzling display of panache. The 1983 Sir Sean Connery starrer 'Never Say Never again' also cast the 282-footer Nabila. The stunning luxury vessel was dubbed 'The Flying Saucer', owned by villain Maximilian Largo and was promoted on the movie poster next to the bevy of beautiful actresses.

Former U.S. President Donald Trump once owned the lavish 282-footer-
Kingdom 5KR is owned by Prince Alwaleed bin Talal who bought the yacht in 1991 from Trump. The vessel has a fascinating history and belonged to three different owners before landing in the hands of Saudi royalty in 1991. The Benetti yacht was sold to the Sultan of Brunei in 1988, who then sold her to Donald Trump in 1987. A cheeky Donald Trump offered $15 million against an asking price of $50 million. The broker dropped to $32 million, which Trump countered with $28 million before settling on $30 million.

Being his enterprising self, Trump managed a further $1 million discount not to keep the name Nabila (daughter of Sultan of Brunei). Trump was famed for his aversion to water sports, swimming, and the scorching sun. He never owned a boat and preferred getting off them sooner than later. Not an ideal owner for a $30 million superyacht, right? It was not sailing on a luxury vessel that caught his eye but the fact that the ship would prove to be a fantastic business tool and tourist attraction.

Kingdom 5KR left no place for Abramovich's megayacht Eclipse-
Antibes is the largest yachting harbor in Europe, with more than 2,000 moorings – but only one spot big enough for Roman Abramovich's $590 million superyacht Eclipse. That coveted spot was taken up by Saudi Prince's $30 million Kingdom KR5, half of Eclipse's size, at 282 feet. With no place to moor in 'Millionaire's Quay,' Europe's biggest yachting harbor, the Chelsea FC owner Roman Abramovich dropped anchor several hundred feet out at sea and traveled to his villa on the shore by motorboat. His crew pleaded for the spot but to no avail.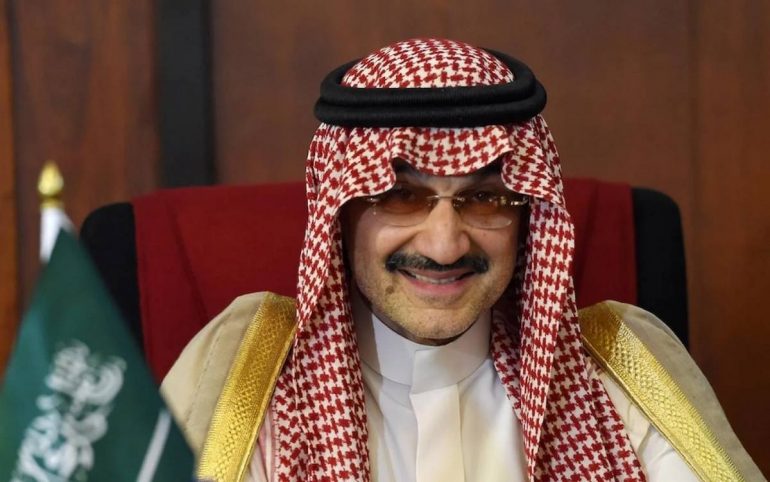 About Prince Alwaleed bin Talal, the Arabian Warren Buffet-
This Saudi Arabian investor is worth $18.7 billion and has holdings in private and public companies in the U.S., Europe, and the Middle East. The 67-year-old boasts stakes in Lyft, Twitter, Citigroup, Four Seasons Hotels & Resorts, the swanky Hotel George V in Paris, and the Savoy Hotel in London. His long list of assets other than Kingdom 5KR includes private planes such as Boeing 747, an Airbus 321, and a Hawker Siddeley 125. The philanthropist commissioned a $500 million New Kingdom 5KR yacht and owned three palaces.

The Saudi Prince's primary home is a $130 million sand-colored Kingdom Palace in central Riyadh spanning 250,000-square-foot. The palatial dwelling boasts 317 rooms adorned with 1,500 tons of Italian marble and 250 TVs. Four palace kitchens can stir up delicious meals in world cuisines for 2,000 people at an hour's notice. A third palace is under construction called Kingdom Oasis, with a 17-acre lake and a private zoo.