Her Royal Highness the Duchess of Cambridge will name Princess Cruises' latest addition to its fleet of liners, the Royal Princess. The pregnant duchess accepted an invitation to attend a traditional British ship naming ceremony in Southampton on 13 June 2013. The ceremony includes the blessing, a performance by the Royal Marine Band, the pipers of the Irish Guards, and even smashing a bottle over the ship's hull. The duchess will also enjoy a tour of the liner before it sets to take its maiden voyage.



The 3,600 passenger Royal Princess special features onboard includes an expansive atrium, the social hub of the ship, an over-water Sea Walk, a top-deck glass bottom walkway extending 28 feet beyond the edge of the ship, plush private poolside cabanas that appear to be floating on water and a television studio.

The largest pastry shop at sea, a special Chef's Table Lumiere, a private dining experience that surrounds diners in a curtain of light, and balconies on all outside staterooms are also available onboard.

Prior to the naming, the passenger ship will take two short preview cruises. After her maiden voyage, the Royal Princess will sail the Mediterranean, followed by the Eastern Caribbean cruises.

Royal Princess Chefs Table Lumiere

Royal Princess Dining Room

Royal Princess Fitness Center

Royal Princess Gelato

Royal-Princess Horizon Tv Studio

Royal Princess Lotus Spa

Royal Princess Movies Under The Stars

Royal Princess Ocean Terrace Seafood Bar

Royal Princess Princess Theater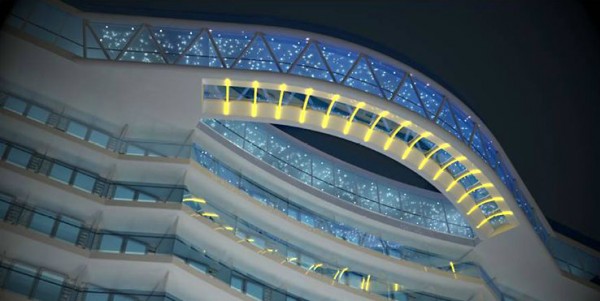 Royal Princess Seawalk

Royal Princess Staterooms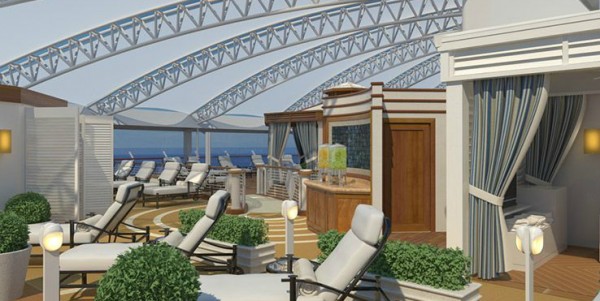 Royal Princess The Sanctuary

Royal Princess Youth And Teen Center
[Via – Princess]