MB & F Legacy Machine No.1 boasts of the world's first vertical power reserve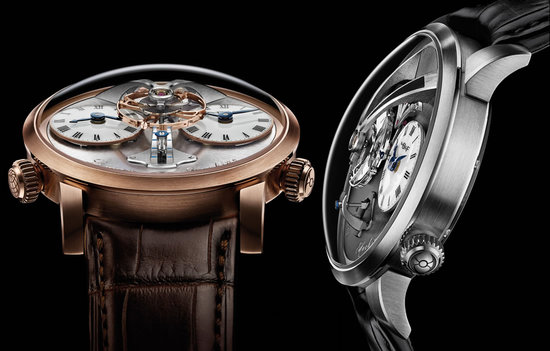 I have a strange affinity to antique watches, they make me wonder how regal the old times would be, and how the class and elegance the stunning watches despite being around for so many decades. I don't seem to be alone in pondering, as MB&F also has decided to take a step back in time to come out with the Legacy Machine No.1 (LM1). The stunning watch is created from scratch, with the help of Jean-François Mojon and Kari Voutilainen. The most fascinating part of the watch is its balance wheel that appears right in the front, in fact it seems to float above the dial! Another notable reminder that it is indeed a modern watch is the "sextant-shaped instrument", at 6 o'clock position, which is said to be "the world's first vertical power reserve".
Available in 18 carat red and white gold, the 44mm wide and 16mm high watch sports a high domed sapphire crystal with a two sided anti-reflective coating and a sapphire caseback with anti-reflective coating on one side. The watch offers 45-hours of power reserve and is finished with a black or brown hand-stitched alligator strap and a gold tang buckle.