The much talked about and awaited Karl Lagerfeld store opening finally takes shape in brick and mortar. A two-storied ultra-luxury hub spread over 2,150sq. The Karl Lagerfeld World is a chic construction washed in the artist's trademark black and white palette. Unlike the numerous Fendi and Chanel stores that stock Karl Lagerfeld designed merchandise, an exclusive store dedicated to his creations is an experience beyond explanation.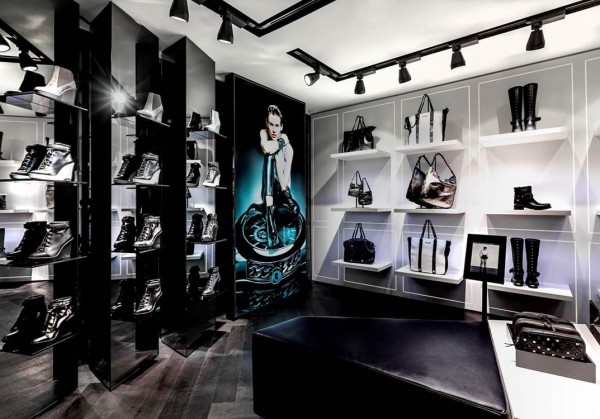 "It's like looking into a mirror," says Lagerfeld. Home to the entire range of Lagerfeld's creations, the Saint-Germain located concept store resembles a library of Karl Lagerfeld labeled accessories, clothes, shoes, bags, books and a range of his limited editions – offspring to his numerous collaborations.

As promised, the store also exhibits the Karl Lagerfeld line of watches which recently debuted at the Paris Fashion Week.

Boulevard Saint-Germain – a location close to Lagerfeld's heart is a famous Rive Gauche shopping location in Paris, France. News has it that the fashion enthusiast – Karl Lagerfeld sees a growing list of visitors/celebs "descend upon the new fashion hotspot in the chic neighborhood of Paris."

Saskia de Brauw and Karl at the KARL LAGERFELD Store opening party.