If your favorite place to holiday is anywhere near the ocean then Soneva Fushi's new Water Retreats is soon to be ready to welcome guests, who are traveling after a long hiatus and want their vacation to be a remarkable one. Water babies who wouldn't trade a minute of lazing near the sea and a chance to snorkel in the house reef for anything else in the world, these new Water Retreats are your holiday haven nestling in the middle of the bluest waters. Privacy is paramount and comes with its own dose of fun with a private pool, a water slide that douses you directly into the sea below, the signature outdoor bathroom with access to the sea and the picture-perfect ocean vistas, and the retractable roof over the master bed for stargazing from the comfort of the king-sized bed. These out-of-the-world water villas are a truly mesmerizing place to rejuvenate and revel at; they also take pride in being the largest one- and two-bedroom overwater villas in the world. Since a picture is worth a thousand words we have several to enthrall you and entice you into the little heaven-on-earth called Soneva Fushi: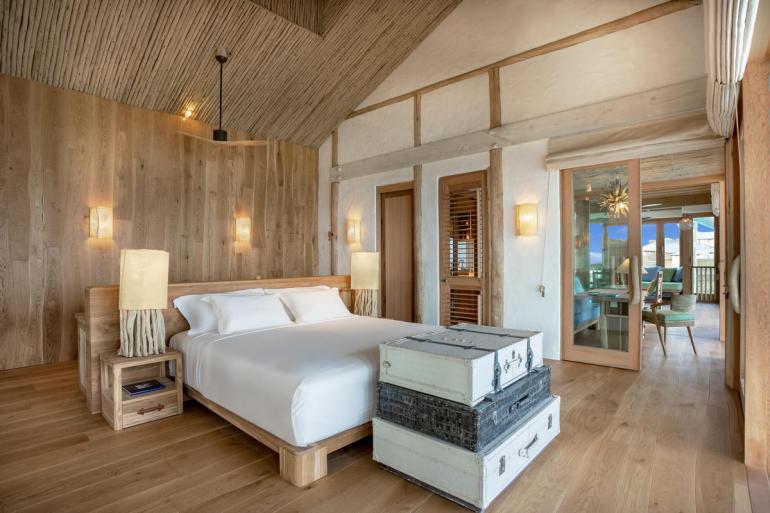 Doesn't this look like a place you can spend a lifetime in? The 1 bedroom Water Retreats measure 584 sqm and 2 bedroom Water Retreats measure 857 sqm and both stand out as the largest of their kind in the world.

An aerial view of the elegant water retreat covers all its marvelous amenities like a water slide, private pool, and is seen enveloped by the most transparent, pristine blue waters.

The resort does not desist on showering the place with luxuries that bring the best of island life while being surrounded by the most breathtaking sights. The room looks lavishly decorated with neutral hues, throw pillows in subdued hues, natural wood, further enhanced with unique decorative elements.

The living room is beautifully designed bringing the oceanic elements right inside your massive water retreats. The desk space is especially adorable with a fishbone lamp, starfish knobs, and ample use of blue hues reminiscent of all the precious blue waters that surround you.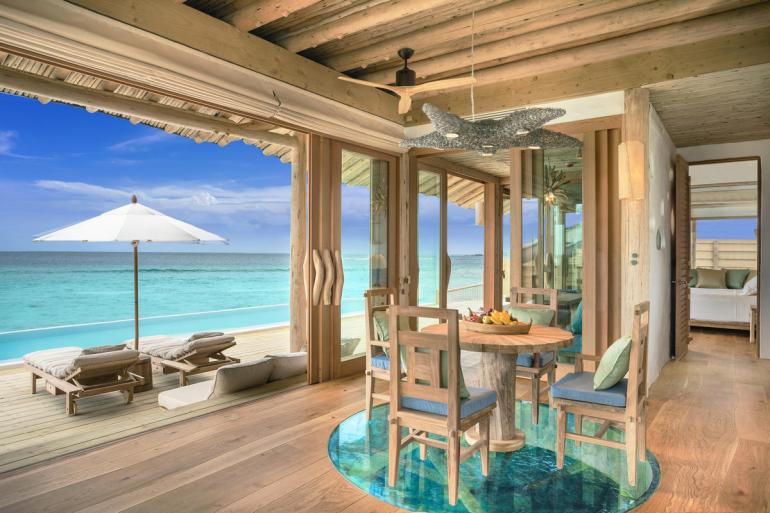 The dining table is strategically perched above a transparent glass that gives you a peek into the rich aquatic life that awaits you. Having breakfast with the ocean under your feet is a luxury one can only find in the Water Retreats at Soneva Fushi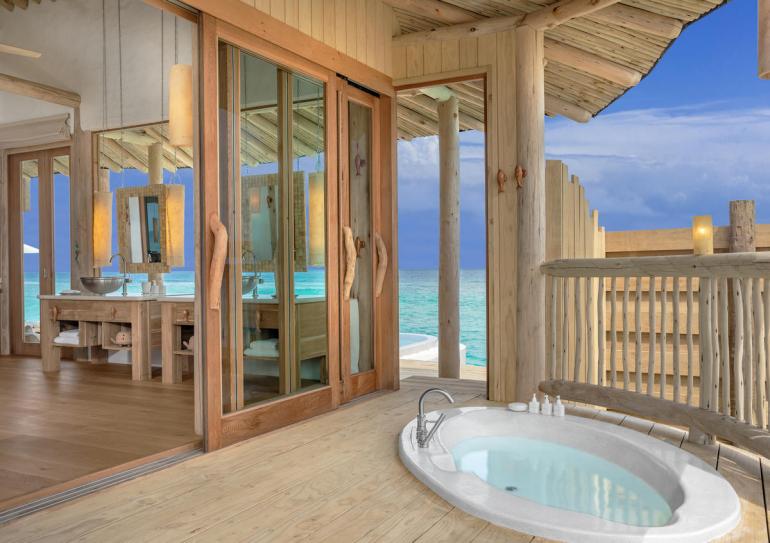 At Soneva Fushi there is no space sans the sea, not even the bathroom. One can't get enough of the signature outdoor bathroom that includes a tub with direct access to the sea.

Without a doubt, a favorite spot in the Water Retreat is the comfortable and massive outdoor deck area with a sunken seating area which is the ideal place to enjoy a sunset coupled with catamaran nets over the ocean.
Soneva Fushi
Kunfunadhoo Island, Eydhafushi,
Maldives