If there's one attraction at every Indian wedding, it has to be the food. And just like everything else in this country, wedding food changes its avatar depending on the region, religion, and local products.



Parsi food has a lot to offer when it comes to the delicacies on offer during weddings. So when we heard that Bombay Vintage has partnered with Chef Perzen Patel of the Bawi Bride Kitchen and is serving Parsi wedding delights all this month, we had to try it.
We started off with the Kolah Nu Aachar Na Pattice. The tender potato patty stuffed with the Kolah's traditional carrot and dry-fruit pickle was crunchy and taste-wise top-notch! We also loved the delicious Bheja Nu Cutlet but what stole the show was the Bharuchi Akoori on Kayani ni Khari. Done so well that we can only say that none can have just one!
For the mains, the Bawa Papu's Kid Gosht with a rack of lamb cooked in whole garam masala, cashews and coconut milk served with Parsi rotlis was delicious enough to convert the Dhansak lovers into Kid Gosht lovers. The reason it is called Kid Gosht is because of the tender baby lamb that is used to make the dish.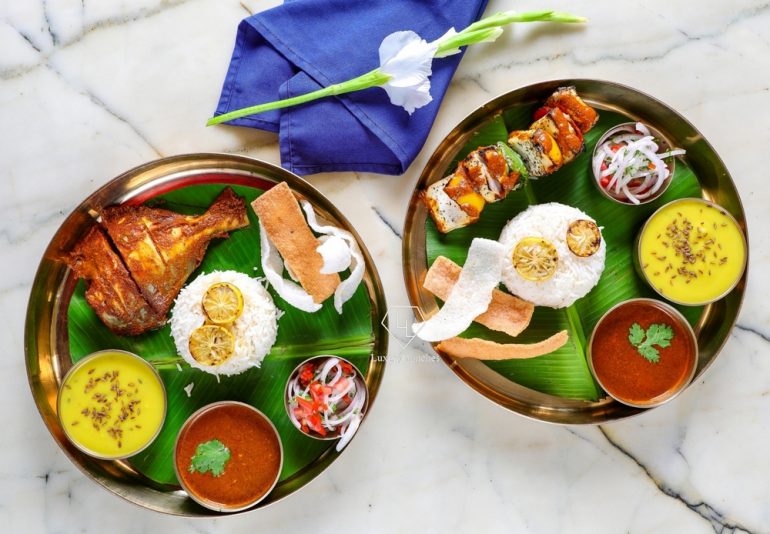 Next up was the Dhandaar and Lagan No Patio with pomfret. The tangy tomato and coconut based gravy served with Parsi yellow dal and steamed rice tasted like a marriage made in gastronomic heaven.
And Palonji Ice-cream Float with Pallonji raspberry soda topped with vanilla ice-cream goes with the meal like a house on fire. We ended the meal with the Lagan Nu Custard Ice-cream-one can only be found at Bombay vintage. A fresh take on an old Parsi wedding classic, it is made in collaboration with Bawi Bride and Taj Ice-creams. And to say the least, it is delicious!
I love how the menu that brings together Parsi wedding treats along with a few recipes that have been lost to times. Overall, the Lagan Nu Bhonu was an indulgent affair with food as our imaginations had let us to think of! It's exciting that Bombay Vintage is serving a taste of delicacies that make every Parsi wedding tick!
Available all month until 30th November 2018
Where: Bombay Vintage's Lagan Nu Bhonu
Bombay Vintage, Opposite Regal Cinema, Colaba, Mumbai 400001
Phone: 022 22880017 or 022 22880019
Note: The critic was invited by the restaurant but all the opinions expressed herewith are her own