Harrods celebrates Queen's Diamond Jubilee by displaying 31 crowns designed by the world's leading brands in its windows. London's renowned department store has commissioned fashion, beauty, jewelry, and cuisine designers to design an elaborate crown to celebrate Her Majesty Queen Elizabeth II's 60 years on the throne. We have rounded ten crowns that we wanted to share with our readers! De Beers Jubilee crown is studded with 974 diamonds, of which 797 are polished and 177 are rough.

Chopard's crown is adorned with dangling iconic Chopard charms. It derives its creativity from the brand's Animal World Haute Jewellery Collection and it's award-winning diamond watch.


Valentino's crown stands out as archaic against its colourful crown companions.


Escada's intricately embroidered crown is inspired by decadent lace, exquisite craftsmanship and historical references.


Bvlgari's silver crown has a snake coiled around it.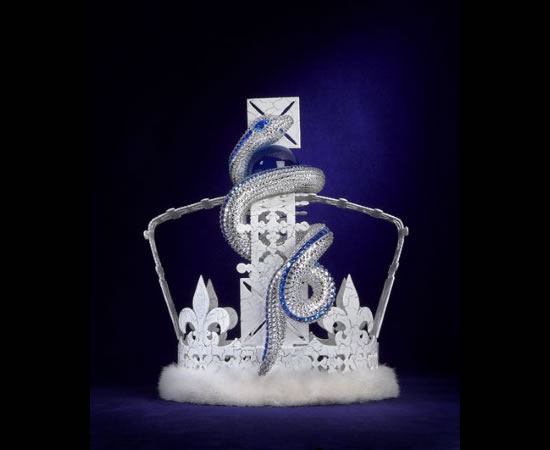 Another snake guards the crown as Boucheron channelizes their 'unrivalled passion for the animal kingdom and the serpent in particular.


Lanvin's crown sports a Great Britain flag along with few diamonds and a pink heart.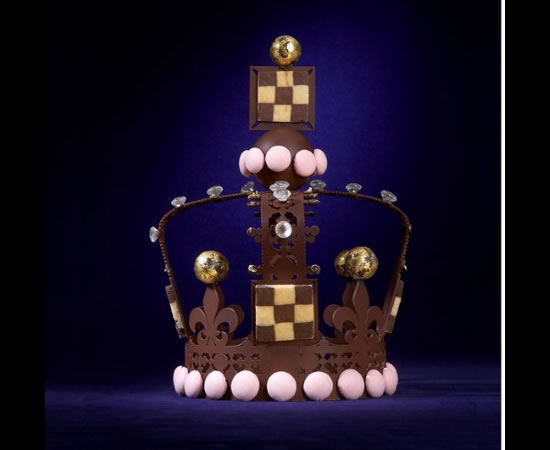 In an attempt to design the most indulgent and luxurious crown possible, William Curley covered his creation with an array of delectable treats from macaroons and biscuits to bon bons and truffles.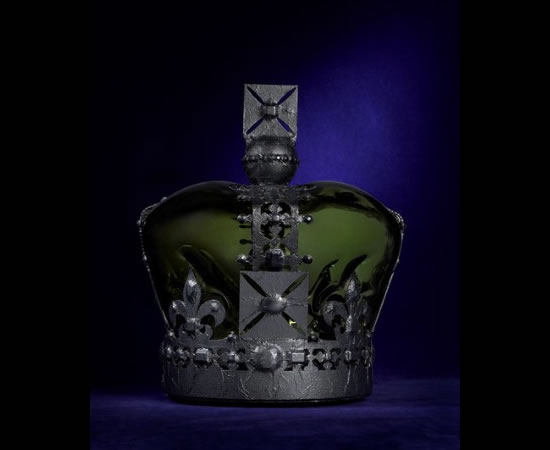 Dom Perignon crown is inspired by the quality and refinement of the champagne. It features a central cushion created from hand blown glass and finished with a foiled crown in deep metallic .


Paul Smith crown is designed with crushed velvet and tiny corgis. Paul Smith has sourced trinkets, buttons and British memorabilia to reflect the Queen's 60 year reign. Bright stripes and miniature figures, previously used on the company's cufflinks, are positioned to reflect spectators at the coronation. A miniature figure on a bicycle also portrays Paul's passion for cycling.
Update –
Harrods was auctioning four one-of-a-kind designer crowns created by Valentino, Roberto Cavalli, Paul Smith, and Lanvin and featured in their spectacular Diamond Jubilee window displays. Not only is each of these crowns a unique keepsake of this momentous year for London, but also a priceless collector's item with each brand's signature style reflected in the design. All the proceeds from the auction will go to Macmillan Cancer Support.
[Telegraph]