Aston Martin, the elegant British sports car needs no introduction. Touted as one of the world's most distinctive high-end auto brand, it is the same name that is also most renowned for its association with James Bond movies. Aston Martin calls out to all those who seek dynamic driving experience topped with luxury bespoke design. To cater to the demand for such luxury sports car in India, Aston Martin entered the Indian market by teaming up with Performance Cars, a division of Infinity Cars, as its dealer in Mumbai and is the first official dealership of Aston Martin in India. They are set up in an internationally designed showroom in South Mumbai along with a first of its kind air-conditioned service workshop nearby. Performance Cars stands true to its name as they represent the best of performance cars. Mr. Lalit Choudary, Director, Performance Cars speaks to Luxurylaunches-

Since its launch, how has the first year been for Aston Martin on Indian terrain?
It has been a good year. We had set out with an objective of retailing 30 cars for the year from a range of various models like the Vantage, Rapide, DB9 and DBS and have successfully achieved our target.
How has the recent economic conditions of India affected the sales of Aston Martin?
Such changes usually do not affect the potential buyer who is determined to own Aston Martin. Though the current budget has stepped up the tax and duties on such cars which in turn have pushed the cost of each car higher but buyers have paid up for the luxury.
What is the brand's strategy to sustain competition from other premium automotive brands?
As compared to our peers, who have entered the market around the same time, our sale volumes are much higher. Though the sedan market is bigger than the sports car market, Aston Martin plans to capture the niche as times have changed and a person who drives to work in his a chauffeur-driven luxury sedan will seek an even more superior self-driven sports car to hit the club or a party after work. Cars like Bentley or Rolls will provide more of a sedan-like experience. A Ferrari will be favoured by the flamboyant drivers who are keen to display their wealth loudly. Only Aston Martin defines understated luxury which exudes sophistication and power without stating it so loudly. These cars are also preferred as they bridge the gap between a sedan and a sports car.
Aston Martin's One-77 model is the most expensive in the company's line-up presently. Is it being offered in India?
One-77 prototype model was showcased in India at the time of the launch last year. Apart from the high-price factor, it is definitely not meant for sale here yet, as Indian roads are not made to handle such cars. There is one Indian customer who had bought this most expensive Aston Martin in London. In India, the brand is focusing more on the functionality of the car for a customer.
Which is the most sought after Aston Martin here?
Aston Martin wins with excellent ground clearance, on its range of cars, which is supposed to be much better than competitive supercars. With better suspension, driving quality and tolerable noise level, these cars are much more useable on our roads. Rapide has been a favourite amongst the Aston Martin seekers in India. Four doors and fantastic ground clearance are two prime factors to make the Rapide a hit, apart from easy handling. It has also won the Top Gear India 2011 Award for Most Beautiful Car of the Year. Also Mumbai is a good market but then again it's not the city that the car can show its true colours. They have sold the cars from Mumbai outlet to other parts of the country where roads are not as congested and narrow as on the island city.
When can we see Aston Martin Cygnet zip across Indian cities?
Though the metros in India have a better market for the Cygnet, the country is certainly not on the brand's list to roll out the smaller as well as eco-friendlier Aston Martin model. However a person who owns a Vantage or a Rapide will be the potential buyer of the Cygnet in India.
Is the brand planning an exclusive car specifically designed for India?
Even though rough Indian roads caked with potholes aren't ideal to enjoy such high power cars, there are no such plans for a car specifically designed for India. However there were plans to accommodate minor modifications and changes on the range offered to suit the Indian roads, especially to deal with the bumpy speed-breakers. Surprisingly people are happy with the superb ground clearance of such low-hung cars which are originally designed for European terrain. The company has not faced a single complaint yet for Rapide and the same goes for DBS and other models too. The clients are also very satisfied with the air-conditioning of the car, which could have posed a hot problem for India's 'Tropical Monsoon' type of climate.
Apart from the standard fittings, a client can opt for many customization options. Of course there is no limit for personalization as long as the client is prepared to shell out extra money and also wait for more time for the car's delivery.
How do you see Aston Martin grow in India?
Even though Aston Martin has not promoted itself widely in India, it intends to capture the market by appealing to the conscious customers of west and south Indian who prefer to underplay than flaunt their status. Also a person who seeks an Aston Martin is clear about his preferences and will not fall a victim to marketing gimmicks. There hasn't been much expensive advertising and promotion of the brand in India and word of mouth apart from the popularity of the brand has helped to sell. By not selling cars at the rate of dime and dozen, the brand intends to live up its exclusivity factor and lure attention as well as curiosity.
Who are the potential buyers of these cars in India?
Though it is tough to categorize a segment, Aston Martin cars will appeal to the age group 30-40 years or even above 40 well-settled businessmen or corporate executives who has saved enough money to materialize their dream of zipping about in a sports car. Also financial status is not the only factor that determines a buyer. Someone who is well-travelled and posses a strong desire for luxury and sophistication can be categorized as the potential buyer of Aston Martin cars.
Does Aston Martin intend to assemble/manufacture their cars in India?
All the cars are being manufactured at Gaydon only and certainly there are no plans to set up any assembling unit in India. The quality of workmanship could also be one of the factors for the brand's decision to stay put in Gaydon, UK.
Do you ever see high performance and fuel efficiency going head to head? How is Aston Martin working to help environment?
Fuel efficiency is certainly not the brand's forte. It's widely known and accepted fact that such luxury sports cars are not meant to drive green. Though Cygent has been their reply to the demand of a fuel-efficient version.
Internet helps the brand to promote awareness but do you think it benefits the manufacturer in terms of sales too?
The brand has certainly gained more attention and enquiries but internet will not play a key role for sales of the cars in India, at least.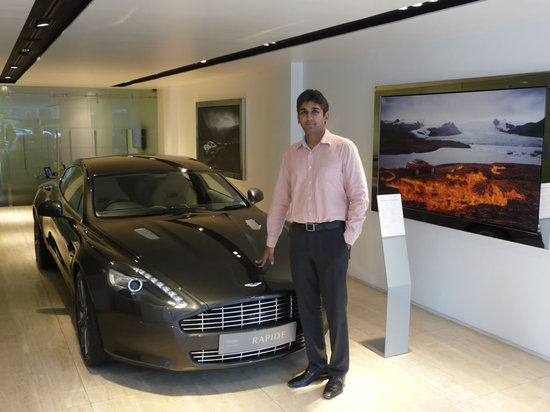 Which Aston Martin do you drive around? If not Aston Martin, which car would you be caught driving?
I drive a Rapide and credit the car's functionality for being my choice of Aston Martin. Apart from Rapide, you can catch me driving a BMW, which I feel is a practical day-time choice to navigate through the congested traffic and narrow lanes of Mumbai.
[Aston Martin Mumbai]