The Carters are making Paradise Cove in California's famed Billionaires' Row their home. After making music history, Beyoncé and Jay-Z made a real estate record by purchasing the most expensive California home ever. The not-so-humble-abode of the Crazy in Love singer, and the hip hop mogul, cost a cool $200 million, making it the most expensive home ever sold in California, as per TMZ. It sounds like an insane amount of money, and that too after scoring a whopping $100 million off as the house had been privately listed at $295 million. Their next-door neighbor, venture capitalist Marc Andreessen, holds the record for the second most expensive home bought for a staggering $177 million in 2021. Let's take a closer look at Queen Bey's palatial residence-



A home fit for music royalty, Beyoncé, and Jay-Z –
The $200 million brutalist-style estate is set high above Paradise Cove. The massive 8-acre space is encompassed by ocean and coastline views, along with being directly connected to Malibu's most breathtaking beach. At the center of the property stands an imposing 40,000-square-foot mansion. It is the work of the great Japanese architect Tadao Ando, who collaborated with L.A.-based WHY Architects to deliver the billionaire family a dream home. Commissioned in the late 1990s, this contemporary and marvelous home took nearly 15 years to plan and build.

While there are very few images of the estate available, it is known that the former owner, Bill and Maria Bell, creators of 'The Bold and the Beautiful' owned an impressive art collection, including notable works by Jeff Koons, Andy Warhol, Damien Hirst, and Marcel Duchamp.

The all-white fortress features an L-shaped compound with robust concrete hallways. Pacific Pervious Concrete, a contractor, contributed an impressive stretch of 22,500 square feet of polished pervious concrete solely for the estate's driveway. Morley Concrete, another contractor, supplied 7,645 cubic yards of concrete for the construction of the house itself.

This monolith gets its doze of openness with floor-to-ceiling glass panels. There will be plenty of space for Beyoncé's three children to play in the expansive backyard boasting one swimming pool, one reflecting pool typical of Ando's style, and direct beach access.

Aerial images reveal ample parking space outdoors in addition to a garage, which means the celebrity couple's alleged $29 million, 19-foot convertible Rolls Royce will have a commodious parking to itself. Beyoncé will return to this minimalist yet luxurious home after completing her 57-concert Renaissance World Tour, where she will reportedly make $2 billion. Earlier, the Single Ladies singer pocketed $24 million to perform at the opening of Dubai's Atlantis The Royal luxury hotel. Kurt Rappaport of Westside Estate Agency handled both sides of the transaction.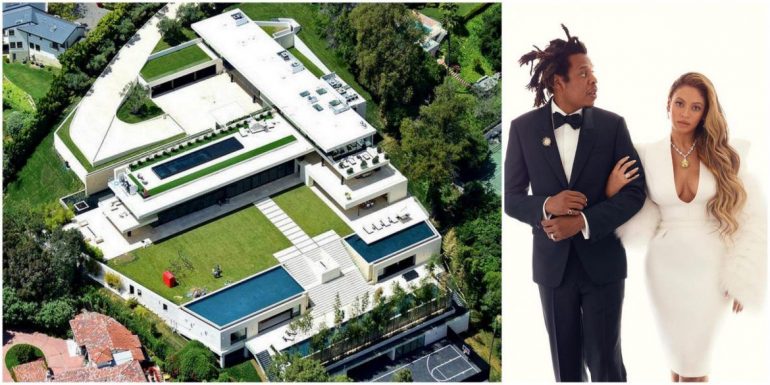 The couple called a $88 million Bel-Air mansion their home –
After three years of looking, the bigwigs had finally zeroed in on the $88 million Bel Air estate. Up until then, the couple resided in a string of ultra-expensive rentals like a 13,000-square-foot home that was once a Presbyterian church, a $ 400,000-a-month coastal villa on the Pacific Coast Highway in Malibu, and a posh Holmby Hills estate. The mansion spread across 30,000 square feet, almost similar to the new $200 million home.

The Dean McKillen dwelling boasted eight bedrooms and eleven bathrooms. The sprawling estate had it all from a 15-car garage, a spa, a home cinema, and not one but four pools. The home even included a basketball court and separate servant quarters, so the king and queen of the music world are always well looked after.