The Heesen's Shipyard at Oss, Holland, saw the launch and christening of a stunning 55-meter superyacht named Quinta Essentia. Said to be one of the most organic superyachts built by Heesen, the yacht with a semi-displacement hull and distinct atrium-like curve in the middle is absolutely delightful to the eyes. The exteriors designed by Dobroserdov Design spot an Oyster White and Merlot Red color scheme.
Update – Quinta Essentia is on the market at € 75,000,000 ($1 million).

The yacht features custom-made furnishings across the owner's cabin, two huge guest rooms that can be modified into a large VIP cabin, a double cabin, a twin cabin, and one full-fledged main VIP cabin on the main deck. The Quinta Essentia also houses a grand piano located inside the main saloon, while the big swimming pool with a waterfall aft can be seen on the main deck. Michela Reverberi has designed the interiors of the yacht with inputs from Michela Reverberi.
Quinta Essentia represents an amalgamation of the four essential signs of nature, earth, air, fire, and water, to create a fifth greater one. There are subtle reminders of the natural elements throughout the interiors, like a design of semi-precious stones spotted on the owner's bathroom that is a reminder of the "earth" element. The yacht, which offers a cruise speed of 22 knots and a top speed of 24 knots, was christened by superyacht's chief stewardess Yanina Spatiro, with a Champagne bottle, a customary tradition followed for ages.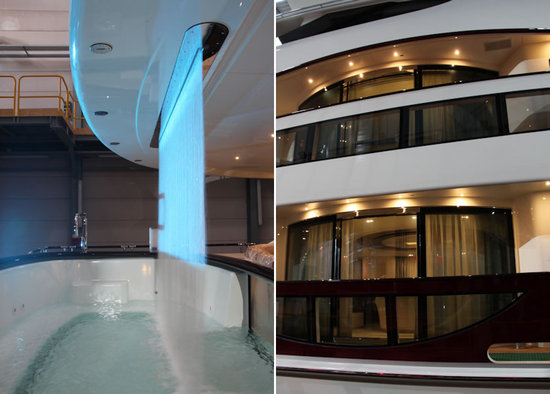 [SuperYachtTimes]