Beauty lies in the eyes of the beholder, especially if s/he is a hairdresser. While its true that nothing beats inner beauty, no one brings it out beauty more than a hairdresser. She or he treats hair like a canvas on which to display their art. Only, in this case, the brushes and paints are products, color brushes and scissors. Once those are in place, sections of your hair can be cut, colored or curled to create beauty and if you're lucky, a more beautiful you! But how to spot the right artist, err, hairdresser? Simple. You find the right salon! Ok so maybe that isn't all that simple. But it is about to get simpler.



When searching for a new salon it's always key to make sure the stylists in the salon are highly trained and experienced. Have the stylists at the salon gone through advanced training? Do they keep up with the latest trends and techniques by going through continued education classes? How much experience do the stylists have? Trust me any good salon will make this known and if your unsure just ask.

Even the hands of a great hair artist are half empty without the flourishes from the right product. So while we only stock up on the best in our own boudoirs, lets not undermine the shelves of the neighborhood hair studio or overestimate the skill of the stylist. Salons can't get complete credit for the results from the right hair product but without one, they sure are unarmed to deliver the best possible experience.

Start with the basics
Always start with a salons haircuts, this is usually the most inexpensive services. Booking a hair cut is a great way to get yourself into the salon and see if its a good fit for you. An above average haircut should include a consultation to identify your requirements. Your hair growth patterns should be are analyzed. Factors such as cowlicks, face shape, and lifestyle should be used to determine the cut. These factors should also be considered when the hair stylist gives you tips for maintaining the cut. Take note to see if the stylist records this information, or just ask. In a high end salon your stylist should be taking individualized notes for you and storing them so the next visit is shorter.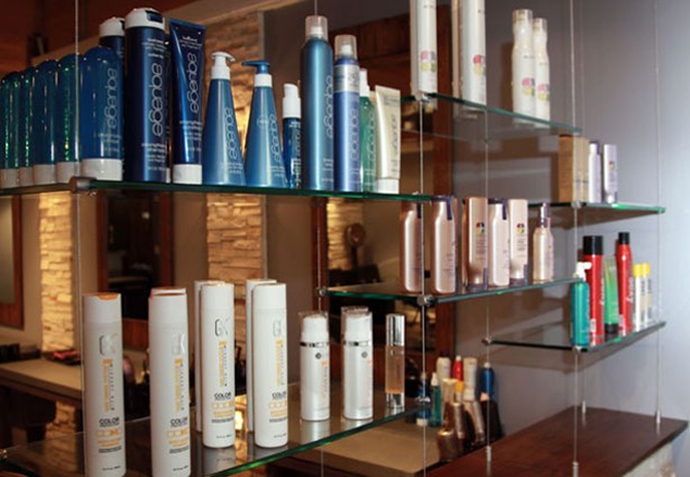 What products does the salon have to offer?
Make sure the salon is a full service salon. Although you might not need more than a haircut and style now, later on you might need these services. The perk of the full service salon is that you are not driving all over town trying to pamper yourself. To do this look at the salons website, what products do they offer? A great example of this is Niki Moon Salon, in Naperville. On this website you can see that this hair haven uses a wide variety of hair color to serve all of their clients needs. Goldwell Top Chic and Goldwell Colorance is used for most of their color services, though they also use Redken shades for glosses and demi-permanents to add incredible shine and luster to clients hair. They also offer an ammonia free color line for clients that are a little more sensitive to chemicals or just prefer a more Eco friendly coloring service. As a salon, they understand that it is not one single brand but an army of colors, creams and conditioners tailor made to each treatment that can give the best results. So whether it is a soft blonde, a vibrant red, or a rich brunette that one wants, they custom formulate the colors to match any skin tone and deliver desirable hair nourishment.

Does the salon offer high-end services?
Does the salon offer keratin treatments? Keratin treatments are quickly becoming the latest craze in hair care. Keratin treatments are a taming systems, which smooth out waves and curls while eliminating frizz, delivering shine and repairing damaged hair. These treatments might be a bit pricey but it shows the salon is offering the newest solutions to hair problems.

A salon should offer extensions as they are also becoming increasingly popular. If this is a service you are interested in ask if they offer Keratin Fusion Extensions. These extensions have been a worldwide leader in fusion hair extensions for over half a century because unlike silicone, these respect your hairs natural temperament. Applying keratin that is the same color as the hair forms an almost flawless application. A consultation is required to determine how many pieces you might need, and to match the color of the extension to your existing hair color after which it takes about a week to order the hair. But once they're through with preening and pampering your hair, you not only model a shiny new mane but also, tips on how to care for your extended hair and by definition, personality as well.

These tips should be taken into account but if you are in a salon and it feels like a right fit, usually your gut is right. Remember, you don't have to go into downtown Manhattan just to get a cut if you take some time and research the salons in your own neighborhood you are likely to come across local luxury.