Is isolation driving you crazy? Well, some feel differently; case in point Australian socialist Lissy Graham who has come up with a very high-fashion way of driving boredom away. Not just hers, this series of hilarious snaps carrying out everyday tasks dolled up in designer threads, has entertained a large group of people around the world who are finding her work rather assuming.
We are totally in agreement with the glam socialite. So what if the household chores are boring you to death, you can still look like you own the runway while doing them. If you're at a loss of ideas maybe you can take some cues from the influencer. She is seen in one of her posts wearing an elaborate evening gown by Australian designer Rachel Gilbert and a jeweled headband by Alessandra Rich, relaxing on a bed while her daughters cleaned and manicured her nails. I certainly skipped a beat over the image of her taking out the trash in one of the hottest Dolce and Gabbana dresses and a pair of $1,605 diamond-encrusted Manolo Blahnik stilettos. What could easily be called one of my most favorite looks of her; a floor-length burgundy gown covered in feathers and sequins was actually donned for the humble task of scrubbing and clean the bathroom. If this picture of her in a leopard print turban over her perfectly waved hair with a disinfectant spray in her hand doesn't make your day then nothing else will.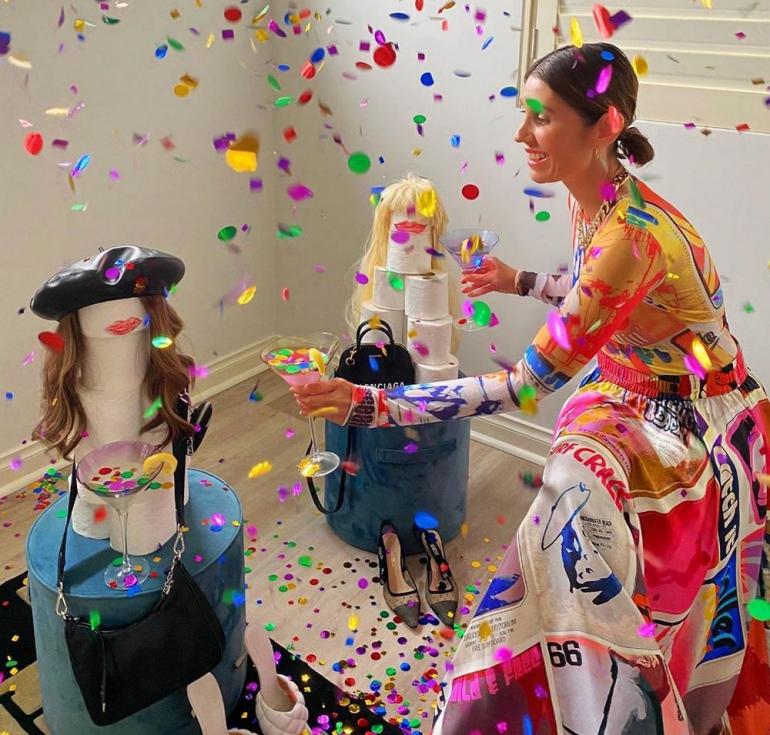 The mother of three was seen tending to other chores like trim the garden hedge, cooking a family dinner, staged a 'house party', drinking cocktails beside stacks of toilet paper all while being dressed in the best like a $2,675 patent leather miniskirt by Yves Saint Laurent, a short lace veil by Valentino over her head, a navy dress by Rachel Gilbert and a $295 bodysuit and $1,641 maxi skirt by Zimmermann. Let's learn to look at the glass half-full like Ms. Graham who 'lives for events and dressing up' and hoped to entertain other women with her photos.