From the house of those who gave us the , $1.5 million Paterson collection with Harrods comes yet another collaborative creation. The distinguished distillers of single malt scotch, The Dalmore, have partnered with the international design and development firm Finchatton. This exclusive collaboration, in turn, has resulted in the creation of a specially commissioned, integrated drinks cabinet encasing an exclusive single malt whisky in Finchatton's new Penthouse apartment.

"The Dalmore, like Finchatton, prides itself on qualities of artisanship, exclusivity, and excellence, so we're delighted to be partnering with a like-minded brand on such a creative project," said award-winning Master Distiller Richard Paterson who has specially created the whiskey for the apartment. The bespoke Penthouse bottling has been matured in hand-selected bourbon barrels and Matusalem oloroso sherry butts from the renowned bodega of Gonzalez Byass. "The skills that have been passed down through generations to create each drop of our whisky are matched by the meticulous attention to detail that goes into each of Finchatton's residences. Hopefully, this is the beginning of a long and fruitful relationship between the two brands."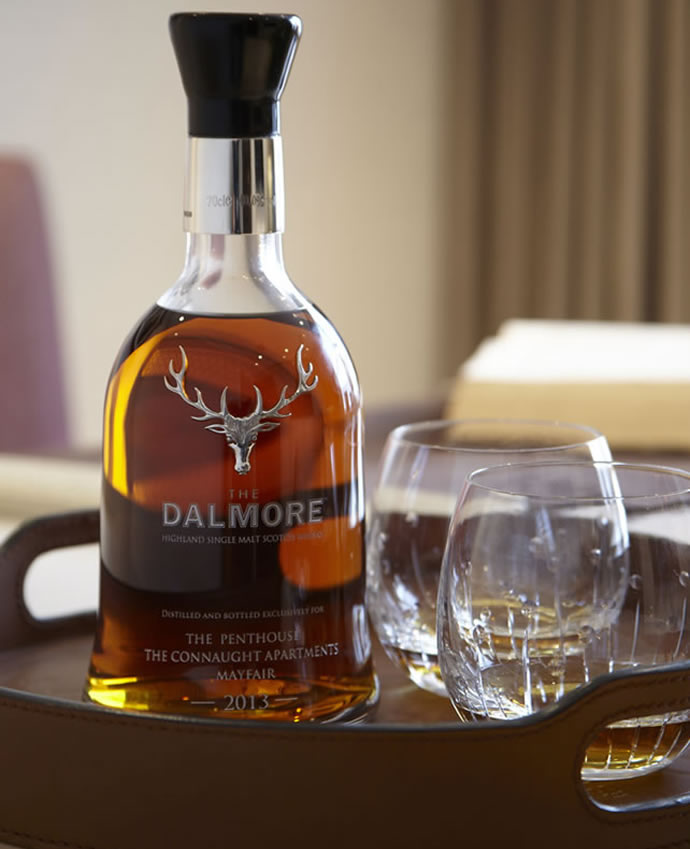 The new residence, The Penthouse, Connaught Apartments, is in a prime central London location on Mayfair's exclusive Mount Street. The 3,765 sq. ft. southeast-facing space allows access via a secure internal doorway to the neighboring Connaught Hotel and its outstanding amenities and services. The said services include 24-hour concierge and room service, housekeeping and valet services, the extensively equipped Aman Spa, and two Michelin-starred cuisines from Hélène Darroze. All this decadence makes The Dalmore's single malt whisky for The Penthouse its perfect malt companion.

The Scotch is as exceptional as it is rare. And when I say "rare," I mean the Scottish distillery has released only one iconic bottle bearing a signature engraving. But besides this, The Dalmore distillery has some of the oldest and rarest whisky stocks in Scotland, which it has been producing since 1839. So, you could procure your own bottle or secure that whisky drinking evening with arty aesthetics, dropping by America's best-designed bars or restaurants, or even the ones in London.