After the Bugatti-styled villas in Dubai, another automaker has seen the window of opportunity in bringing their sleek finishing to homes. The Mercedes-Benz together with Fraser Hospitality Group has announced plans to create high-end living spaces with six fully furnished apartments in London. The project is called Mercedes-Benz Living, London and will be available from autumn 2015.



"More and more people are permanently on the move. They live and work in unfamiliar cities where they are looking for a 'home away from home' and a sense of security," says Wilfried Steffen, head of the Business Innovation department. "That's exactly what we want to offer them – and at the very highest level and with the perfection and quality that you'd expect from Mercedes-Benz."


The fully-furnished apartments will offer an ideal space for businessmen living away from home for an extended period of time. Located in the Kensington area of London, each apartment is spread over 1,000 square feet and include a generously proportioned living and dining area, a fully fitted kitchen and two bedrooms. The rooms are designed in Mercedes-Benz cutting-edge design, varying color and lighting concepts along with Burmester systems and Swarovski design elements, for a space that is both stylish and comfortable.


The apartments feature two bedroom units with high-end headboard that flow seamlessly into the silver bedside tables and carpet, living room sofas decked in shimmering silver covers, the dining table with its sparkling Chandelier with crystals from Swarovski designed especially for the apartments and ambient lighting behind the Black Magic Wall that features an integrated smart TV among others. The wall blends seamlessly into the beautifully designed sideboard, above which is a sculptural element reminiscent of the feature line of a car. A Mercedes me smart TV app on the media wall allows guests to discover the world of Mercedes-Benz and its products and services on their own terms or to use the connectivity and entertainment features. The designers at Mercedes-Benz Style have succeeded in recreating the ambience and spaciousness of a Mercedes car in luxury serviced apartments. Their goal is to give the occupants a sense of Mercedes-Benz exclusivity.


After London, Mercedes-Benz Living plans to take their new venture to Singapore, where they will ply its interior work on nine units, each with about 500 square feet of space, without compromising on design and style.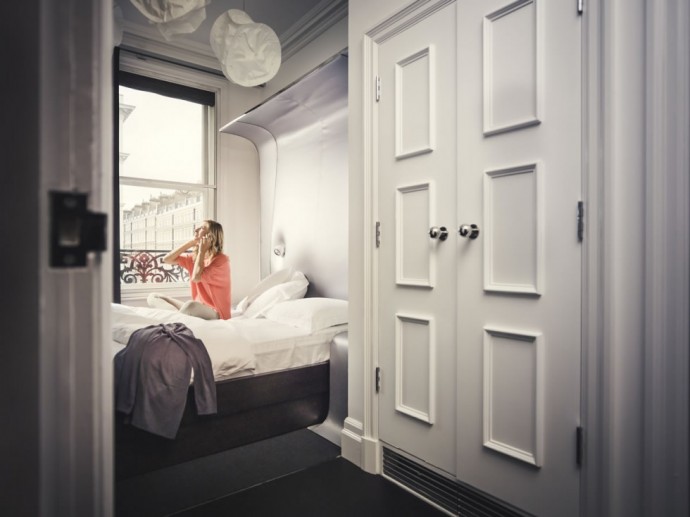 [ Via : Emercedesbenz ]