Let's face it- Switzerland is slick! A myriad land of mountains and many languages, it is the one place to offer as much to the adventure junkie as it does, the epicurean. If Switzerland is the rural-chic playground of Europe, then St. Moritz is the place where the rich, the famous and the jet setters come to ski. Not far from its fur and five stars laden glory is Nira Alpina hotel.



Safe to say, a lot of that seems to have rubbed off on what is essentially a boutique property, four stars to be exact. Still, perched along the slopes of Surlej, Nira Alpina preserves its uniqueness, retaining what is required, of the St. Moritz glitz and combining with it, quirks, and firsts – it is first in the region to offer direct ski out/ ski in. Nestled in the Engadin valley, Nira Alpina is connected to the Corvatsch cable car station via a private walkway. This means, one can ascend to 3300 meters (the highest point in the ski domain) in just fifteen minutes, making it ideal for ski enthusiasts.

St. Moritz has two faces, snow-clad in the winter and lush green in summers; we arrived in early spring, so what we were looking at was an all-white landscape. This, after a train ride that's as exquisite as it gets – with it being Switzerland, the journey is as important as the destination and our three-hour train-ride from Zurich was extremely picturesque. It actually gets dreamier Chur-on, once you switch over to the Glacier express. Drool over landscape through the panoramic windows – check.
Nira Alpina is one of the newer hotels on the block. It opened in 2011 and the 80-room, four-star property is a modern addition to the otherwise traditional hotels in St. Moritz reeling, in equal parts, from a Brit heritage hangover and excess. Picture Swiss Spruce and natural stone mixed with a homely atmosphere (bar female nudes. Or not!) The bohemia of Alpine resorts, Nira Alpina is indeed for the nomadic and independent.

We arrived late in the evening, straight from a tiring journey that had begun, and enthusiastically so, 20 hours ago in Mumbai. Awaiting us at the train station were a courteous staff member and a shiny Range Rover. The check-in was quick and efficient, and it wasn't long before we were escorted to our restful accommodation. The Corvatsch room, that gets its name from the neighboring glacier, is 24 sq. meters of calm, and contemporary furniture. It incorporates a clever mix of traditional and current and makes generous use of wood and modern design, with mountain views, balcony and spacious bathroom.
On to Stars for dinner, we savored eclectic cuisine, surrounded by huge windows. The top-floor restaurant offered a wonderful view of the sky that night and Lake Silvaplana shimmering in the moonlight, over Gang Phaed Thai Curry and lime risotto. It would be a sin to not indulge in something Swiss chocolate, so we opted for – Toblerone mousse with spiced clementine. As succulent it was, the sourness of the clementine immaculately mixed with rich Toblerone, was the perfect way to call it a night.

The Trattoria (only open through the winter) is more intimate, we imagine, with chunky wooden furniture and pine paneling. Not-to-miss are the cocktails created by the Rooftop Bar's expert barmen, enhanced by the blazing open fire and cowhide covered seating. The Ski Hut is watering hole extraordinaire, loud and compact but so welcoming, you will love it! It is extremely popular with the locals, who drop in for a drink after skiing. Also to love is Nira Spa, equipped with everything from sauna to whirlpool and five treatment rooms (if there was ever a spot to get a Swiss Chocolate body wrap!) We adored the Jacuzzi, which overlooked the town and the Spa offers a wide variety of treatments.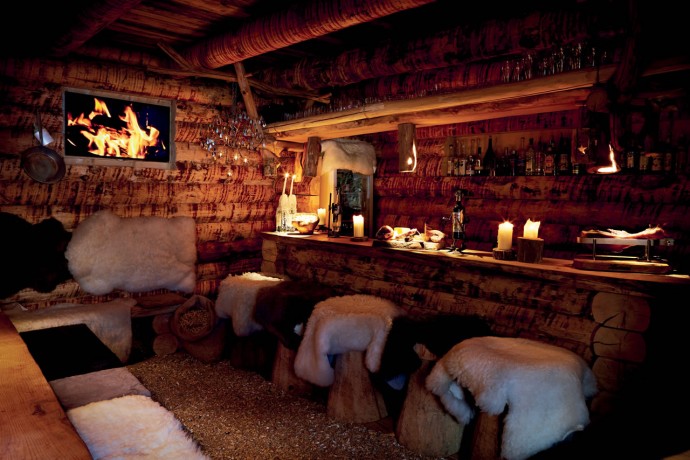 Having said that, Nira Alpina is more than skiing, mountain views and rejuvenation. Come summer, it offers access to some of the best windsurfing and kite surfing in Europe, spectacular hiking and mountain bike trails depart from its setting – the village of Surlej. It is no secret that St. Moritz is a golfers' paradise too, and a shopping haven. And at a mere 5 kilometers away, it is within easy reach via shuttle provided by the hotel. So go ahead, put on them ski boots. Or kick off those business heels, collect your picnic hamper and get some of that fresh mountain air. The options are endless.
The address – Nira Aplina
Via dal Corvatsch 76, 7513 Silvaplana,
Switzerland
Tel – +41818386969
Web – Niraalpina.com
Disclaimer and Fact Box – The Corvatsch room costs 270 CHF ($ 300) per night. We were provided complimentary accommodation and services. But the opinions expressed herein are my own.
Fly – With Air France from across the world to Zurich. Read my review on the Air France Premium Economy.
Rail with a view – Transfers from Zurich to St Moritz were provided by Rail Europe. Panoramic windows, plush coaches, unobstructed views of the Alps, and trains that run as precisely as Swiss watches. A 3 day First class pass costs $376.