More authentic than Dubai and as easily accessible from any major airport, Abu Dhabi deserves at least 2 days of your next tour in the Middle East. The UAE capital is home to impressive monuments like the Sheikh Zayed Grand Mosque and the Presidential Palace; gorgeous beaches along the Corniche and Saadiyat Island, as well as popular attractions like Ferrari World and the Louvre Abu Dhabi.

Rosewood Abu Dhabi sits on the banks of Al Maryah Island, one of Abu Dhabi's newest districts, just a bridge away from downtown. The building is contemporary and futuristic, offering expansive views of the Persian Gulf and the skyline. Rosewood Abu Dhabi was rated #5 Top Hotel in the Middle East by Condé Nast Traveler 2017 Readers' Choice Awards.
Arrival and Check-in
The half-hour drive from the International Airport allows you to glance at the mangrove, the bustling downtown, and new glass towers popping up all around. Despite arriving during a busy check-out time, a valet immediately came down to our car and took care of our luggage.
The lobby is surprisingly intimate – for a UAE hotel – and showcases beautiful craftmanship with modern Arabic chandeliers, water features, and mineral elements. The oversized central table displays precious books about the region and luxury brands, and a tray with welcome drinks and delicious dates.
Once at check-in, the process was quick and the staff personable. Although the front office staff didn't explain to us Manor Club privileges, he prepared two vouchers to redeem during our stay: a food and beverage credit as well as credit toward 60 & 90-minute treatments at Sense Spa. Both vouchers had a face value of AED 100 (about $27 at time of writing).
Manor Club Room
We booked a Manor Club Room and received a room on the ninth floor, overlooking the pool, Galleria shopping mall, the neighboring Four Seasons, and the bay. The crescent shape of the island allows for unobstructed views from most rooms. Inside, the décor is modern, with a rich color palette, and embraces high tech and automation – including the iPad from which you can control nearly any aspect of your stay. There is space for a large reading chair, a desk area by the window, a fully stocked minibar, Nespresso coffee station, and a built-in makeup desk. Two walls of closets along the hallway allow for ample storage and give the room an additional luggage rack. The bed is inviting, and linens feel extremely plush against the skin. Finally, we enjoyed the absolute silence in the room.
The bathroom feels vast and includes 2 vanities, a soaking tub, a walk-in shower, and a separate toilet. The dividing wall with the bedroom is made of three ornate sliding panels that provide an added feeling of space when left opened. Amenities are by Roberto Cavalli. Although nice and fragrant, they seemed limited to the essentials and didn't include toothpaste, mouthwash, and a shaving kit that we've come to expect from luxury hotels.
Turn-down service is daily; if you happened to leave your Do Not Disturb sign on all day, a staff will call your room to remind you of it and offer a change of towels or to service the room.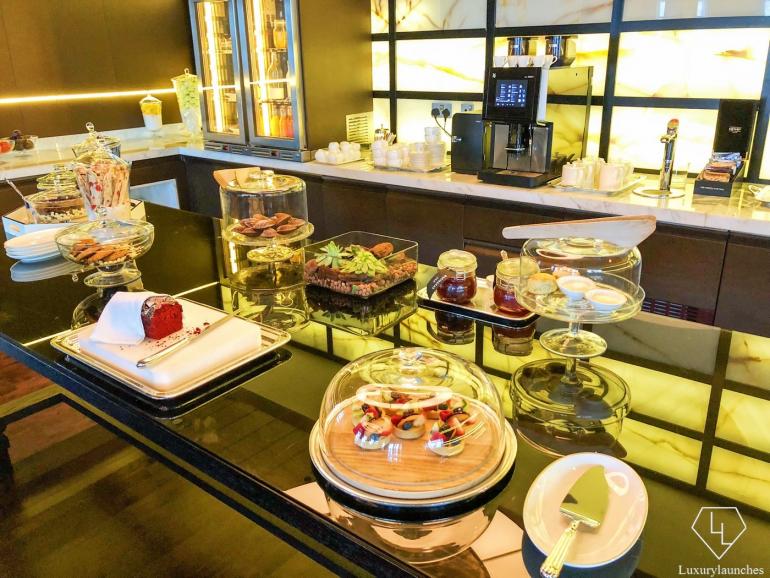 Manor Club Privileges
Manor Club is Rosewood's take on the executive lounge. The design plays with mid-century modern elements and the space feels like a posh membership club or a Soho House type of creation. There are more gorgeous coffee table books – like we found in the lobby and in our room, a pool table, and TVs broadcasting the latest news. Here again, service is attentive, discreet, and personable: Eduard especially made us feel at home like we were regulars.
Club benefits include breakfast, refreshments and snacks all day, evening tapas and cocktails, early check-in and late check-out, 20% discount on spa treatments, a complimentary fitness consultation, and pressing of 2 items per stay.
Note: Alcoholic drinks are on the house during cocktail hour only and are available at a charge during the rest of the day – morning excluding, as per a state ruling.
Breakfast at Aqua
Manor Club guests can choose to have breakfast in the Lounge or at Aqua. We chose Aqua in order to try a different venue. The friendly hostess will greet you and walk you through the different stations of the buffet before showing you to your table. The selection is outstanding, and the flavors are truly enjoyable. That being said, my one complaint is that hot dishes from the buffet were actually on the colder side.
Wellness Facilities
The pool deck is large, well-thought-out, and boasts sun most of the day. Enjoy gorgeous views of the sea, while relaxing on some of the plushest chaise lounges you'll find. As soon as you settle into your space, a pool attendant brings you cold bottles of water, sunscreen, and an Evian water spray. Swimmers will appreciate the swim lane, separated from the more playful areas of the pool. It is undeniably one of the best pools I have seen at a city hotel.
The Fitness Club contains state-of-the-art equipment dedicated to a range of cardiovascular and strength training workouts. A team of fitness professionals is available for coaching and classes in the private studio.
Sense, A Rosewood Spa
As I walked in Sense Spa, I was immediately greeted and shown to the waiting lounge and offered hibiscus tea while completing my consultation form. I opted for the 60-minute Deep Muscle Massage.
Sense Spa boasts a whirlpool, sauna, hammam, and 9 treatment rooms. My treatment room featured a marble soaking tub and neutral décor. The massage table at the center was truly comfortable and the sheets felt even smoother than the ones used in the room. We started with a dry massage to warm up the muscles, continued with essential oil to soothe the body, and finished with some stretching. The smooth movements of my practitioner and the background music transported me to a blissful and tranquil place, as if I were on a tropical beach. Once the treatment concluded, I was offered jasmine tea in the cozy relaxation lounge.
Sense Spa offers products by Maison Caulières, Natura Bissé, EviDenS de Beauté, and Aromatherapy Associates.
Final Thoughts
With prices starting as low as $130 depending on the season, Rosewood Abu Dhabi is an excellent property for your next visit to the UAE. The staff is courteous, professional, and genuinely friendly; the location, although slightly removed from downtown and certain main attractions, provides serenity and easy access to the eastern part of the emirate – this includes the must-see Louvre Abu Dhabi and the beaches of Saadiyat Island.
Where: Rosewood Abu Dhabi
Zayed The First St – Abu Dhabi – United Arab Emirates
Phone: +971 2 813 5550
Note– The critic was invited by the Rosewood Abu Dhabi. But all the opinions expressed herewith are his own.
Geoffrey Ravoire
Geoffrey is a Hospitality specialist, Luxury enthusiast, and Marketing expert. His favorite things include unique hotels, superyachts, real estate, and fine watches and jewelry. French born, Geoffrey has accumulated an extensive experience abroad, thanks to regular visits to foreign countries and territories (over 55 and counting) but also thanks to years of expatriation. Currently based in Chicago, Geoffrey has already lived and worked in New York, Taipei, Shanghai, Singapore and Monaco. You can meet Geoffrey on Twitter and Linkedin.