Legendary Italian manufacturers Ducati and Lamborghini have collaborated yet again to introduce the second co-branded, limited-edition motorcycle. It was back in 2020 when the two brands joined forces for the first time to create the Ducati Diavel 1260 Lamborghini as a tribute to the stunning Lamborghini Sian FKP 37 hypercar. This time around, the duo decided to give the Streetfighter V4 the limited-edition treatment. Behold the new Ducati Streetfighter V4 Lamborghini that features a distinct appearance inspired by the Huracán STO. According to the pair of Italian brands, the special edition motorcycle "perfectly embodies the values of extreme performance, sportiness, and exclusivity" which is shared by both companies.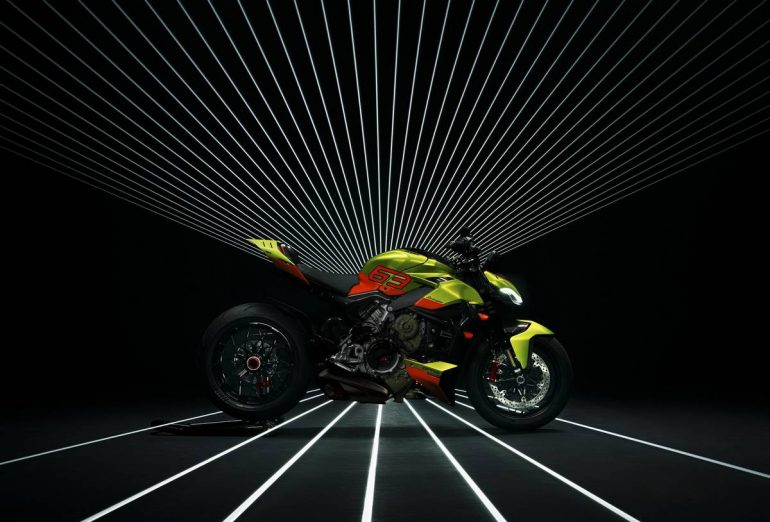 Although the silhouette and the overall design of the Ducati Streetfighter V4 Lamborghini are almost identical to the regular model it's based on, the special edition is bathed in Lamborghini-inspired design elements it set it apart. Everything from the front mudguard to the tank cover, belly pan, and tail are unique on the limited edition. Additionally, the grille extractors, vents, and air intakes are designed to look like those found on the Huracán STO. Similar to the supercar, the Ducati Streetfighter V4 Lamborghini is finished in a special eye-catching color scheme that combines a shade of green called "Verde Citrea" with a special tone of orange called "Arancio Dac."

The limited edition Streetfighter V4 is fitted with forged wheels that mimic those found on the supercar, including a single titanium locking nut out back. Furthermore, the motorcycle is wrapped in carbon fiber with the same visible weave as the Lamborghini. It also gets a special saddle, billet aluminum foot pegs, lightened brake and clutch levers, and an Akrapovič titanium exhaust silencer with a carbon fiber cap.

A special plaque on the tank gets the logos of both the brands and is etched with the unit's serial number. Production will be limited to just 630 examples; however, Ducati will also make 63 more units exclusively for existing Lamborghini customers. Called the Ducati Streetfighter V4 Lamborghini Speciale Clienti, these will be finished in the shades of the individual's Lamborghini's livery. Pricing starts at $68,000 for the Streetfighter V4 Lamborghini and $83,000 for the Speciale Clienti.