At Abu Dhabi International Airport, sleep comes for about $13/hour! A thoughtful initiative by Abu Dhabi Airports Company (ADAC), Abu International Airport terminals 1 and 3 is now a hub to "GoSleep" sleeping pods for passengers to take a quick nap. Known to be the 'World's First Airport' to offer a service as such, the ADAC seems to be on cloud nine launching their new initiative. As mentioned by Mohammed Al Bulooki, Chief Commercial Officer of ADAC, Abu Dhabi Airports Company believes in enhancing passenger experience and is always striving to provide its passengers "world-class levels of service." The technologically advanced "GoSleep" pods have been installed in the airport to do exactly that.

Unlike chairs, cushioned sofas, or even the SnoozeCube installed at the Dubai International Airport for $18/hr, the Finnish designed "GoSleep" pods, resembling a cocoon, convert into a flatbed that allows passengers to stretch their legs while napping comfortably. If need be, the passenger can partially or fully enclose the pod, separating themselves from the noise, light, and crowd.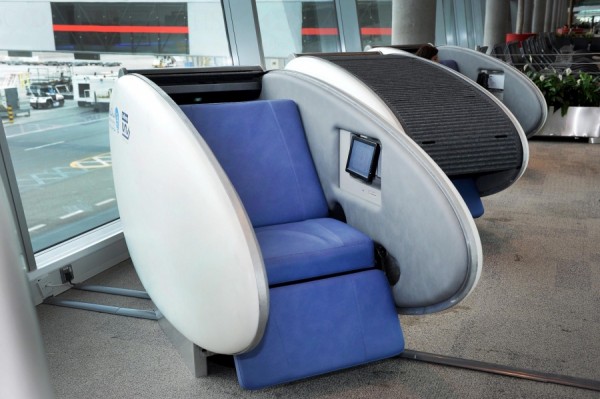 10 such pods have already been installed at the airport, and soon an additional 35 will be coming in. Eventually, after recording the success of these pods, ADAC plans on an upgrade, which would include Internet access, secure storage compartments and charging outputs.
[Via – Adac]