Manufacture d'horlogerie Dior has added 10 new models of one-of-a-kind timepieces to its Dior Pièce Unique collection. Dior's palette comprising oscillating weights, calibers, dials, and precious straps are truly displayed in these timepieces. The refined watches, which come equipped with an automatic Elite movement, speak of opulence right from the casing, made of white gold, bezel, and horns set with baguette-cut sapphires, crown set with a rose-cut diamond, transparent sapphire crystal case-back. With a mother of pearl and the faceted hour, minute, and second hands in white gold, the watches stand true to their plush image. Only 10 of these new pieces are available, which have been numbered from 6 to 15, and the back of the strap in pleated taffeta hand-sewn with the label "Christian Dior Paris."

The "Dior Pièce Unique n° 6" comes in shades of red from vermillion to carmine underlined by grey to recapture the shimmering effect of moiré silk. The baguette rubies and spinels, selected and adjusted with great care, are edged with black mother-of-pearl from Tahiti, engraved and hemmed in diamonds.


The very elegant "Dior Pièce Unique n° 7" alternates the midnight blue of the sapphires and the icy blue of the engraved mother-of-pearl hemmed in diamonds.


The dial on the "Dior Pièce Unique n° 8", like a corolla composed of six petals superimposed with finely cut white mother-of-pearl and scattered with diamonds, exudes a discreet and diaphanous charm emphasized by the changing blue of its dial set with baguettes in five different shades of aquamarine.


The "Dior Pièce Unique n°10" unfolds a pastel monochrome palette where baguette lilac amethysts underlined by diamonds and smoked quartz complement the pink mother-of-pearl and agate dial, creating an elegant and powdery toned ensemble.


The "Dior Pièce Unique n°11" radiates with green and yellow lights, in a swirl of jade and tsavorite garnets set with diamonds, sapphires, and emeralds in an echo of the dazzling yellow taffeta strap.


The "Dior Pièce Unique n°12" recalls the flamboyancy of the color combinations so dear to Dior with its turquoise dial set in concentric circles of white and fancy yellow diamonds and its bezel of baguette-cut pink sapphires contrasting with the black of the taffeta or alligator strap.


The "Dior Pièce Unique n°13" offers a harmony of warm greens and blues – that of sapphires and emeralds – highlighted by white mother-of-pearl on the dial.


The "Dior Pièce Unique n°14" joins fire with ice for its cognac mother-of-pearl dial scattered with smoked quartz and diamonds, its baguette-cut brown garnet bezel and its immaculate white taffeta strap.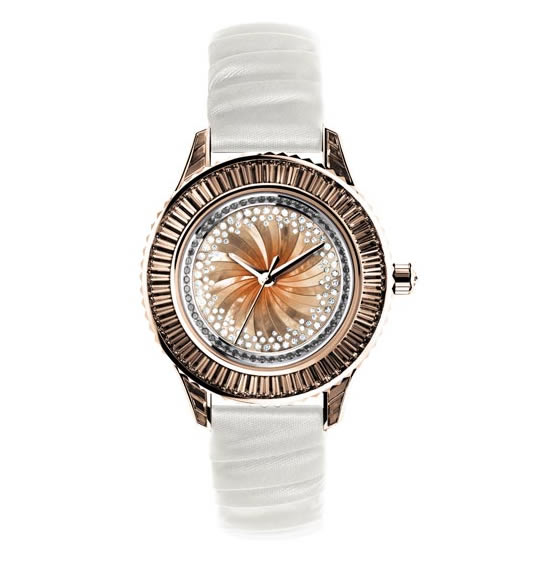 The "Dior Pièce Unique n°15" distils a tender and fresh harmony of green, pale pink and white. The dial in white, pink and green mother-of-pearl creates an ethereal floral pattern highlighted here and there by the pink of the sapphires and surrounded by a corolla of chromifere tourmalines.


[Argusdesmontres]