Damien Hirst custom designs Trek Madone bike for LIVESTRONG foundation

None of us can forget the unique Tranquility masterpiece filled with butterflies created by artist Damien Hirst that fetched him a whopping $1.71 million! The art superstar has now added his butterfly designs to a trek bike! Yes, he has become the latest collaborator to design the trek bike series for Lance Armstrong's Stages initiative for the Livestrong foundation. The artist has beautifully customized a Trek Madone bike and added a butterfly all-over design to it. This beautiful trek bike is sure to give Lance the required boost as he crosses the finish line at this year's Tour de France. The customized Trek Madone bike has a gorgeous array of real butterflies from the frame down to the Bontrager rims, which also bear a repeating pattern of the willowy creatures. Replacing the traditional LIVESTRONG bright yellow with bright pink logos, artist Hirst has managed to create a winner.
The pink Trek Madone bike with beautiful butterflies adorning it is sure to become another masterpiece.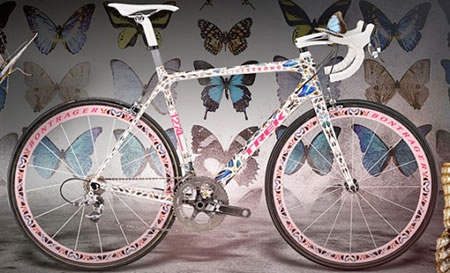 [
Highsnobiety
]